A Brief History of Donald Trump's Unrequited Love of Andy Warhol, Who Called Him "Cheap"
Trump may want to cut funding from the NEA and NEH, but much of his business philosophy actually comes from an artist. In return, Andy Warhol called him "sort of cheap" and a "butch guy."
---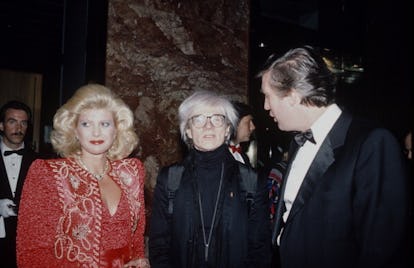 Time & Life Pictures/Getty Images
This week, when it welcomed President Donald Trump during his first international tour, the Saudi Arabian government organized two contemporary art exhibitions for the President and First Lady Melania. This might have seemed laughable to outside observers decrying Trump's proposed budget plan that will defund the National Endowment for the Arts (NEA) and the National Endowment of the Humanities (NEH). But in fact, there is a fascinating history of Trump's relationship with art.
It goes back to, as much everything does these days, Andy Warhol. In the overheated cauldron that was New York in the '80s, the master of mixing art and commerce became Trump's business inspiration, thanks to his stated entrepreneurial philosophy which, as Ben Davis has pointed out in artnet News, sounds a lot like like something Trump could have said himself: "Making money is art, and working is art and good business is the best art."
Trump has not only claimed to have "always liked" this phrase, but used it no less than three times in his 2009 book Think Like a Champion: An Informal Education In Business and Life (as well as on his Twitter account). Indeed, Warhol's approach to "business art," expounded upon in his 1975 book The Philosophy of Andy Warhol, doesn't sound too far off from Trump's approach to business and real estate: "Deals are my art form. Other people paint beautifully on canvas or write wonderful poetry. I like making deals, preferably big deals. That's how I get my kicks," Trump (or likely his ghostwriter) wrote. "We are all businessmen and women, whether you see it that way yet or not. If you like art and can't make money at it, you eventually realize that everything is business, even your art. That's why I like Warhol's statement … It's a fact. That's also another reason I see my business as an art and so I work at it passionately."
Trump saw himself and Warhol as simpatico enough to propose a partnership: After meeting at the birthday party of the attorney Roy Cohn, famously Senator McCarthy's right hand, and upon paying a visit to the Factory, Trump decided to commission Warhol to create several portraits of Trump Tower—even as he was then in the process of tearing down several historic Art Deco reliefs (which he declined to hand over to the Metropolitan Museum of Art) in order to build it. (Likely, the irony did not strike Trump.)
And so it was Warhol's turn to meet Trump in his lair: With the help of the ex-art director of Warhol's Interview magazine, Marc Balet, who was doing his own work for Trump, a meeting was arranged in the tower, which Warhol recounts in an April, 1981 entry of The Andy Warhol Diaries: "It was so strange, these people are so rich," he wrote. "[Trump]'s a butch guy."
Though nothing was settled at the time, Warhol resolved to do some paintings for Trump anyway, leading to another meeting at Trump Tower—which Warhol had rendered into a set of eight silkscreened photographs, glittering with diamond dust. "It was a mistake to do so many, I think it confused them … Mr. Trump was very upset that it wasn't color-coordinated," Warhol wrote, describing a characteristically childlike reaction from Trump.
The commissions abandoned, Warhol continued bumping into Trump and his first wife Ivana, much to the artist's chagrin: "I still hate the Trumps because they never bought the paintings I did of Trump Tower," he wrote in 1984. Trump, for his part, has continued making his mark on the art world, and not only as the target of so much protest art. In 1981, the same year Trump first met with Warhol, Ivana gave birth to Ivanka Trump, who married the real estate mogul Jared Kushner in 2009 and promptly started an impressively expansive contemporary art collection—one that was apparently never reported in the couple's financial disclosures, as was just revealed this week.
It's a bit shocking to think the pair could begin to get away with the latter, and not just because Ivanka's been known to post Instagrams, some of which have since been deleted, of their art holdings, from a used bubblegum covered canvas by Dan Colen (pictured below) to works by masters and young stars alike, including Nate Lowman, Alex Israel, and Alex Da Corte. (Many of the pieces in question are valued at around half a million dollars; federal employees are supposed to disclose any artwork valued over $1,000.) There's also the pesky fact that the art world has dug in in a siege against Ivanka, from Richard Prince's public disowning of his portrait of her to the activities of the artist-led group Dear Ivanka, which has mounted protests both outside Trump and Kushner's home and wheat-pasted signs decrying the family all over the city.
Trump, for his part, has long wanted to defund federal support of the arts, having first announced these plans back in 1999 (as he was exploring an earlier run for president), when he aligned himself with then-Mayor Rudy Giuliani in censoring Chris Ofili's "absolutely gross, degenerate" work The Holy Mary Virgin in an NEA-funded exhibition at the Brooklyn Museum. (And just a few years ago, he kicked the NEA and NEH out of a building in Washington, D.C. to make way for another Trump hotel.)
Privately, Trump has something of an art collection, which reportedly includes works by the skateboarder Mark Gonzales and a portrait of himself by the artist William Quigley—which he purchased after tweeting that it was one of the hottest works up for grabs at an East Hampton auction. But this self-promotional boast only emphasizes one of the many ironies of Donald Trump, which even Warhol realized after only a couple encounters. As he noted in his Diaries: "I think Trump's sort of cheap, though, I get that feeling."
Meet the Chameleons of the Art World, aka the Humans of Frieze New York: