Dear Ivanka: New York's Artists Would Like to Talk About Your Father
Looking to the president-elect's daughter as a "voice of reason," around 150 art world figures called for Ivanka Trump to "denounce her daddy" in a protest on Monday night in New York.
---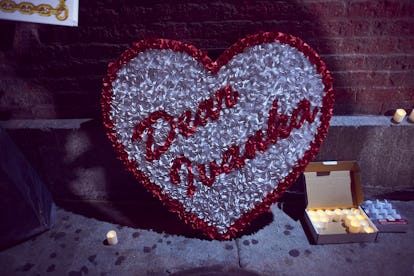 Jai Lennard
Art Basel Miami Beach might be officially underway, but for a significant chunk of the art world, the action this week seems to still be happening in New York. On Monday night, around 150 artists, curators, gallerists, and others in the field gather at the intersection of Houston and Lafayette Streets — an otherwise relatively nondescript intersection in downtown Manhattan, which they'd chosen as the site to wave signs with slogans like "Denounce Your Daddy" for its location just a few floors below the residence and alleged art collection of Jared Kushner and Ivanka Trump.
The latter is, of course, the president-elect's prized daughter, and the target of a new campaign that hopes to open her eyes to the racist politics of her father's soon-to-be administration, starting with appealing to her art-leaning interests. Monday's protest might have been just one of just many in the nearly four weeks since Trump has been elected, but it was the first real-life iteration of Dear Ivanka, a week-old Instagram account that's already found over 8,000 followers for its pairings of lighthearted, stylized photos of Ivanka with unsettlingly incongruous captions, like "Dear Ivanka, I've been raped and I need an abortion," and "I'm afraid for all my friends who aren't white men." Helmed by an art-world crew going by Halt Action Group, it's also attracted the support of artists and others on the scene like Marilyn Minter, Ryan McNamara, Jonah Freeman, Dan Colen, Nate Lowman, Alex Da Corte, Arden Wohl, and Bill Powers — many of whom found themselves marching with electric candles and cheeky posters on Monday evening, and some of whom even have work in Ivanka's collection, much to their chagrin.
Among the group's greatest concerns are the appointments of Jeff Sessions and Steve Bannon to Trump's cabinet, and talk of a proposed Muslim registry — moves they aren't pinning exactly on Ivanka, per se, but are calling for her to reconsider as the family's resident "voice of reason." "Ivanka Youvanka Wevanka Do Better," as one sign said on Monday night — which you can see alongside more scenes from the protest, here.