Artist Marilyn Minter's Protest Flag Lasted Less Than a Day Before It Was Censored
The artist's contribution to Pledges of Allegiance, a new series of political flags in partnership with Creative Time, did not sit well with some Midtown Manhattan residents.
---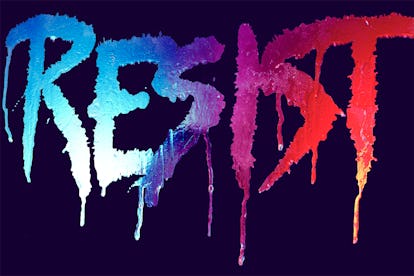 Courtesy of Marilyn Minter
On Wednesday night, flags featuring phrases like "Don't Worry, Be Angry" and "A Horror Movie Called Western Civilization" hung from the vaulted ceiling of the City Point building in downtown Brooklyn, high above the heads of Chloë Sevigny, Ilana Glazer, Abbi Jacobson, and others who showed up to celebrate the new artist-made series and support Creative Time, the art nonprofit behind Pledges of Allegiance. But as the night, which was honoring Humberto Leon and Carol Lim, was just getting going, the artist Marilyn Minter got some breaking news: Her flag, which has the word "Resist" emblazoned across it, and which had only been raised earlier that day, had already been taken down from its perch above Lever House on Park Avenue, where it flew, for what turned out to be the briefest moment, right next to the American flag.
"I mean, they do Damien Hirst shows, and they couldn't handle the word 'resist'?" Minter said of the megacollector and developer Aby Rosen's Midtown space. She'd cooled down a bit by then. It wasn't her first clash with censorship—among other things, she said, "I did a hardcore porn show in the '80s,"—but it still "never" crossed Minter's mind that her banner would be taken down from a venue like Lever House, a corporate midtown skyscraper that nevertheless puts on art shows and, in her words, "takes risks." According to her, Rosen, in fact, personally approved the mockup of her flag; it was only after residents complained that it became an issue. "I bet they took it down cause Trump is in town," Minter said later over text. (We reached out to Aby Rosen and Salon 94's Jeanne Greenberg Rohatyn, and you can read their comments in the updates to the story below.)
The Scene at the Creative Time Gala
"Now they're trying to hang it in an inconspicuous space, so that's really f—ed up," Minter added. She said she was considering hiring a lawyer, especially after she bumped into one who offered her help at the gala, where not all of the art was so political—there was also a ice-sculpture version of Jordan Wolfson's terrifying robot.
Fortunately, there will be more flags are on the way: Minter is just part of the first wave of participating artists like Vik Muniz and Pedro Reyes, who'll soon be joined by 11 more, including Yoko Ono, Alex Da Corte, and Rirkrit Tiravanija when the project, which was conceived by W's Features Director Alix Browne with the collaboration of Salon 94's Fabienne Stephan, officially launches on Flag Day, June 14. Hopefully, those flags will have a similar punch wherever they're flown.
"Everyone has to resist now," Minter said. "Even Hillary said yesterday she's joining the resistance."
Update 5/4/17, 4:00 p.m.: Despite Minter's account that Aby Rosen had approved the flag, Rosen offered only the following comment: "The flag was commissioned and hung as an art piece for the opening of the art show on 2nd floor. Ownership of building asked to have it removed once they saw it."
Update 5/5/17, 11:35 a.m.: Jeanne Greenberg Rohatyn emailed W this morning to further clarify the situation: "A few days ago, it was determined by Lever House owner, RFR, that Minter's banner was not able to be flown from the flagpole above the exhibition, and was removed by building management. While initially approved, it came to light that placed adjacent to the U.S. Flag, it did not conform to federal regulations, nor does it have a NYC permit. We would like to make clear that the removal of this artwork was not an act of censorship of the artist's work. Marilyn's 'Resist' flag is affirmatively hung inside the entrance of our exhibition, open to the public, and will remain there until a new public location may be identified by Creative Time." [Editor's note: RFR is the real estate company co-founded by Aby Rosen, and of which he is still a principal.]
Related: A Look Back at All of Marilyn Minter's Pretty, Pathological Glamour
See Miley Cyrus Get Steamy for Planned Parenthood in Marilyn Minter's Studio: