Melania Trump Might Actually Wield More Power in the White House Than Anyone Thought
Melania Trump may serve as her Husband's chief cable news watching surrogate, and is as obsessed with the press as he is.
---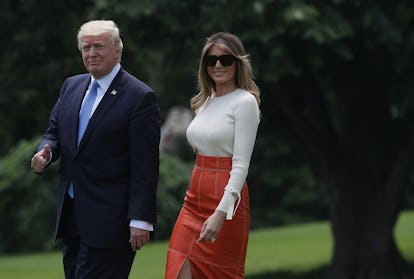 Alex Wong
Certain portions of the internet have latched on to the theory that Melania Trump secretly disdains her husband. A video clip that went viral this morning, purporting to show the First Lady swatting President Donald Trump's hand away after he tries to grasp it, was just their latest evidence in a growing conspiracy theory (though, mostly one considered with at least a little bit of tongue in cheek) that involves mysteriously favored tweets and the fact that she still has not moved into 1600 Pennsylvania Avenue.
Well, a new Politico report paints a picture of a First Lady in stark contrast to the theory. Indeed, she is very, very much her husband's wife and plays a very important role in his administration: namely, his chief cable news watching surrogate and a "private watchdog." Chalked up to mostly anonymous "friends and aides," Politico claims Trump has turned her golden Trump Tower apartment into a sort of media screening HQ and relates her findings to the president. We all already knew that President Trump is hyper concerned with his portrayal in the media, but its interesting to think that Mrs. Trump may be the voice in his ear keeping that infatuation front and center.
"Like President Donald Trump, these people said, Melania Trump is an avid consumer of cable news," reports Politico. "She often tracks the news of the day and will alert her husband to stories she thinks make him look bad."
The president allegedly calls her at night to get her view on how his administration's latest moves are playing out from far outside D.C. She also uses those late night chats to vent about her growing frustration with leaks and her husband's own communications staff. "She has raised concerns that some on his communications and press team aren't doing enough to defend him, according to aides and sources close to the president," reports the site. Indeed, Sean Spicer's highly rumored exit may be in part due to Melania's concern.
It's a clear contrast to the popular perception of Mrs. Trump, one which imagines her as a submissive and docile woman who may not like her new life or even her husband anymore, and is just grinning and bearing her way through it.
Yet, in reality her reported tendency to focus on public perception and the media might make her previously little talked about important influence on her husband.
Certainly, reports suggest that those actually in the White House very much try their best to get the president's focus off the media and on to the tasks at hand. It only makes sense that there may be someone outside of the inner circle but who still very much has unfettered access to the president who keeps his attention on matters of the press.
The report also offers an alternative reading to the incident in which her long-dormant personal Twitter account pressed the like button on a Tweet that read, "Seems the only #Wall @realDonaldTrump's built is the one between him and @FLOTUS." Maybe she didn't like the Tweet because she agrees with it, maybe she has a habit of checking Twitter for her and her husband's names all days and alerts her findings back to "The Donald."
It certainly makes sense that some of Trump's behavior might be better explained if there was someone (anyone!) close to him backing up his petty impulses to keep battling the press. As Politico puts it, "Melania loves the president unconditionally, definitely, she really cares about the president, she feels a kind of protection."
So much for our popular narrative that she's just the quietly suffering wife whose locked herself up in a tower. Turns out the Trump's bond may be deeper than anyone previously publicly thought.
See What's The Latest Trending in W Video:
From Melania Trump to Jacqueline Kennedy, a History of First Ladies' Inauguration Day Style
First Lady Mamie Eisenhower, 1957

Getty Images