Melania Trump No Longer Wears Fur (Still No Word on That Twitter Like)
Melania Trump no longer wears fur, and recently thanked Pamela Anderson for her gift of a Russian-designed faux fur coat.
---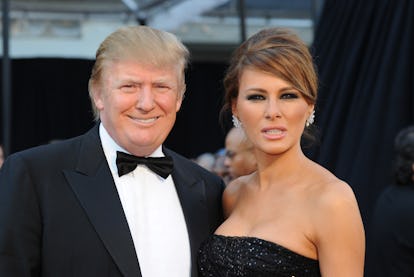 AFP/Getty Images
In case you're wondering, the White House does have an official clarification to offer on something Melania Trump-related today. It's just not about that curious story of the Twitter like noted 'round the internet this morning. Rather, CNN reports that the First Lady no longer wears fur. You know, in case that was something you were wondering about.
The story was prompted by, of all people, Pamela Anderson. The glamour model and longtime animal right's activist posted a letter from Mrs. Trump this morning on her Twitter account thanking Anderson for a recent gift of an eco-friendly faux fur coat. According to CNN, Anderson, who maintains a "special relationship" with WikiLeaks founder Julian Assange, sent the gift in February as a way to thank Trump for wearing a Ralph Lauren-designed coat to her husband's inauguration. No Ralph Lauren label has used animal fur in their designs since 2007, and has since taken to highlighting faux fur on their catwalks.
"I am so happy that you chose not to wear fur! As first lady, you will help set style trends, and by remaining compassionate with your choices, you will warm the hearts of many," Anderson wrote in her original letter.
Perhaps of some note: the faux fur coat Anderson sent to Trump was from a Russian label named Only Me. (We have our own differing faux-fur suggestions, of course).
"She does not wear fur," Stephanie Grisham, the First Lady's official East Wing communications director, confirmed with CNN via e-mail.
It appears the last time Trump was spotted out and about wearing fur was back in 2011.
This isn't particularly out of the ordinary for a modern First Lady. Michelle Obama also quickly clarified early into her time as First Lady that she didn't wear fur. In a 2009 op-ed in the political outlet The Hill, President and Chief Executive Officer of the Humane Society Wayne Pacelle also pointed out that Laura Bush, Hillary Clinton and Barbara Bush were also rarely if ever seen in public in fur. (Though, that wasn't always the case, both Nancy Reagan and Jacqueline Kennedy regularly wore fur).
Of course, this isn't the Melania Trump story everyone was talking about today. The internet caught wind this morning that the @MelaniaTrump twitter account recently liked a tweet making light of what some see as an icy public relationship between the President and First Lady. The @MelaniaTrump account hasn't been updated since election day. Trump now uses the @FLOTUS handle.
The tweet has since been un-liked, though, despite multiple requests for comment from media outlets, the East Wing staff has not offered a public comment on that matter.
See What's Trending in W Video: