Andrew Garfield, St. Vincent, and Everything You Need to Watch, Binge and Listen to This October
Your guide to all the movies, television premiers and new music to watch or completely avoid in October.
---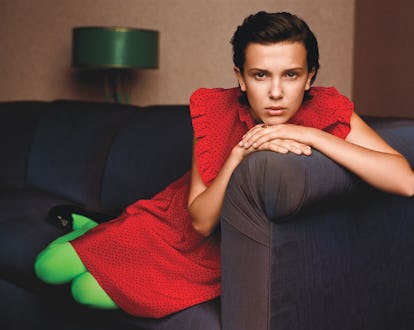 Photographs by Alasdair McLellan, Styled by Edward Enninful; Hair by Shay Ashual at Art Partner; makeup by Diane Kendal for Marc Jacobs Beauty at Julian Watson Agency; manicures by Casey Herman for Dior at the Wall Group. Set design by Stefan Beckman at Exposure NY.
In this special monthly edition of In & Out, we're looking a full month ahead and sorting through August's cultural calendar for you. Here's our picks for what you'll need to consume to keep up with polite dinner party conversation, what you'll be secretly binging late at night, and what's best to just avoid.
For daily In & Out content subscribe to the newsletter here.
What You Need to Know
Movies
Every year you say to yourself, "You know what, I'm actually going to keep up with all the awards-worthy movies this time!" Then every year, when the Oscars come around you realize you've only seen, like, three of the nominated films. Well, it's October, which means studios start unleashing their awards bait en masse. Here's a quick guide to all the new releases you should check out to keep up with the Hollywood horse race. The Florida Project (Oct. 6th) is director Sean Baker's follow-up to his breakthrough iPhone-shot Tangerine, and is almost certain to nab a supporting actor nomination for Willem Dafoe, but remains a contender in other races, including best picture. Although, everyone might fall in love with the film's 7-year-old lead, Brooklynn Prince. Life-after-polio drama Breathe (Oct. 13th) hasn't gotten wonderful reviews, but it brings together Andrew Garfield and Claire Foy, who both have individual nomination potential. Supreme Court justice Thurgood Marshall biopic Marshall (Oct. 13th) features strong performances from Emmy winner Sterling K. Brown and Chadwick Boseman. The word on nun-drama Novitiate (Oct. 27th) is that Melissa Leo may win the supporting actress category once again. If you want to go really deep and weigh in on the foreign film contenders, there's also the Elisabeth Moss–starring and Palme d'Or–winning The Square (Oct. 27th) and French AIDS activist drama 120 Beats per Minute (Oct. 20th). Netflix's The Meyerowitz Stories (New and Selected)* (Oct. 13th) may also be a competitor. Apparently it has a very strong Adam Sandler performance. This is not a joke.
Televison
A few of television's greatest hits return this month, so we're sure you have your favorites already marked out. Clearly, the two hottest returns of October are the second go-around of Netflix's Stranger Things (Oct. 27th) and, six years in the making, the ninth season of Curb Your Enthusiasm on HBO (Oct. 1st, 10 p.m.). As for the hot debuts, Netflix's Mindhunter (Oct. 13th) finds Jonathan Groff still looking, except this time for serial killers as a character based on real-life FBI criminal profiler John E. Douglas. ABC's The Mayor (Oct. 3rd, 9:30 p.m.) finds a rapper who suddenly becomes mayor of his hometown and features Groff's BFF and fellow Glee alum Lea Michele as the mayor's straight-laced aide. SNL alum Jay Pharoah stars in White Famous (Oct. 15th, 10 p.m.), which is loosely based on producer Jamie Foxx's life, on Showtime. Meanwhile, ABC's Ten Days in the Valley (Oct. 1st, 10 p.m.), a missing child drama, is worth a watch if for nothing else but Kyra Sedgwick's performance.
Music
Guitar goddess St. Vincent returns on Oct. 13th with MASSEDUCATION, an album that features vocals and undoubtedly inspiration provided by ex-girlfriend Cara Delevingne. English singer Jessie Ware's latest Glasshouse is out Oct. 20th, and the first single, "Midnight," is already fire.
What You'll Actually Enjoy
Movies
This month's most anticipated blockbuster is undoubtedly Blade Runner 2049 (Oct. 6th), which finds a returning Harrison Ford flanked by Jared Leto and Ryan Gosling. Critics are already raving about the Denis Villeneuve–directed film so wildly that it too may end up being a must-see for any Oscar completists. Winnie the Pooh gets an origin movie, well, kind of, in the form of Goodbye Christopher Robin (Oct. 13th). It's really a biopic of author A. A. Milne (played by Domhnall Gleeson, with Margot Robbie appearing as his wife). Looking for something completely different? Well, there's the October 20th duo of "probably not quite right for the Oscars, but still critically adored" films of The Killing of a Sacred Deer with Nicole Kidman and Colin Farrell and Wonderstruck, which reunites Julianne Moore with Safe and Far From Heaven director Todd Haynes.
Television
The sweetheart of twisted comedy, Amy Sedaris, finally gets the TV show she was born to make with At Home With Amy Sedaris (Oct. 24th on truTV at 10:30 p.m.), a wonderfully wacky take on homemaking shows. Meanwhile, fellow comedian Sarah Silverman comes to Hulu to sincerely try to mend our country with I Love You, America (Oct. 12th). The variety show won't be preachy in its politics, but instead will feature segments like Silverman having dinner with a Louisiana family who has never met a Jew before in their lives. On the complete opposite end of the dial is CW's Dynasty (Oct. 11th at 9 p.m.), a reboot of the classic '80s soap brought to you by the producers of The O.C. and Gossip Girl. The trailer looks completely stupid, and yet it definitely seems like something one needs to see for themselves in full, at least once.
Music
In the department of returning pop stars this month, we have both Kelly Clarkson and P!nk. On October 27th, Clarkson sets out to give us the answer to the Meaning of Life. P!nk meanwhile takes the opportunity of Friday the 13th to unleash Beautiful Trauma.
What You Can Skip
Movies
It may be the year of prestige horror, but it's also Halloween month, so Hollywood is, of course, dumping a lot of questionable scare-fests this month. Tyler Perry offers up Boo 2! A Madea Halloween on October 20th. A slew of horror franchise films battle it out, including Saw reboot Jigsaw (Oct. 27th), Texas Chainsaw Massacre prequel Leatherface (Oct. 20th), and Amityville: The Awakening (Oct. 28). October 13th's Happy Death Day is basically Groundhog Day reimagined as a horror film. Whatever the case, all but Perry's offering are squarely aimed at the teen date night market.
Television
CBS continues to crank out procedurals, this time with the Jeremy Piven–led Wisdom of the Crowd, which is improbably about using the help of people on the Internet to solve crimes (Oct. 1st, 8:30 p.m.).
Music
Even old-school Weezer fans cringe at the thought of another Weezer album, and yet Pacific Daydream is forced upon us on October 27th.
Related: All The Female Spy, Assassin, and Super Thief Movies in Development
See What's Trending in W Video: