The New Stranger Things Season 2 Trailer Is More '80s Than Ever, Complete with Michael Jackson and Will Byers's Bowl Cut
Eleven, on the other hand, is sticking to her buzzcut.
---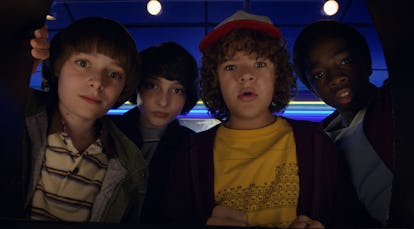 Courtesy Netflix
Fans don't turn up to San Diego's Comic Con in outrageous, over-the-top costumes just for fun: The annual convention also always holds the promise of revealing more info about some of their most coveted shows and franchises, which this time of course, chiefly featured Stranger Things. And, as expected, a new trailer was released over the weekend, giving convention-goers a glimpse at what's to come in the Netflix series's second season—one that promises to be more spooky than ever, just in time for its Halloween-y October 27th release date.
A quick recap: The series takes place in a suddenly supernatural section of the midwest back in the '80s—a time period the trailer gamely reminds you of with a soundtrack featuring Michael Jackson's "Thriller," shots of Reagan Bush signs in suburban front lawns, and, of course, the bowlcut atop the head of Will Byers, the tween whose disappearance was the main premise of the series's first season. Having been rescued from the goopy underworld known as the Upside Down, he's now back in Hawkins, Indiana, as evidenced by the trailer's first scene of him gathered around an arcade game with his buds—at least, before he has a flashback to the underworld.
It could be a return of the demagorgons, or it could just be that Will has PTSD. More likely, though, it seems to be a mixture of both when the scene flashes to his mother, played by Winona Ryder, seated next to Will in a hospital bed, while an authoritative voice tells him that from here on out, nothing's going to go back to the way it used to be.
From there, with matching khaki onesies to boot, the team embarks on a quest to figure out exactly how—and why—things are spreading from the Upside Down. And while Natalia Dyer, aka Nancy Wheeler, and Charlie Heaton, aka Will's older brother, are mostly missing from the action, the most notable absence is definitely Eleven, whose appearance at the very end seems to suggest things are getting much more dire for Millie Bobby Brown's character.
Luckily, more news came about her at Comic Con's Stranger Things panel, where Brown told the crowd that she has an equally low number of lines this time around, which has also made her job a bit harder, given that it was "hard to keep a straight face with teen boys," she said. "They play pranks and tell jokes when I'm doing an emotional scene."
Brown may find some reprieve in some of the series's new characters, many of whom joined her onstage in San Diego. They include Sean Astin, aka Samwise Gamgee of Lord of the Rings, as Ryder's new love interest; Paul Reiser as the new head of the lab where Eleven grew up; and two mysterious siblings that, given Brown's Instagram, seem to be pals with Eleven: Dacre Montgomery, a 22-year-old Australian who was in Power Rangers, and Sadie Sink, a 15-year-old actress who'll also soon be appearing with Brie Larson and Naomi Watts in The Glass Castle.
Sadly, though, it looks like we won't be getting to see more of beloved Barb, played by Shannon Purser, after all. Purser made a surprise appearance at the panel and snagged the crowd's first question—whether she would be returning—which was met with a resounding "no." Though perhaps at the encouragement of the ever-trending hashtag #JusiceforBarb, the show's creators, the Duffer Brother, did make a point to says that "she will be avenged." (Purser seems to have gotten a head start on that herself by landing an Emmy nomination this week.)
Related: Emmy Nominee Shannon Purser, aka Barb From Stranger Things, Has No Idea How Fans at Comic Con Found Her Baby Pictures
Millie Bobby Brown Does Her Best Karaoke Version of Bruno Mars' "Just the Way You Are":