All The Female Spy, Assassin, and Super Thief Movies in Development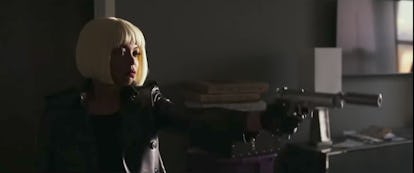 We may have to wait a little bit longer for a female James Bond, but suddenly female-fronted action thrillers are all over Hollywood. Alias star Jennifer Garner is just the latest to sign on to such a project, according to today's editions of the Hollywood trades, but everyone from Blake Lively to Jennifer Garner and Jessica Chastain to Rihanna is set to play something like an international spy, a revenge-inspired assassin, or a femme fatale super thief.
Charlize Theron's Atomic Blonde may not have been a blockbuster, but it did well enough at the box office, and it pleased critics—especially for its epic stunt work. Now it seems Hollywood is lining up more to make even more.
Here, a list of the female action heroines to look forward to:
Blake Lively is… Stephanie Patrick
Role: An assassin bent on revenge. Status: Just announced.
Based on a popular series of novels kicked off by The Rhythm Section and ushered to screen by the same producers of the James Bond series, Lively is set to play a character who loses her entire family in a plane crash and gets sent into a downward spiral of drugs and sex work. Upon learning that the plane crash wasn't an accident, she then becomes an assassin who adopts multiple personalities to get revenge.
Jennifer Garner is… Peppermint
Role: "A female John Wick." Status: Just announced.
Just announced today, former Alias star Garner is returning to her action roots in Peppermint. According to Deadline, Garner plays a mother who witnesses her entire family being gunned down. After waking up from a coma, she takes her sweet time turning herself into a human killing machine. Then, on the 10th anniversary of the tragedy, she sets out for a bloody revenge.
Jessica Chastain is… Painkiller Jane
Role: A super-powered police woman. Status: In development.
Late last year, Variety reported that Chastain had signed on for the lead role in Painkiller Jane. Adapted from a popular comic series, our titular hero is an undercover cop who attempts to infiltrate a mafia ring only to gain powers during a chemical explosion that makes her virtually indestructible.
Taraji P. Henson is… Proud Mary
Role: An elite Boston assassin unsure with an existential crisis. Status: Set for release January 2018.
Directed by Iranian-born action director Babak Najafi, this movie is in the can and slated for release next year. Do yourself a favor and watch the trailer here.
Alicia Vikander is… Lara Croft
Role: An archaeologist-adventurer. Status: Set for release March 2018.
Fresh off her Oscar win, Vikander takes on the role that helped turn Angelina Jolie into an icon, in a reboot of the Tomb Raider franchise.
Jennifer Lawrence is… Red Sparrow
Role: A Russian spy trained in the art of seduction. Status: set for release in March 2018.
Based on a spy novel, Lawrence plays a Russian woman who is forced into training as a spy who is meant to use the art of seduction to bring down Russia's enemies through sexy espionage. Eventually, she falls for a CIA agent and considers defecting. Timely!
All Your Favs Will Be… Ocean's 8
Role: Super thieves. Status: set for release in June 2018
Sandra Bullock, Cate Blanchett, Helena Bonham Carter, Anne Hathaway, Rihanna, Sarah Paulson, Mindy Kaling, and Awkwafina combine their mega-powers for an all-female reboot of the Ocean's 11 franchise, except this time they attempt a heist at the Met Gala.
Lupita Nyong'o and Rihanna are… Your Twitter Fantasies
Role: An international scammer and her tech-smart best friend. Status: Announced.
A scammer is a sort of a spy, right? In any event, Netflix is actually producing this Ava DuVernay directed movie based on a Twitter meme that went viral.
Daisy Ridley is …Virginia Hall
Role: Real-life heiress turned WWII spy. Status: Announced.
Star Wars heroine Daisy Ridley is going the historical spy route, because, as it turns out (and maybe some detractors of the idea of female spy movies should be reminded of this fact) female spies are very much a real thing. She'll play Virginia Hall, a heriess-turned-spy during World War II who the Gestapo once called "the most dangerous of all Allied spies."
Angelina Jolie is… Christine Granville (Maybe)?
Role: Real life WWII spy. Status: Rumor.
Similarly, there's rumors afloat that Angelina Jolie is interested in playing another real life WWII spy, this time the British agent Christine Granville, who apparently was Winston Churchill's favorite spy. Though, Jolie claims she hasn't thought yet about signing on to another movie, rumors that she's interested in the film have persisted.
Someone will be… Ruthless
Role: Another "female John Wick." Status: Announced.
According to The Hollywood Reporter, this film would center "a retired assassin who returns to the game after being diagnosed with terminal brain cancer and needs one last job to provide for her daughter." No star has been attached.
Someone will be… Ballerina
Role: Yet another "female John Wick." Status: announced.
The third role on this list described as a "female John Wick" would actually be part of the John Wick franchise. According to The Reporter, not many details are known but it centers "on a young woman raised as an assassin who must hunt down the other assassins that murdered her family." Similarly, it is yet to be cast.
Related: Meet Stella Strong, the Female James Bond
Chris Hemsworth Thinks Charlize Theron Should Be the New James Bond: