All the Reasons Why a Woman Should Play James Bond
It hardly seems fair that only six men (more people have walked on the moon) have played the part and no women have been allowed to have any of the fun.
---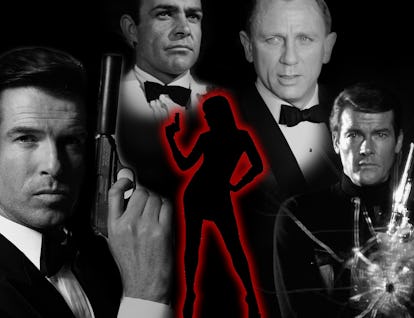 Collage by Alex Hodor-Lee
In the classic Goldfinger pre-title sequence, a camouflaged James Bond swims up to the docks of a shady Latin American oil depot. Having foiled the plans of a local drug lord by planting some explosives inside a secret lab, she unzips her wet-suit to reveal a plunging Yves Saint Laurent "Le Smoking"—her décolletage a seductive lure for the gringo-hating sons-of-bitches that she will soon lay waste to at a nearby cantina.
The detonators are ready to go off, and so is she. Her bravado rivaled only by her wit, she quips of her vanquished foe, "At least he won't be using heroin flavored bananas to finance revolutions."
See? Wasn't that easy? Swap a woman for a man in what remains one of the most memorable moments in the Bond canon, and she'd seamlessly pull off the same capers, with the iconic spy's derring-do and guile, of course, but also the added bonus of stylishly transforming from crime-fighter to man-slayer. Sadly, MI6 never got the memo.
A putative agent of cultural change, James Bond has remained defiantly masculine for over 60 years. He is—in the words of his female boss, M, giving him a royal dressing down in GoldenEye—a "sexist, misogynist dinosaur, a relic of the cold War." Sure, Bond's gin-drenched persona has been remixed over the decades, sometimes to the point of self-parody ("Cheers!" to Roger Moore), but the bloke-ish hangover is the same.
You could be forgiven for thinking that men had the monopoly on karate-chopping, sleeping and drinking their way through even the silliest script—that only a male actor, for example, could flee (on a jetpack, no less) from a fight with a guy in drag, as Bond does in Thunderball. It hardly seems fair that only six men (more people have walked on the moon) have played the part and no women have been allowed to have any of the fun.
Amid the ongoing conjecture over whether Daniel Craig, who has played 007 since Casino Royale in 2006, would sign on for Bond 25 (he has, apparently, but Bond detractors claim the drawn-out negotiations were the most compelling storyline in decades) there has been plenty of talk about how the durable franchise might evolve in order to remain relevant. Practically every white English-speaking actor, from non-threatening to criminally virile (from Tom Hiddleston to Michael Fassbender, basically), has been touted as a likely, energizing replacement for Craig. Echoing similar calls in the past for Bond to be played by an Asian or Latin actor, a spirited online campaign also emerged in favor of Idris Elba, a black British actor whose parents are from Sierra Leone and Ghana.
Why not, then, a female James Bond?
Chris Hemsworth Thinks Charlize Theron Should Be the New James Bond
At a time when the Patty Jenkins-directed Wonder Woman is kicking butt at the box office ($390 million and counting), once again putting to rest the notion that a female protagonist can't drive an action film, and questions about parity (or lack of it) in the movie industry increasingly dominate the conversation, a gender-flipped reimagining of 007 seems ripe for the picking. Eon, the studio behind the last eight Bond films, certainly thinks so, having announced last week that they are testing the waters and teaming with IM Global to produce a female spy thriller franchise, starring Blake Lively, based on a four-novel series by Mark Burnell. And, over the weekend, Doctor Who, another venerable British franchise, announced its 13th Time Lord would be played by a woman, the actress Jodie Whittaker. The sky hasn't fallen yet.
The idea for a female 007 first gathered serious traction last May, when, amid the protracted casting speculation, Gillian Anderson retweeted an image that a fan had photoshopped of her in lieu of Craig in the Skyfall poster. "It's Bond. Jane Bond," she wrote, riffing on the super sleuth's famous line (incidentally, a line he borrowed from the character Sylvia Trench in Dr. No). Before long Emilia Clarke and Elizabeth Banks were among the actresses throwing their hat in the ring (sadly no steel rimmed bowlers like the one wielded by the henchman Oddjob). And just as Angelina Jolie, who more than held her own in Salt, had previously turned down the chance to play a Bond Girl in GoldenEye, saying she would rather the lead role, Quantico's Priyanka Chopra scoffed at a similar suggestion, telling Complex magazine, "F— that, I'd rather play Bond."
Craig himself has been encouraging of the proposed switch. "I think it's a great idea," he said, admittedly during a time when he appeared well and truly over playing the part. "If it works it works. That's the great thing about film is it's all about imagination so of course it could happen… anything's possible."
"I just think why not?" Chris Hemsworth, no slouch in the action film department, told W's Lynn Hirschberg recently. "It's time."
According to Jany Temime, the French-born costume designer of the last two Bond films credited with softening Craig's brooding portrayal with a metrosexual makeover, it's an idea whose time has come. "I think it's super interesting," she told me. "I like it a lot. Bond was written as a man because at the time women were mostly secretaries and not special agents, and—let's face it—because the writer was a bit macho. But I think that now James Bond could absolutely be a woman."
The trick to the recasting, Temime suggested, is to play up 007's femininity. "She should look 500 percent woman," she declaimed with Gallic exuberance. "She can be powerful, very physical, but nothing about her should make you think that she is trying to do a man's job. She can run in heels—that's okay—and strap a gun to her garter. She is too busy saving the world to pretend to be a man."
Charlize Theron Talks Atomic Blonde and James Bond
Of course for every Craig and Temime, there is no shortage of irate traditionalists for whom the idea of a female 007 is as preposterous as a female-led Ghostbusters. Never mind that the Bond movies have been a study in masculinity-in-crisis since the laser-castration scene in Goldfinger, or that there is a successful gender reassignment within the franchise itself, with Judi Dench having owned M since 1995. A female actor, the counter argument goes, would be genetically disqualified from the start.
"[I think it's] complete and utter nonsense," Christoph Waltz, who played the villain Blofeld in Spectre, said recently. "Can you do it? Of course you can, you can do anything, but does it make sense? Not one bit."
It certainly does at a time when a franchise like Bond has to do plenty of battle away from the box office. As the recent success of Wonder Woman paraphernalia suggests, a sexy strong female action hero can successfully seduce fans of all ages in key merchandising categories ranging from toys and collectibles to home décor and fashion.
A female lead might also be a smart recruit in the fight for the lucrative video game market, where Bond once ruled (GoldenEye from 1997 remains one of the most beloved video games of all time) but has now being usurped by games like Uncharted. (In a neat twist, Uncharted is a gender-flip of Laura Croft from Tomb Raider, who was herself in part a gender-reversal of Indiana Jones.) "It's been a while between drinks for James Bond," says Chris Suellentrop, a former video game critic for the New York Times and host of the podcast, Shall We Play A Game? "So if you wanted to stir up controversy with something subversive now is the time."
While approximately 40 percent of people who play video games are women, and a large number of guys are perfectly content to play as female avatars, Suellentrop cautions that there are risks—and not just because titles licensed from movies are viewed with derision by serious gamers. "It would definitely be a gamble," he said. "The ongoing harassment campaign better known as Gamergate suggests that there are plenty of men out there that would have a problem with a female Bond."
Some women, too, if for different reasons. Saoirse Ronan, the actress who carried Joe Wright's Hanna playing a tweenaged action hero, thinks that instead of reprising an iconic male role there are more gains to be had elsewhere. "What would be better is to just create a whole new character who happens to be a woman as opposed to trying to shape a woman to become a character who's well known for being a man," she recently told W. "What would be more exciting is to have a writer sit down and create like a really cool original female character who is strong and smart and kicks ass like James Bond."
As for the naysayers who maintain that a woman playing a man called James is a bridge too far: they would do well to remember that Blake Lively, the woman most likely to succeed in Bond's improbable footsteps, has a daughter called James.
Related: Why Charlize Theron is the James Bond We Need Now
10 Bad-Ass Designer Looks For Charlize Theron's 007
Simone Rocha's fall collection centered around the ideas of female strength, and she was not the only designer in thinking about that theme in the wake of our current political climate. Theron would make a chic and strong Bond in this cream tailored jacket with cargo pockets.
Bond must always have an evening look, and Theron could opt for this Loewe fall look. With a daring neckline and strong silhouette, 007 could wear this to the opera, a gala, or whatever other black-tie event she may wish to attend.
Louis Vuitton's fall collection was chock full of fashion-forward pieces. This tough, cinched-waist look in all black would be exactly what Bond would wear if she found herself needing to investigate something in New York.
New York-based label Alyx offers an edgy take on Le Smoking, a female Bond's version of 007's classic tux.
A futuristic feeling was prevalent at many other fall shows, most notably at Paco Rabanne and Chanel. This chic silver lame long-sleeved shirt and tailored pant from Paco Rabanne would be a look that the female Bond of the future could easily wear with confidence.
Ashley and Mary-Kate Olsen of The Row have perfected modern tailoring for today's women. This jacket and pant pairing would be a go-to for Theron's Bond.
Denim is the woman of today's uniform of choice. If Theron's Bond found herself in Paris, this Dior look would help her fit in – and look chic – all at the same time. Extra points for this look's cross body bag. Bond would never let a handbag hold her back.
Bond is sexy and always put together, and so of course Theron would be the same – a cropped leather jacket from J.W. Anderson would be an edgy, fashion-approved look for an evening out on the town.
Raf Simons created a Canadian tuxedo in all leather for CALVIN KLIEN, and it is the modern take on the all-leather catsuits that female leads in adventure films often wear. Also, practical shoes – Theron as Bond would kill in these major cowboy boots.
Céline makes a good coat, and Bond would of course know that. Theron's Bond would opt for this look, and the knee-high boots would certainly come in handy.