Daniel Craig Is Reportedly Returning as James Bond After All
The British actor seems to be signing on for a fifth Bond role in Bond 25, making his return alongside Adele.
---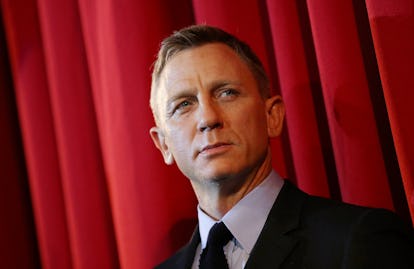 Sean Gallup/Getty Images
It's been a dozen years since Daniel Craig signed on to the 007 franchise and embraced forever being known as James Bond. In 2015, after 10 years and four films—Casino Royale, Quantum of Solace, Skyfall, and Spectre—it became apparent that Craig was getting Bond fatigue. After wrapping an eight-month shoot for Skyfall that took him from Morocco to Mexico City to Rome to the Austrian Alps, Craig told Time Out that he'd "slash [his] wrists than do another Bond movie."
Though, it turns out he was just kidding! The actor has reportedly "changed his mind" and is signing on for a fifth Bond movie, thanks in large part to franchise producer Barbara Broccoli, who also got Adele to return to write the theme song; her single for Skyfall—the most profitable Bond to date, with box office earnings of over $1 billion—won her a Golden Globe and an Oscar.
Like many women in Hollywood, Craig has found it to be "a drag" to maintain his impeccably muscular, well-tailored appearance as Bond, especially since, as he told Time Out, "as an actor I don't want to give a fuck about what I look like!" (To be fair, it must be tough when his screen partners are the likes of Eva Green, Naomie Harris, and Léa Seydoux, all about a decade his junior.)
Plus, eight-month shoots don't allow for much down time, which could explain why other than the Girl with the Dragon Tattoo, Craig's hasn't had too many blockbuster non-Bond roles of late. Of course, being Bond pays well: Last fall, Craig was rumored to have been offered $150 million to return to the role for two back-to-back installments, starting with Bond 25, which is expected to start shooting next year.
While Craig's final salary for this fifth movie is unknown, it does seem likely that it's an highly agreeable number, given that Craig's also said if he "did another Bond movie, it would only be for the money." In any case, apologies to Idris Elba, Tom Hiddleston, and Tom Hardy, all also contenders for 007—not that Craig seems to have ever been concerned about that. When asked if he cares who plays Bond next, Craig's response was crystal clear: "I don't give a f—."
Related: How I Learned to Drive a Yacht Like James Bond
Bradley Cooper Thought Grace Jones Was Hot in James Bond: