Taraji P. Henson Stars as an Assassin in Proud Mary Trailer
Taraji P. Henson gets her chance to star in an action flick. She stars as an assassin for the Boston mob in Proud Mary.
---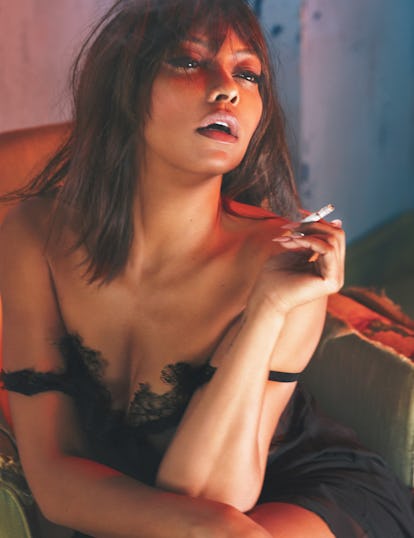 Photograph by Mert Alas & Marcus Piggott, Styled by Edward Enninful; Hair by Shay Ashual at Art Partner; makeup by Aaron de Mey at Art Partner; manicure by Mei Kawajiri for Chanel at Orme Square. Set design by Andrea Stanley and Emma Roach at Streeters.
Taraji P. Henson starring an action film as a glamorous assassin isn't something we thought we needed until we saw the trailer for Proud Mary. Now we're just upset that the movie won't come out until 2018.
The trailer, which is soundtracked to the classic Tina Turner version of the song from which it takes its name, opens with Henson's Mary getting ready for her day with some exercise, a shower, and putting on some makeup. At that point, her character could just be preparing for a normal day. For all we know she could be a lawyer, a teacher, a SoulCycle instructor… We just don't know until she casually starts zipping and buttoning herself into some head-to-toe black leather and goes into her closet to select her gun for the day. Turns out, her character is an elite contract killer for the Boston mob.
Then we get a montage of shoot outs, fast cars, explosions, a wig change, and quick shot of Hennessy. As one would expect from Iranian-Swedish film director Babak Najafi, perhaps best known for directing high octane action thriller London Has Fallen. Check out the trailer for yourself here:
The plot seems to take a twist away from your standard "bang! bang! shoot 'em up!" when Mary encounters a young boy. The log line indicates he may be the person who gets Mary to reconsider her life as an assassin for hire.
Hollywood is in the midst of something of a female-fronted action film renaissance. Charlize Theron continues to kick butt in a number a movies, and will continue to do so next weekend in Atomic Blonde. (We think that means Theron should very much inherit the mantle of James Bond. That may or may not happen, but Bond's producers did recently announce a new franchise concerning Blake Lively as an assassin.) Scarlett Johansson in Lucy was a notable standout, and Alicia Vikander is set to revive Angelina Jolie's Tomb Raider Lara Croft. This is also, of course, a summer box office season that has been completely dominated by Wonder Woman.
Though, Hollywood has been slower to give women of color those same action film opportunities. Hopefully Henson can help correct that. It's not like actresses of color haven't made legendary action stars before. Please look at Pam Grier's entire career as an example. Her work in Blaxpotation films is legendary (and her Oscar snub for her work in Quintin Tarantino's Jackie Browne might as well have been the original /#OscarsSoWhite).
Mary pays homage to Grier's films with its poster and title font, though hopefully the film and Henson (who had a supporting part as an assassin once before in 2007's Smokin' Aces) can help redefine the black female action star for a new generation. We'll see when the flick is released in January 2018.
Related: Taraji P. Henson's Years of Hard Work Has Paid Off: Now She's Invited to the White House
Taraji P. Henson Is the American Dream:
Empire Actress Taraji P. Henson Always Makes a Statement on the Red Carpet
The actress first appeared on the scene with a supporting role in 2001 film Baby Boy, wearing a sequined top, lace-up suede skirt and oversized flower hair accessory.

WireImage
At the Matrix Reloaded premiere, Henson stuck to the theme of the film and rocked a black vinyl trench coat, fishnet tights and black patent pumps.

FilmMagic
Henson wore a fitted lace and silk midi dress and gold peep-toe kitten heels with a pile of high pin curls, a style typically reserved for preserving a hairstyle overnight, at MMPA's 13th Annual Diversity Awards.

Getty Images
The actress looked like an alluring mermaid in an Aquamarine gown with a jeweled neckline at the 2006 Oscars.

WireImage
Henson wore a floral, teal midi dress and short pin-up girl-inspired bangs at a film premiere in Los Angeles.

Getty Images
Henson looked elegant wearing a navy J.Mendel corseted chiffon gown with a plunging neckline to the premiere of her film 'The Curious Case of Benjamin Button'.

WireImage
In a simple black gown, the actress looked refined at the 2009 BET Awards.

Getty Images
Henson looked sweet and sophisticated in a lace and jersey shift dress and peep-toe pumps at the 2010 Vh1 Hip Hop Honor Awards.

FilmMagic
At the 63rd primetime Emmy Awards, Henson nailed it in the hair and makeup department thanks to a low, messy side bun and radiant bronze makeup that coordinated with her metallic floor-length dress.

WireImage
A sequined, ombre-colored halter dress by Brian Rennie for Basler original proved to be a flattering, elegant choice for the 54th Annual Grammy Awards.

WireImage
At the 2013 Tribeca Film Festival, Henson looked stunning and vibrant in a cobalt-blue Stella & Jamie 'Fabiola' dress that showed off her curves.

FilmMagic
Henson arrived to the 'Think Like A Man Too' premiere in a red maxi dress wth hand-beaded Swarovski crystal embellishments.

FilmMagic
Henson attended the 2015 Met gala as the date of Alexander Wang, wearing a black and white strapless column dress by the fashion designer for Balenciaga.

WireImage
The Empire star wore another Alexander Wang gown while attending the 67th annual Emmy Awards, where she nabbed her second Emmy nomination for the breakout FOX drama.

FilmMagic
Henson channeled her Empire character Cookie Lyons at the 2016 Golden Globes, where she received the award for best actress in a TV drama, in a simultaneously fierce and ethereal white strapless Stella McCartney gown.

NBCU Photo Bank via Getty Images via Getty Images
Actress Taraji P. Henson wore custom Alberta Ferretti at the 89th Annual Academy Awards at Hollywood & Highland Center on February 26, 2017 in Hollywood, California.

Photo by Getty Images.