That Rihanna and Lupita Nyong'o Twitter Meme Is Becoming an Actual Movie
Rihanna, Lupita Nyong'o, Ava DuVernay and Issa Rae are teaming up for a movie that started life as a Twitter meme.
---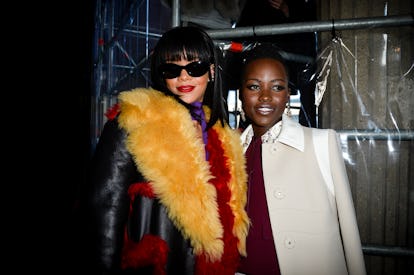 Pascal Le Segretain
Rihanna has over 72 million Twitter followers, so when she publicly joked on the platform about the possibility of making a movie with Lupita Nyong'o, director Ava DuVernay and writer and actress Issa Rae, a whole lot of people were watching. Apparently, even the people that can make movies actually happen. Now, a story that started as a Twitter meme is actually becoming a Netflix movie.
The whole thing was prompted when Twitter user @1800SadGal retweeted a photo of Nyong'o and Rihanna sitting side by side at a Miu Miu fashion show in 2014 and mused, "Rihanna looks like she scams rich white men and lupita is the computer smart best friend that helps plan the scans." It was Nyong'o who first caught wind of the tweet, and tweeted herself, "I'm down if you are @Rihanna."
"I'm in Pit'z," replied Rihanna.
And then Twitter went wild imagining the all-female, all-black talent that could work on the film; eventually landing on Issa Rae of HBO's Insecure to write the script and Selma director Ava DuVernay to helm the entire project.
Eventually, DuVernay and Rae agreed to officially offer their services.
And now its actually happening!
Entertainment Weekly reports that Netflix beat out several other aggressive bidders to land the project, and indeed, as her cat .GIF suggested, Rae is already hard at work writing up the script. Production is expected to start in 2018 after DuVernay wraps up post-production on Disney's A Wrinkle in Time. No word on how close the project will actually remain to the original Tweet, or whether @1800SadGal gets a credit and some royalties (though, she certainly deserves it).
While Rihanna has kept her career focused on music, she's slowly building up quite the acting resume. She recently appeared as Marion Crane on Psycho, is set to appear as the character "Bubble" in the upcoming Valerian, and will be one of the titular eight in all-female Ocean's 8.
It's also an important moment for Nyong'o too. Ever since breaking through with her Academy Award-winning performance in 12 Years a Slave Hollywood has quizzically been unsure what to do with her. She plays an Alien in the Star Wars sequels, and voiced a wolf in A Jungle Book. The only movie where she's appeared as an actual human that she filmed after that Oscar win was Queen of Katwe. Add this to upcoming Marvel's Black Panther (currently in post-production), and it seems she's finally getting the sort of roles she deserves.
Specifics of Rihanna and Nyong'o's careers aside, it's also a major moment that a high-profile movie directed, written and starring all black women is going into production. The Twitter-angle meme may be fun, but here's hoping it inspires and encourages similar major projects with total women of color creative control in the future.
Related: Issa Rae Creates Joyful Comedy Out of Dysfunction on HBO's "Insecure" ****
Lupita Nyong'o Confesses Her Girl Crush:
Rihanna Is the Ultimate Fashion Icon
The rising star arrived at the Baby Phat Spring 2006 fashion show in a baby doll-style sundress with lots of eyeliner and nude-pink glossed lips.

Getty Images
Wearing baggy jeans and a crop halter top, Rihanna was cute and sporty at Z100's Jingle Ball.

Getty Images
Rihanna went for the glamorous, diva look at the Conde Nast 3rd Annual Fashion Rocks Concert in a metallic Zac Posen gown.

FilmMagic
Rihanna sparkled in a white, Marilyn Monroe-inspired dress after winning Best Female Artist of the Year at the 2006 Billboard Music Awards.

Getty Images
Rihanna donned a daring new asymmetrical bob and a neon pink, mermaid-style gown at the MTV Video Music Awards.

FilmMagic
Rihanna visited TRL at MTV's Studios in Times Square in a strapless bustier top, flared jeans and a knit beanie.

WireImage
Rihanna was edgy and fun at the Nickelodeon's 2008 Kids' Choice Awards thanks to a new pixie cut and pink polka dot bustier top.

Getty Images
The singer played with color at the 2008 BET awards in a neon yellow Giambattista Valli gown and a playful purple lip.

Getty Images
Rihanna's short, cropped hairstyle gave a little edge to her Jasmine di Millo ruffled dress at the RIAA and Feeding America's Inauguration Charity Ball.

Getty Images
Rihanna went for the men's wear look in a Dolce & Gabbana tux with '80s-inspired shoulders to the 'The Model as Muse: Embodying Fashion' Costume Institute Gala at The Metropolitan Museum of Art.

WireImage
Newly blonde, Rihanna arrived at the 52nd Annual GRAMMY Awards in a ruffled Victorian-inspired Elie Saab Haute Couture gown.

Getty Images
Rihanna attended the Echo Award 2010 in a geometric high-fashion Alexander Vautiher bat-cap jumpsuit with serious shoulder pads.

Getty Images
Rihanna switched up her hairstyle–yet again. This time opting for a cherry red, voluminous curls.

FilmMagic
Continuing her love affair with scarlet, Rihanna attended the 'Alexander McQueen: Savage Beauty' Costume Institute Gala at The Metropolitan Museum of Art rocking a long, red French braid, rimmed eye make-up and maroon lip that perfectly coordinated with her sheer, embellished gown.

WireImage
The singer looked effortlessly chic at the Stella McCartney presentation during London Fashion Week in a green silk slip dress, courtesy of the designer, with sun-kissed blonde shoulder-length hair.

Getty Images
Rihanna arrived to the 2012 MTV Video Music Awards in a backless white Adam Selman dress debuting, of course, a new cropped hairstyle.

Getty Images
The singer turned heads at the 55th Annual Grammy Awards in a gorgeous sheer gown by Azzedine Alaia.

Getty Images
In a sexy Jean Paul Gaultier couture two-piece and coordinating head wrap, Rihanna was completely seductive at the 2013 American Music Awards.

Getty Images
Rihanna attended the 'Charles James: Beyond Fashion' Costume Institute Gala at the Metropolitan Museum of Art in a Stella McCartney two-piece dress that showed off her perfectly toned stomach.

WireImage
Rihanna in custom Adam Selman at the CFDA awards.

Getty Images
Rihanna showed some skin in a Tom Ford gown at the 2014 amfAR LA Inspiration Gala. Her ponytail, long lashes and bright orange lip upped the overall glam factor of the look.

Getty Images for amfAR
Pretty in pink. The singer filmed an episode of 'Good Morning America' in a Pascal Millet jumpsuit, blazer and faux fur stole.

GC Images
Rihanna attends the 'China: Through The Looking Glass' Costume Institute Benefit Gala at the Metropolitan Museum of Art in a yellow couture gown from Chinese designer Guo Pei.

Getty Images
Rihanna looked gothic chic in a look of her own design during the FENTY PUMA by Rihanna Fall 2016 show at New York Fashion Week.

Getty Images for FENTY PUMA
Showing off her killer body yet again, the singer attended the 2016 MusiCares Person of the Year event in a sheer, embellished gown and pointy-toed converse-inspired sneakers, both by Marc Jacobs.

WireImage
Rihanna in Kiko Mizuhara for Opening Ceremony.

Getty Images
Rihanna in Giambattista Valli couture.

Getty Images
Rihanna in Vivienne Westwood Red Label.

Getty Images