Nick Jonas Responds to Those Jonas Brothers Reunion Rumors, and Shares What Game of Thrones Spoilers He's Learned
"I know nothing… Jon Snow."
---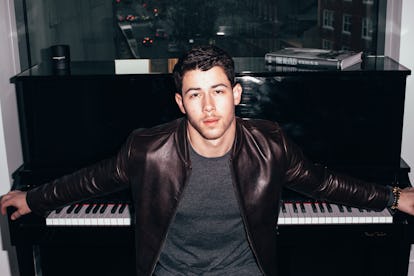 Nick Jonas's New York apartment is sparse, but for good reason.
"I literally just moved in weeks ago," he said, gesturing to the minimally decorated, yet still perfectly home-y space. "These are all placeholder stuff until I get my couch and stuff, so it will feel like a home in a month or so."
And yet, what he may have lacked in home decor, he certainly made up for it in terms of the sheer number of bodies moving around the space. A couple of hours before Jonas was due to arrive at the John Varvatos fashion show–he is the new face of the brand–his apartment had turned into an impromptu viewing party for that day's episode of Ellen, on which his older brother Joe's band DNCE was performing. Among the guests taking in the daytime talk show was oldest Jonas brother Kevin, as well as Joe himself and his fiancée Sophie Turner.
"It's a full house," Jonas remarked. "My brother Joe and his fiancée stay with me when they are in town. They are good house guests. I just got back myself so I haven't been able to make a mess."
The singer was in town for what was shaping up to be quite a packed weekend, culminating with the 2018 Grammy Awards on Sunday night, where Jonas will present Best New Artist, an award he and his brothers themselves were up for back in 2009.
"The first time I went to the Grammys was when we were nominated," he recalled. "It was incredible. The nomination came at a time when it was sort of the icing on the cake of a really phenomenal year for us. And just to be in the room was really special. That category that year was really special; it was Duffy, Lady Antebellum, us, and Adele, who won. Getting to watch Adele sweep that year was a special moment."
Of his favorite music from this past year, Jonas immediately called out Calvin Harris's album, Funk Wav Bounces Vol. 1. "I loved the Calvin Harris album and I was really happy to see him nominated for Producer of the Year, although I felt the album deserved a nomination as well. I think Julia Michaels is releasing some incredible music and was involved in the writing of some of my last albums. And SZA is obviously really killing it. There's really so much great music out there right now."
Recently, there's been rumors that Jonas himself might soon be putting out some unexpected new music, as the Jonas Brothers social media accounts were suddenly reactivated, getting the entire Internet talking about a potential reunion. "There is a lot of talk of that," he conceded. And? "I mean, it is not happening right now. Never say never. I think that there is some great things happening in all of our lives individually still and we are all focusing on that at the moment."
So no new music, but instead, a family outing to a fashion show, causing a frenzy of flashbulbs in the front row when the trio arrived at Varvatos's show mere hours later. ("It's madness," Jonas said earlier of going out with his family. "It depends on where we go. Joe and I made a Christmas gift run to the Disney store in Times Square. It was a bold move. But it's all good. I love meeting people that are fans of the work, or feel like they know us because we have been in their lives to some degree. It's a really nice thing.")
As face of the brand, Jonas had gotten a sneak peek of the clothing the day prior to the show. "John has done an amazing job with this collection," he said. "I'm really happy for him and think this is going to be a huge moment."
"I met John at a dinner about a year ago," he continued, when asked how the pair first met. "We were sat next to each other and we just started talking about music and fashion, and it was an instant connection and friendship. We stayed in touch and kept saying, 'We have to find a way to work together.' Eventually we sat down with some tequila and listened to new music of mine, and said, 'We have to do something.'"
That something? JV x NJ, a limited-edition capsule collaboration co-designed by Jonas, which launched last week with four staple pieces, including t-shirts and a leather jacket, inspired by Varvatos's hometown of Detroit. "We talked about Detroit as a big piece to the puzzle," Jonas said. "I loved that idea that we would take this great American city and build a collection around it. I'm from New Jersey, which is similar in that there is Asbury Park and great music from there with everyone from Bruce [Springsteen] to Bon Jovi, and I think as the next phase, we will incorporate some other great cities."
The collection will continue to grow, with further roll-outs coming soon, but the feedback has already been overwhelmingly positive. "I was really encouraged by the initial reaction," he said. "Every time that you do something outside your comfort zone, there is a risk.But I got texts and phone calls from friends congratulating me on the collection, and then saying they wanted a sweatshirt or jacket. I got a lot of sizes from my friends."
Of course, it sure beats the texts he has recently become accustomed to, thanks to his brother's wife-to-be: Game of Thrones spoilers. "[I get asked] all the time," he shared, pausing. "I know nothing… Jon Snow."
Watch: Nick Jonas Dramatically Reads Craigslist Missed Connections
Related: For Sophie Turner, the Scariest Part of Playing Sansa Stark in Game of Thrones Was Dying Her Hair