Detroit's Kaitlyn Dever Is Friends with Chloë Moretz, Was Parented by Tim Allen, and Got Big Sistered by Brie Larson
The 20-year-old actress knows the right place to be, at the right time.
---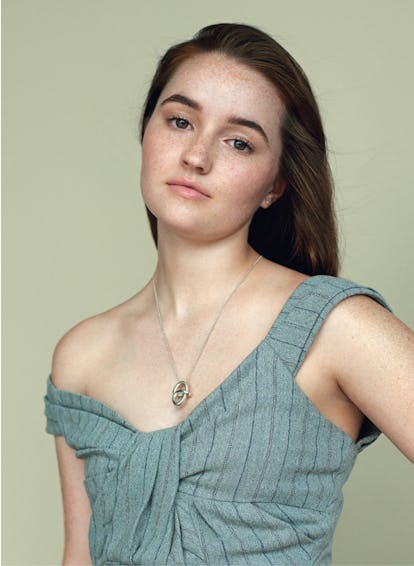 Photograph by Bruno Staub, Styled by Ethel Park; Hair by Braydon Nelson for Redken at Julian Watson Agency; Makeup by Georgi Sandev for Chanel at Streeters; Digital Technician: Jordan James; photography assistant: Evan Browning; fashion assistant: Costa Andrinopoulos
Ever since Kaitlyn Dever landed her very first gig via her very first audition—it was a Barbie commercial, and she was 10—she has been away from a film or television set since. Still, the 20-year-old actress, who can currently be seen in Kathryn Bigelow's acclaimed drama Detroit, has done her best to approximate a normal adolescence. "I was still homeschooled, but I got all the highlights in," she recalled. She laughed, adding, "I crashed my sister's prom."
Still, some of Dever's Hollywood-specific experiences don't sound half bad, like being close friends with Chloë Grace Moretz, her Laggies costar ("We can talk about auditions we have, or whatever") or having Tim Allen as a TV dad on the ABC sitcom Last Man Standing. "I was 13 when I started the show, so I grew up there," she recalled. "Over time he taught me a lot about comedic timing and not being afraid to ad-lib and make up your own thing." That's, miraculously, not as impressive as her real dad, who was the voice of Barney, the iconic dinosaur, for seven years.
Given that Dever's big break came as a troubled teen in the acclaimed drama Short Term 12 (her performance, much of it opposite an emerging Brie Larson as her counselor, was a minor revelation), it was only a matter of time before she broke through in a film like Detroit. After all, the unassuming film catapulted the careers of Rami Malek, Lakeith Stanfield, and Oscar-winner Brie Larson. "I'm just so happy for the Short Term 12 fam!" Dever said.
In Detroit, which premiered last week and is based on true events, nearly a dozen young black men are staying at the Algiers Motel during the Detroit riots of the summer of 1967. One night, while they're hanging out in a motel room, a contingent of Detroit police officers raids the hotel in search of a shooter. Over the course of a single evening, the cops embark on a reign of terror that leaves three dead. Dever plays Karen, one of two young white women whose presence sparks even more conflict in the racially charged, claustrophobic and unblinking look at police brutality—at the center of which is what came to be known as Algiers Motel incident.
It was a subject with which Dever was not at first familiar when she first read the script. "I needed to know about it," she recalled.
Despite the heavy subject matter and unrelenting intensity, Dever said the mood on set was less chaotic, thanks to Bigelow. "She was the most calm person throughout the entire process," Dever recalled. "That's really nice, because I've worked with directors before where you're doing heavier material, and you can tell that the director's stressing out."
With Detroit already garnering early awards buzz, it seems unlikely that Dever's life will morph into anything resembling normal anytime soon. There is, however, one more milestone she plans on celebrating just like anyone else—her 21st birthday. "I'm going to have a legal beverage or two," she said.
Related: Malcolm David Kelley, Little Boy From Lost, Washes Up As a Young Man in Kathryn Bigelow's Detroit
Brie Larson ran from boulders at her Indiana Jones-themed birthday party: