For Sophie Turner, the Scariest Part of Playing Sansa Stark in Game of Thrones Was Dying Her Hair
The Game of Thrones actress talks the role that changed her life, her friendship with co-star Maisie Williams, and what's next.
---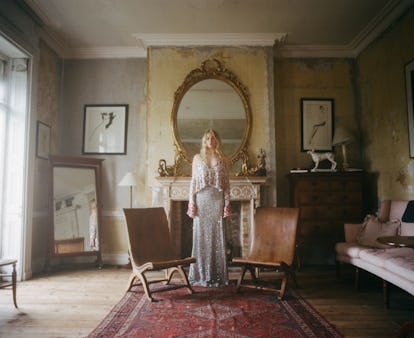 Sophie Turner wears an Altuzarra dress, $24,000, altuzarra.com. Photo by Cole Sprouse, styled by Ryann Foulke.
There are many words that come to mind when it comes to characterizing the Game of Thrones character Sansa Stark: serious, proper, distant.
But actress Sophie Turner, who plays the oldest Stark daughter on the HBO series, is not her character. Thirty seconds into a conversation with the 21-year-old Brit, and this much becomes abundantly clear.
"I have had people come up to me and think I am Sansa and treat me as such. I've had a few greetings as 'Lady Stark,'" says Turner. "It might be quite jarring to them because they come up to me and expect a stoic, cold person. And then they see me in shitty shorts and muddy trainers, and they are like, 'Oh, she definitely doesn't have handmaidens.'"
It's easy to forgive the confusion. Turner has played Sansa Stark, the eldest daughter of Ned and Catelyn Stark on the hit television series Game of Thrones, which returns this Sunday, July 16th on HBO for its 7th season, for eight years now. But stripped of her character's signature red hair and medieval garb, and in it's place cast in the hazy English countryside light, where was was photographed by fellow Young Hollywood megastar, the __Riverdale actor Cole Sprouse, it's all too clear that beyond the character of Sansa, Turner is very much a woman all her own.
For one, it's hard to imagine Sansa was a big fan of The Suite Life of Zack and Cody, the Disney show which launched Sprouse and his twin brother to stardom. "I love Cole," Turner says of the shoot, which took place back in May along the River Thames in London. "I watched him when I was growing up. I said to him [on set], 'When I was younger, I watched your show religiously.' That was my jam. I know every single episode. My eight-year-old self was freaking out."
It was only a few years after that when Turner landed the role of Sansa—her first ever professional gig—at the age of thirteen, after dabbling in acting as a hobby. "My mom putting me into a one hour acting group on a Saturday because she wanted some time to herself," laughed Turner. "She sent me off with all of my friends and we all did this acting class and we all ended up loving it, just completely falling in love. It ended up being kind of like our church. We were so dedicated to it. It was like a haven for me."
So when a casting call for a then unknown fantasy show came to Turner's school, the teen decided to give it a shot. "I didn't know what Game of Thrones was. I didn't know HBO."
Turner, of course, got the part. The one catch? The natural blonde had to go red. "I was a little skeptical about it," Turner admits. "Being a thirteen year old girl and going red, of course you kind of get mercilessly teased about it, but I spoke to the producers before I got the role and they explained to me that it is so integral to the part and her ancestry and it's a subliminal message to the audience about her mother and Robb and then Ayra's closeness to Jon and her father. Once they explained, I realized it was kind of amazing that for my first role, I got to transform myself. That was pretty cool."
She pauses. "That was my version of rebellion, I guess. My parents are pretty happy that I didn't go black hair and get tattoos all over my arms. My rebellion was floor-length skirts and red hair."
While her tumbling red hair has stayed consistent, the character Sansa has transformed greatly over the course of the series, particularly in the last season—following the show's most controversial scene to date, which showed Sansa violently raped by Ramsay Bolton on the night of their wedding—as the character morphed into a strong, independent leader. "It has been such a blessing," says Turner of Sansa's ever-changing trajectory. "Normally you play a character for a month or so, and then you are done with it, but to be able to flesh out a character for over eight or so years has been really amazing. She's a project that I really feel is part of me now. Everything that happens to her affects me. I have kind of been living through two people for the past eight years."
In true HBO sworn-to-secrecy form, Turner can't share many details about what is in store for the show this season, instead offering a perfectly enticing teaser that soundbite dreams are made of, "Now that she's became a leader, she has Winterfell, she has her home, she has her brother [Jon Snow, played by Kit Harington.] She's got to the point where she has that power that she's been longing for. And the ability to kind of hopefully bring the people that she loves back to her or create a safe haven if they do come back to her. It's more about her figuring out how to treat that power and how to surround herself with the people that are best for her. This season is about trust and loyalty."
The new season also marks the show's second-to-last season, and, in turn, the impending end of a role that has ushered Turner from adolescence and into adulthood. "I've been trying to wrap my head around it," she says. "It's not like I'm brushing it under the carpet; I am fully aware that it is coming to an end, but I don't think I'll be ready until I shoot my final scene, and then I think I will be completely an emotional wreck for the next year or so of my life. I'm really not looking forward to it. It is terrifying."
Which is not to say she's not keeping busy beyond Game of Thrones. "This year my New Year's resolution was to push myself and not be afraid and to make bold choices in my acting and my project choices," says Turner. Recently, it was announced that Turner's portrayal of the young Jean Grey in X-Men: Apocalypse would be spun-off into a standalone feature film, X-Men: Dark Phoenix. Like GOT, however, Turner is keeping tight lipped on the matter for the time-being. Clearly, this girl has a thing for project shrouded in secrecy. "I don't know why, because I'm such a blabbermouth," she laughs. "I just make it difficult for myself."
Regardless of lack of details, it clear that Turner is sticking to that New Year's resolution. "I guess in the beginning, Sansa was quite a damsel in distress," Turner says. "I never saw her storyline going in the direction it has, but now that I've got a taste for playing someone that was an underdog and now is really coming into her own being a strong, powerful female character, I've really got a taste for it. That's what I look for now."
But, she's quick to explain that she doesn't mean just teenage queens and mutant superheroes.
"But you know what, there is no shame in playing someone who needs help," she continues. I'd love to play someone like that in the future. There's a lot of people pitching you ideas saying, 'it's a really strong female character, she's 19 years old and she doesn't live with her parents, and she's doing her own thing.' Sometimes I kind of think, 'Well, what's wrong with the 19 year old who is living with her parents and that is having a fucking mental breakdown because she's depressed or this or that.' Every women is strong, no matter whether they are queen of the North or they are homeless and not doing particularly well for themselves."
Beyond acting, there is also the matter of Turner's status as a burgeoning fashion staple; just last week, it was revealed that she was the face of Louis Vuitton's Fall 2017 campaign.
"We have a great relationship," Turner says of the house's designer, Nicolas Ghesquière. "He's lovely. Vuitton had always been really wonderful to me and always volunteered to dress me. Nicolas told me he loves Game of Thrones and he loves redheads, so I guess I was a good combination for him."
However, Turner, who works with stylist Elizabeth Saltzman, who also dresses Gwyneth Paltrow and Saorsie Ronan, for red carpet appearances, claims her off-duty style is not so ultra-glam. "Well, I'm working on my street style," she says. "It's difficult because part of me wants to look really nice when I go out, but my natural style is jeans and a plain t-shirt that preferably matches the jeans, and boots or trainers. I really think I have a very boring street style."
It's the non-Sansa-ness of it all coming to the forefront once again. Yes, she may be dating a Jonas brother, and yes, she knows that her real life friendship with co-star Maisie WIlliams elicits a certain obsessive friendship that most other 20-something-friendships would not. ("Maisie and I have the purest form of true, true friendship," Turner says of the latter relationship. "She's been my rock. We are kind of the only two people who know what it feels like to go through this very scenario from pretty much the same background, and ending up where we are and kind of finding ourselves as we go. I think that's why people respond so well to our friendship, I guess. They see the true, pure love between us.")
But when it comes down to it, Turner is a (relatively) normal twenty-something. "My favorite thing to do in the morning is workout and get the endorphins going," she says of her ideal day. "I'll go out, grab a bite with my friends, go catch up on movies at the cinema or go to an art museum, and then go out and have loads of red wine."
Speaking of, the topic of her recent 21st birthday comes up, a backyard bash with 150 of her friends and, as she points out, "unlimited drinks." As for the morning after, "Well, there was a lot of throw up everywhere."
Not exactly an ideal ending, but, hey, sure beats the Red Wedding.
How Sophie Turner Has Grown Up on the Red Carpet, From Game of Thrones to X-Men
Sophie Turner attends the DVD premiere of Game of Thrones at Old Vic Tunnels on February 29, 2012, in London. Photo courtesy of Getty Images.

Getty Images
Sophie Turner attends the Elle Style Awards on February 11, 2013, in London. Photo courtesy of Getty Images.

Getty Images
Sophie Turner attends HBO's Game of Thrones season three San Francisco Premiere on March 20, 2013, in San Francisco. Photo courtesy of Getty Images.

Getty Images
Sophie Turner attends the Another Me photo-call during the 8th Rome Film Festival at the Auditorium Parco Della Musica on November 15, 2013, in Rome. Photo courtesy of Getty Images.

Getty Images
Sophie Turner attends the Another Me premiere during the 8th Rome Film Festival at Auditorium Parco Della Musica on November 15, 2013, in Rome. Photo courtesy of Getty Images.

Getty Images
Sophie Turner attends the Game of Thrones season four New York premiere at Avery Fisher Hall, Lincoln Center, on March 18, 2014, in New York City. Photo courtesy of Getty Images.

Getty Images
Sophie Turner attends the Arqiva British Academy Television Awards at Theatre Royal on May 18, 2014, in London. Photo courtesy of Getty Images.

Getty Images
Sophie Turner attends the Glamour Women of the Year Awards at Berkeley Square Gardens on June 3, 2014, in London. Photo courtesy of Getty Images.

Getty Images
Sophie Turner attends Entertainment Weekly's annual Comic-Con celebration at Float at Hard Rock Hotel San Diego on July 26, 2014, in San Diego. Photo courtesy of Getty Images.

Getty Images
Sophie Turner attends the 21st Annual Screen Actors Guild Awards at the Shrine Auditorium on January 25, 2015, in Los Angeles. Photo courtesy of Getty Images.

Getty Images
Sophie Turner attends HBO's Game of Thrones season five premiere and afterparty at the San Francisco Opera House on March 23, 2015, in San Francisco. Photo courtesy of Getty Images.

Getty Images
Sophie Turner attends the 67th Annual Primetime Emmy Awards at Microsoft Theater on September 20, 2015, in Los Angeles. Photo courtesy of Getty Images.

Getty Images
Sophie Turner attends Entertainment Weekly's Celebration Honoring the 2016 SAG Awards Nominees held at Chateau Marmont on January 29, 2016, in Los Angeles. Photo courtesy of Getty Images.

Getty Images
Sophie Turner attends the 88th Annual Academy Awards at Hollywood & Highland Center on February 28, 2016, in Hollywood. Photo courtesy of Getty Images.

Getty Images
Sophie Turner attends the X-Men: Apocalypse Global Fan Screening at BFI IMAX on May 9, 2016, in London. Photo courtesy of Getty Images.

Getty Images
Sophie Turner arrives at the premiere of HBO's Game of Thrones season six at the TCL Chinese Theatre on April 10, 2016, in Hollywood. Photo courtesy of Getty Images.

Getty Images
Sophie Turner attends the Louis Vuitton show as part of the Paris Fashion Week women's wear fall/winter 2016/2017 on March 9, 2016, in Paris. Photo courtesy of Getty Images.

Getty Images
Sophie Turner attends the Kineo Diamanti Award Ceremony during the 73rd Venice Film Festival on September 4, 2016, in Venice, Italy. Photo courtesy of Getty Images.

Getty Images
Sophie Turner arrives at the 68th Annual Primetime Emmy Awards at the Microsoft Theater on September 18, 2016, in Los Angeles. Photo courtesy of Getty Images.

Getty Images
Sophie Turner attends the Louis Vuitton show as part of the Paris Fashion Week women's wear spring/summer 2017 on October 5, 2016, in Paris. Photo courtesy of Getty Images.

Getty Images
Sophie Turner attends the 74th Annual Golden Globe Awards at the Beverly Hilton Hotel on January 8, 2017, in Beverly Hills. Photo courtesy of Getty Images.

Getty Images
Sophie Turner attends the Louis Vuitton show as part of the Paris Fashion Week women's wear fall/winter 2017/2018 on March 7, 2017, in Paris. Photo courtesy of Getty Images.

Getty Images
Sophie Turner attends the 70th EE British Academy Film Awards (BAFTA) at Royal Albert Hall on February 12, 2017, in London. Photo courtesy of Getty Images.

Getty Images
Sophie Turner attends the 23rd Annual Screen Actors Guild Awards at the Shrine Expo Hall on January 29, 2017, in Los Angeles. Photo courtesy of Getty Images.

Getty Images
Sophie Turner attends "Rei Kawakubo/Comme des Garçons: Art of the In-Between" Costume Institute Gala at the Metropolitan Museum of Art on May 1, 2017, in New York City. Photo courtesy of Getty Images.

Getty Images
Sophie Turner attends the Louis Vuitton 2018 resort show at the Miho Museum on May 14, 2017, in Koka, Japan. Photo courtesy of Getty Images.

Getty Images
Sophie Turner attends an event in honor of Louis Vuitton and Nicolas Ghesquière at Lincoln Center in New York City on November 30, 2017. Photo courtesy of Getty Images.

Getty Images
Sophie Turner attends the Louis Vuitton show during Paris Fashion Week fall/winter 2018 on March 6, 2018, in Paris. Photo courtesy of Getty Images.

Getty Images
Sophie Turner attends the 2019 Billboard Music Awards at MGM Grand Garden Arena on May 1, 2019, in Las Vegas. Photo courtesy of Getty Images.

Getty Images
Sophie Turner attends a screening of Game of Thrones season eight at the Waterfront Hall on April 12, 2019, in Belfast, Northern Ireland. Photo courtesy of Getty Images.

Getty Images
Kit Harington Auditioned for "Game of Thrones" With a Black Eye
How Sophie Turner Has Grown Up on the Red Carpet, From Game of Thrones to X-Men
Sophie Turner attends the DVD premiere of Game of Thrones at Old Vic Tunnels on February 29, 2012, in London. Photo courtesy of Getty Images.

Getty Images
Sophie Turner attends the Elle Style Awards on February 11, 2013, in London. Photo courtesy of Getty Images.

Getty Images
Sophie Turner attends HBO's Game of Thrones season three San Francisco Premiere on March 20, 2013, in San Francisco. Photo courtesy of Getty Images.

Getty Images
Sophie Turner attends the Another Me photo-call during the 8th Rome Film Festival at the Auditorium Parco Della Musica on November 15, 2013, in Rome. Photo courtesy of Getty Images.

Getty Images
Sophie Turner attends the Another Me premiere during the 8th Rome Film Festival at Auditorium Parco Della Musica on November 15, 2013, in Rome. Photo courtesy of Getty Images.

Getty Images
Sophie Turner attends the Game of Thrones season four New York premiere at Avery Fisher Hall, Lincoln Center, on March 18, 2014, in New York City. Photo courtesy of Getty Images.

Getty Images
Sophie Turner attends the Arqiva British Academy Television Awards at Theatre Royal on May 18, 2014, in London. Photo courtesy of Getty Images.

Getty Images
Sophie Turner attends the Glamour Women of the Year Awards at Berkeley Square Gardens on June 3, 2014, in London. Photo courtesy of Getty Images.

Getty Images
Sophie Turner attends Entertainment Weekly's annual Comic-Con celebration at Float at Hard Rock Hotel San Diego on July 26, 2014, in San Diego. Photo courtesy of Getty Images.

Getty Images
Sophie Turner attends the 21st Annual Screen Actors Guild Awards at the Shrine Auditorium on January 25, 2015, in Los Angeles. Photo courtesy of Getty Images.

Getty Images
Sophie Turner attends HBO's Game of Thrones season five premiere and afterparty at the San Francisco Opera House on March 23, 2015, in San Francisco. Photo courtesy of Getty Images.

Getty Images
Sophie Turner attends the 67th Annual Primetime Emmy Awards at Microsoft Theater on September 20, 2015, in Los Angeles. Photo courtesy of Getty Images.

Getty Images
Sophie Turner attends Entertainment Weekly's Celebration Honoring the 2016 SAG Awards Nominees held at Chateau Marmont on January 29, 2016, in Los Angeles. Photo courtesy of Getty Images.

Getty Images
Sophie Turner attends the 88th Annual Academy Awards at Hollywood & Highland Center on February 28, 2016, in Hollywood. Photo courtesy of Getty Images.

Getty Images
Sophie Turner attends the X-Men: Apocalypse Global Fan Screening at BFI IMAX on May 9, 2016, in London. Photo courtesy of Getty Images.

Getty Images
Sophie Turner arrives at the premiere of HBO's Game of Thrones season six at the TCL Chinese Theatre on April 10, 2016, in Hollywood. Photo courtesy of Getty Images.

Getty Images
Sophie Turner attends the Louis Vuitton show as part of the Paris Fashion Week women's wear fall/winter 2016/2017 on March 9, 2016, in Paris. Photo courtesy of Getty Images.

Getty Images
Sophie Turner attends the Kineo Diamanti Award Ceremony during the 73rd Venice Film Festival on September 4, 2016, in Venice, Italy. Photo courtesy of Getty Images.

Getty Images
Sophie Turner arrives at the 68th Annual Primetime Emmy Awards at the Microsoft Theater on September 18, 2016, in Los Angeles. Photo courtesy of Getty Images.

Getty Images
Sophie Turner attends the Louis Vuitton show as part of the Paris Fashion Week women's wear spring/summer 2017 on October 5, 2016, in Paris. Photo courtesy of Getty Images.

Getty Images
Sophie Turner attends the 74th Annual Golden Globe Awards at the Beverly Hilton Hotel on January 8, 2017, in Beverly Hills. Photo courtesy of Getty Images.

Getty Images
Sophie Turner attends the Louis Vuitton show as part of the Paris Fashion Week women's wear fall/winter 2017/2018 on March 7, 2017, in Paris. Photo courtesy of Getty Images.

Getty Images
Sophie Turner attends the 70th EE British Academy Film Awards (BAFTA) at Royal Albert Hall on February 12, 2017, in London. Photo courtesy of Getty Images.

Getty Images
Sophie Turner attends the 23rd Annual Screen Actors Guild Awards at the Shrine Expo Hall on January 29, 2017, in Los Angeles. Photo courtesy of Getty Images.

Getty Images
Sophie Turner attends "Rei Kawakubo/Comme des Garçons: Art of the In-Between" Costume Institute Gala at the Metropolitan Museum of Art on May 1, 2017, in New York City. Photo courtesy of Getty Images.

Getty Images
Sophie Turner attends the Louis Vuitton 2018 resort show at the Miho Museum on May 14, 2017, in Koka, Japan. Photo courtesy of Getty Images.

Getty Images
Sophie Turner attends an event in honor of Louis Vuitton and Nicolas Ghesquière at Lincoln Center in New York City on November 30, 2017. Photo courtesy of Getty Images.

Getty Images
Sophie Turner attends the Louis Vuitton show during Paris Fashion Week fall/winter 2018 on March 6, 2018, in Paris. Photo courtesy of Getty Images.

Getty Images
Sophie Turner attends the 2019 Billboard Music Awards at MGM Grand Garden Arena on May 1, 2019, in Las Vegas. Photo courtesy of Getty Images.

Getty Images
Sophie Turner attends a screening of Game of Thrones season eight at the Waterfront Hall on April 12, 2019, in Belfast, Northern Ireland. Photo courtesy of Getty Images.

Getty Images