Game of Thrones Star Emilia Clarke Has Pet Names for Her Khaleesi Wigs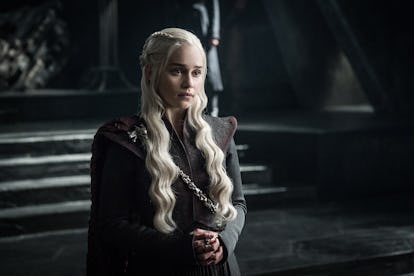 Courtesy of HBO
The Games of Thrones plot lines are easy to get twisted. Same for the characters. But have you ever heard of Dany, Diva, Candice, and Blondie during any of the past six seasons? Likely not. Turns out they're not some ancillary characters on the show that have slipped your attention; rather, those are the pet names for the four wigs that [Emilia Clarke](http://www.wmagazine.com/topic/emilia-clarke wears for her role as Daenerys Targaryen (aka Khaleesi).
In an interview with Time ahead of the season seven premiere on July 16th, the show's hair designer, Kevin Alexander, spilled the secrets behind Khaleesi's platinum-blonde styles, which he designs, including just how each of her shimmering wigs got their nicknames. For example, according to Kevin, "Candice" is named after another Game of Thrones stylist.
However, while Dany, Diva, Candice, and Blondie may be Khaleesi's go-to's, Alexander has created many hair masterpieces for Emilia's character throughout the past six seasons. "We started with one [wig], and then slowly over the period of the seven years, we've built [more]—they can get ruined really easily," he said. "They're quite sensitive to atmosphere, so if in a fire scene, there's too much smoke or whatever, they just go gray. You just lose them. They become a really dodgy gray like she's been rolling around in the dirt."
He also shared that finding a shade of platinum blonde worthy of the mother of dragons took time—and a lot of trial and error. "Everyone had an opinion — all the producers, the writers, everybody wanted a tone, so that took at least two, two-and-a-half months, with six or seven wigs, going back and changing the tone," he said.
Whatever work he put in, it paid off—Khaleesi's hair has become not only somewhat iconic, but also major hair inspiration for styles both casual and formal. And with the final two seasons approaching on HBO, we only can expect Kevin, Emilia, Dany, Diva, Candice, Blondie and the whole GoT crew to create even more intricate styles that fans will want to copy.
Related: Behind the Scenes of the Romantic Drama 'Me Before You' With Emilia Clarke
Kit Harington Auditioned for "Game of Thrones" With a Black Eye: