The New Game of Thrones Season 7 Trailer Is Truly a Song of Fire and Ice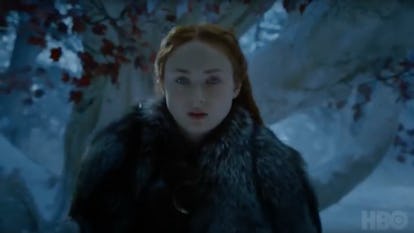 HBO/Youtube
Winter has officially hit the Seven Kingdoms, according the newest trailer for Game of Thrones' seventh season, which hit the web on Tuesday—but while the temperature may be plummeting, the action is heating up.
In our latest look glimpse of the HBO series' long-anticipated return, we see all our favorite contenders for the Iron Throne—Jon Snow, Cersei Lannister, Jaime Lannister, Arya Stark, Daenerys Targaryen—and then some, plus plenty of fire and ice. The trailer kicks off with Sansa Stark sauntering through the snow, looking regal as ever, while her old frenemy Littlefinger seems to whisper in her ear via voiceover some sound, albeit difficult-to-execute, advice. "Don't fight in the North or in the South. Fight every battle, everywhere, always, in your mind," he recommends.
Of course, not every fight can be a mind game. The teaser puts many an epic war scene on display, complete with armies clashing, ships aflame, Dany's dragons wreaking their usual havoc, and even a sword that's literally on fire. And, north of the wall, Bran is still working his warg magic with the three-eyed ravens, while the Night's King and his White Walker army seem more destructive than ever.
"For centuries our families fought together against their common enemy," Jon, our favorite White Walker fighter, chimes in as the chaos unfolds on-screen. "Despite their differences, together. We need to do the same if we're going to survive because the enemy is real. It's always been real."
The high-intensity trailer ends with a somber message from Sansa herself: "When the snows fall and the white winds blow, the lone wolf dies—but the pack survives."
Related: Game of Thrones Actress Rose Leslie, Williamsburg Resident, Proudly Wears Fedoras
Kit Harington Auditioned for "Game of Thrones" With a Black Eye: