HBO Swaps 'Girls' for 'Brown Girls'
HBO keeps mining webseries for its comedy programing. Now it's interested in Fatimah Asghar and Sam Bailey's Brown Girls.
---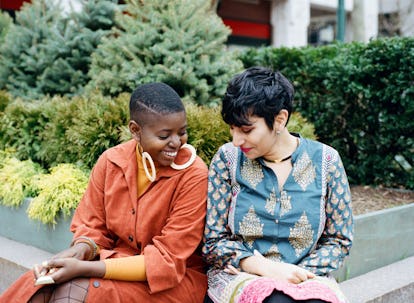 HBO has contracted writer Fatimah Asghar and director Sam Bailey to adapt their web series Brown Girls for TV. Though the Chicago-based series only debuted in February it quickly became a viral hit for its realistic portrayal of queer women of color. The trailer alone propelled the series to the kind of success that even Asghar and Bailey were overwhelmed by when they talked to W back in March.
"Whatever we thought success looked like, or whatever we thought people were going to respond to with the release—it just has exceeded," Bailey told us then.
Three months later after we called it the "next Insecure," it really is, and now they're gearing up for the HBO adaptation.
"It's a story that folks hadn't seen before, but is relatable," Asghar told Elle recently. "I can't tell you the amount of times people have said, 'This is me and my best friend,' or, 'This feels like my friend group,' or, 'I can see myself in this.' Part of it is the lack of representation of many different races in Hollywood in general. And also part of it is the way these girls operate in the web series in terms of their races, their identities, their personalities, and their class background. I think people saw their struggles in a trailer full of black and brown women and wanted to see what the project was without really knowing much about it."
Episode 1 of Brown Girls treads some Master of None territory as it follows a character fielding an awkward phone call from a Muslim "crazy aunt" as she simultaneously tries to slip out of the bedroom of a hook-up who's trying to ask for commitment.
"She's been trying to wife you up since you first met," a friend later commiserates with the niece. "She couldn't understand the meaning of casual. It was like, 'Damn b—-. Take a hint. I'm here for the p—-.'"
HBO was criticized for just about every aspect of its prime-time soap Girls, and one of the consistent complaints was its white, privileged, heteronormative worldview. To be fair this does fit with the kind of people who subscribe to HBO. ("Brown Girls? Your standard HBO subscriber might ask, 'Is that like Girls only they all went to Brown instead of Oberlin?'") Lena Dunham's show actually had very square demographics: the median age of viewers was 43 and most were, surprisingly, male. Rather than try to engage with youth, Girls sought more to explain it to olds, the arm's length examination seen also in the way certain prestige publications write about pop music.
Since then HBO has made efforts to be more woke, with its now cancelled Looking, which was sort of like Girls only about gay men in San Francisco. Last year HBO debuted Insecure, Issa Rae's show based on her web series Awkward Black Girl, which The New York Times praised: "Its stories of buppie frustration and romance, set in Los Angeles, aren't revolutionary, but they're funny and moving, powered by Ms. Rae's ear for dialogue of a kind of crystalline, pitch-perfect profanity."
There was a trend of making TV shows off popular social media accounts for a while there—S— My Dad Says, you were too beautiful for this world, too edgy with your concept of a dad who is not smart —but now it seems web series are back to being the favorite online talent mine. This has been especially true for HBO, which recently began shooting season two of High Maintenance, its sociological exploration of stoner New York, which began on Vimeo.
You know who HBO should sign next? Sasheer Zamata. She's a woman of color who makes a mean web video and has some free time on her hands. There's a free one for you, HBO. Especially if you might have some Bill Maher-shaped hole in your schedule anytime soon.
Related:
– Issa Rae Creates Joyful Comedy Out of Dysfunction on HBO's "Insecure"
See What's Trending in W Video: