Facials, Highlights, and Emsculpt: How the Pros Prepare for the Oscars
Consider this your resource for all the best celebrity-approved beauty services and treatments in Los Angeles ahead of Oscar weekend.
---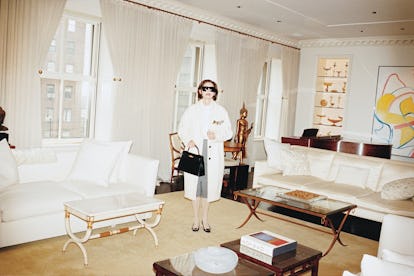 Photographed by Juergen Teller for W magazine, 2008.
New Orleans has Mardi Gras, Washington plays host to a quadrennial Presidential Inauguration. But in Hollywood, the highly anticipated event of the year—a Bar Mitzvah on steroids, if you will— is known as the Academy Awards. And prior to Sunday night's main event, there's a packed week of parties, galas, fund-raisers, and social events filled with public figures (and plenty of others who think they are public figures) spending a lot time and money to look their best. In between dinner at Craig's, the Polo Lounge, or E. Baldi, the days and nights are filled with much primping and prepping with professionals.
For the record, there are talented people administering these types of high-quality treatments all over the world, but this week, the best services are undoubtedly offered in Los Angeles. (The renowned professionals who are not L.A.-based set up camp here during awards season each year—see: Joanna Vargas and Joanna Czech.) If you'll be in town this week and would like a piece of the action, we've compiled a list of some of the best beauty talents to help with your hair, skin, mood, mind, and body—organized according to individual ailments, below. Prepare for the biggest week in Hollywood exactly as the stars who'll be on the Oscars red carpet this weekend will.
My Hair Is a Royal Mess.
For Highlights, Base and Roots:
Matt Rez
If you can get a slot on his schedule, the king of glam color who recently took Kendall Jenner's locks to a shade of sultry red is simply one of the most talented in his field. The color master that has transformed the tresses of Adele, Hailey Bieber, Kaia Gerber, and Hunter Schafer is precise with his technique and meticulous with color blends to find the perfect shade that flatters your face. Added bonus: his demeanor. Highlights, base, and styling can often take hours and the environment he provides is peaceful, respectful of your time, and professional. In-salon appts or house calls. To book, call (424) 245-9702.
Sigrid Mahan
A seasoned celeb hair colorist that does house calls and doesn't charge an arm and a leg may seem like a pipe dream, but Mahan is for real. Base and highlights come second nature to Mahan, who has been working on celebrities (and regular folks) for well over two decades. For salon and house calls, book through Instagram: @colorbysigrid.
George Papanikolas
Highlights and more gorgeous highlights. Papanikolas has created some of the most memorable golden tones on Penelope Cruz and others; he's perfected the balayage and gives excellent color all around. For booking, call Andy LeCompte Salon, (310) 273-4100.
For Haircuts:
Adam Campbell
When he's not prepping the locks of longtime clients Angelina Jolie, Liv Tyler or Natalie Portman at their homes or during a photo shoot, the "whiz with the scizz" Campbell is busy giving a versatile selection of timeless as well as edgy cuts to us civilians as well. For house calls or in-salon treatments, call (424) 245-9702.
Maxim Salavdor
The French-born hair veteran gives a chic European cut that lasts for more than several months, but really, his blow dries are to kill for. As any good blow dry requires, there's a lot of smoothing and pulling involved, but the end result is absolutely astonishing. For house calls or in-salon appointments, call (310) 205-2370.
For Updos, Twists, or Any Other Special Event Styling:
Stephanie Houdin
For special events, the French hair vet's glam updos are known to be the chicest on red carpets. Houdin's hands are truly skilled, whether the look calls for dignified elegant or electric edge. House calls and in-salon appointments are available. Call (310) 205-2370.
For a Fast, Professional Blow Out
Vanessa Castle
In and out, and your hair is perfection. Sleek blowouts and beach waves are second nature for Castle. Plus, she's fast and relatively inexpensive, considering her work is only house calls: $85 for a simple blow out and $100 for more elaborate hair styles. To book, email Castle728@gmail.com.
My Eyebrows Need To Be Tamed.
Kristie Streicher
You don't ever want to take a chance on who works with your brows, especially before an important week. Streicher, the STRIIKE proprietor and longtime celebrity brow expert for Gwyneth Paltrow, Adele, and Mandy Moore, is exceptional at tweezing your brows to absolute perfection. (Yes, perfection.) She has a genuine talent for giving you the shape that suits your face, instead of a trendy look of the moment that could make you seem hip but totally unrecognizable. One session costs $275 in salon, and private in-home rates are available upon request at (310) 205-2600.
I've Been Eating and Drinking Way Too Much...and Now I'm Bloated.
Ballancer Pro Lymphatic Drainage Sessions
Every publicist in town has their clients in one of these before awards season. These drainage sessions are an FDA cleared full body suit that uses sensors targeted to your body to deliver a complete lymphatic drainage massage. The technique delivers miraculous results in terms of ridding the body of excessive water retention (goodbye, bloating!), skin glow and removal of toxins. Seasoned celebrity aestheticians like Ivan Pol and Joanna Vargas offer them at their spas, but the majority of A-listers get in-home treatments they can do on their couch or bed—and so you can you. One session per house call costs $500—book online at www.ballancerpro.com/now or call (424)362-7624
My Back Is Stiff and Knotted—and I Need To Be on My Feet This Week at Parties.
For a Massage:
Julie Stout
A phenomenal professional massage, period. Relaxing, unknots the hell out of you, and best of all, she doesn't talk your ear off. Stout has been a longtime favorite to Hollywood elites; she specializes in deep tissue, sports, hellerwork structural integration, Shiatsu, reflexology, Thai and Craniosacral. She only does house calls, and her rate is $200 per hour. Call (917) 304-1175 to book.
Pellequr
A lymphatic drainage massage is ideal to take out the stress and the knots. Pellequr is both pristine and extolls hygienic cleanliness with a lot of privacy (Naomi Campbell and Kim Kardashian have been known to discreetly frequent the rooms). Each client is in their own tiled private room under a Vichy shower to receive a traditional Korean body and scalp scrub followed by their signature CBD lymphatic drainage massage. $235 for 75 mins. Call (310) 734.7880 or visit www.Pellequr.com/booking to schedule.
I Need Skincare Help.
For Tired-Looking Skin:
Ivan Pol, The Beauty Sandwich
A constant behind-the-scenes fixture for numerous high-profile faces on both coasts, Pol has upped the skincare game to another level with his famed Beauty Sandwich facial treatments. The L.A.-based skin expert uses a non-invasive facial that incorporates collagen and elastin to turn back the clock and make skin look incredibly refreshed. The best part? Pol's unique process uses a specialized radio frequency method to firm, sculpt, and tighten the skin without needles, lasers, chemicals, or pain. $1500 for one session, house calls available. To book, email info@thebeautysandwich.com or visit his Instagram account, @thebeautysandwich.
For Acne/Breakouts:
Gina Marí
Marí is nothing short of a skin prodigy who knows exactly what individual skin types need, especially if you suffer a breakout right before an important event. The veteran aesthetician performs a multitude of services with the latest methods, machines, and technology—often using vitamin infused microdermabrasion, radio frequency, and laser therapy, all with an emphasis on clearing skin imperfections with next to zero downtime. To book, call (310) 276-7601.
For Dull-Looking Skin:
Lena Bratschi at Carasoin
No awards season beauty treatment is complete without a facial at Carasoin. European master aesthetician Lena Bratschi takes a multifaceted technological approach to her facials, incorporating numerous beauty machines imported from around the world to deliver gorgeous skin. Lena's bespoke 90-minute facials start at $450, and house calls are available—price upon request. Visit www.Carasoin.com for more.
For Dry, Lusterless Skin:
Georgia Louise
Louise's bespoke facials are adored by a slew of recognizable faces in film and television who receive her expert wisdom and skincare philosophy during their personalized treatments. She uses the latest technologies and methods to deliver glowing skin that looks natural and hydrated. Rates start at $250, call (212) 472-1400 or visit georgialouise.com to book.
For Puffy Skin:
Joomee Song
A facial that makes you look like you've had endless sleep and then aged backward. Song is a master practitioner in Kobido, the Japanese massage technique rooted in lymphatic drainage and muscular symmetry. The longtime skin guru to Lady Gaga has a meticulous method that will transform your skin to its most rested state. She incorporates traditional Eastern practices with European and American facial treatments to provide a holistic approach to skin health. Over the course of her twenty-year practice, she noticed overly aggressive protocols and products were making her clients' skin worse over time. She created and trademarked the Kaika facial sculpting massage, which she performs exclusively at her Brentwood, California studio, Faceworks. Meaning "to bloom" in Japanese, this chiropractic Shiatsu technique combines an ancient form of deep facial massage to lift, tone, and detoxify the skin, realigning facial structure using a unique form of microcurrent that improves the lymphatic drainage system so skin can function optimally. To book, email Info@joomeesong.com.
For a Skin Treatment That Packs More of a Punch:
Dr. Jessica Wu
Hands down, Wu is quite simply one of the best with Botox and filler. Her star-studded, high-caliber celebrity roster is like no other, and her long-established practice has provided beautiful work and skin maintenance to some of the most noteworthy public figures. To book, call her office at (310) 473-5878.
I Need a Manicure, But Have No Time to Sit in the Salon.
For a Standard, Beautiful Mani and Pedi:
Vivian
Fast, clean and meticulous. Known for giving a manicure that lasts (and lasts,) Vivian is a pro at any type of manicure, pedicure, or gel nails. Her method is all about cleanliness, exacting in shape, and thorough color application—and best of all she's swift, sweet, and won't talk your ear off. A manicure and pedicure in your home costs $150. To book, call (626) 596-6152.
For Gel Nails:
Salina Néou
The notable gel nail artist with a client roster that includes Cardi B and Kylie Jenner can deliver the most vivid and popular nail looks of the moment. If you'd like to schedule an appointment, it's best to contact Salina through her Instagram, @_linadoll, or through StyleSeat.
I Need a Professional Makeup Artist Who Knows What They're Doing.
Mellody Vere
Vere is one of the most gifted makeup artists in Los Angeles. When she's not spending her time on editorial shoots, she's perfecting makeup looks for all the players during awards season. Uber-talented, Vere has the unique skill of accentuating sublime makeup applications with any given look, but highlights your best features, so you are still recognizable. Her hand is gifted. Book through her agent by emailing Claire@eamgmt.com.
Amy Oresman
The veteran celebrity MUA has created flawless, jaw-dropping looks for awards seasons past with her seasoned technique on Hollywood's most glam public figures. There is no makeup look she can't do. Contact Noelle Keshishian at Frame Agency, noelle@a-frameagency.com, to make an appointment.
I Need to Fit Into My Dress, and Spanx Isn't Cutting It.
For a Red Carpet-Ready Bod:
Ashley Layfield, Private Trainer
No one will get you into that dress faster than Layfield. Even if you have only a week to tone up your arms and lift your butt, she will revamp your body and train your muscles to elongate and tighten as if they've been electrocuted by Jack Lalanne's ghost. Using a combined method of limited weights, Pilates, and calculated dance moves, the former Miss Hawaii's techniques will give you noticeable results if you follow her diligently. (Also, lay off the processed food and late-night snacking). She does one-on-one in-home sessions, group classes, and one-on-one Zoom sessions as well. Visit www.ashleylayfield.com for more.
Shayne Davis
Davis provides an excellent, thorough workout—with a reputation that has made him one of the best trainers in L.A.—to help train the muscles properly and shed any undesired weight. Relying on his experience and sports medicine education, the former male model has devised his own techniques in weight training, body building, powerlifting, long-distance running, and boxing. He pairs visible muscle toning techniques with doable approaches to healthy weight loss, giving the body dramatic results. To book a one-hour session for $125, contact Davis directly through Instagram @shaynedavis.
Nonna Gleyzer, Nonna Gleyzer Studio
Tinseltown's favorite "Pilates Witch" who counts Gisele Bündchen, Jodie Comer, and Kerry Washington as devotees, doesn't just start and end the session with traditional Pilates to get you in your best shape ever. It's a far more precise undertaking. The Ukraine-born-Olympic-gymnast-turned-celebrity-trainer will start the first session correcting your alignment, troubleshooting areas where your body holds the most stress. Her years of training have enabled her to pinpoint your body's most stressed-out areas just by looking at the way you stand, breathe, and speak. Gleyzer's private sessions not only work to elongate your muscles but get you breathing properly by holding your posture (and sanity) correctly. (The beautiful bum, arms, and legs are a plus, too.) Rates start at $275. To make an in-studio appointment or book a house call, contact Nonna@bodybynonna.com.
For the Body of a Super Hero:
Brad Bose
The renowned celebrity trainer uses specialized training techniques that are unique to the film world—after all, training superheroes for Marvel is no easy task. Brad utilizes a holistic body/mind approach in all his training and combines the latest in cutting-edge fitness technology and research to achieve his clients' goals and integrate a sound body with a sound mind. And the end result is always visible when his clients saunter down the press line in the best shape of their lives. One session costs $200. E-mail bradbose@me.com to book.
I Don't Have Time to Exercise.
Emsculpt by Dr. Payman Danielpour and Dr. John Layke
When exhausting, repetitive workouts still won't yield results, here's an option that doesn't require a lot of effort. For partners Dr. Payman Danielpour and Dr. John Layke, who head Beverly Hills Plastic Surgery Group, Emsculpt has rapidly become one of the most in-demand treatments for their A-list clientele. Emsculpt couples radio frequency and HIFEM+ (high intensity electromagnetic field energy) technology to eliminate fat while simultaneously building muscle. This revolutionary device can be utilized to sculpt the abdomen and buttocks. After just four treatments and zero downtime, patients will notice skin tightening and remarkable reductions in subcutaneous fat and a more toned physique, resulting in approximately 30 percent fat reduction and a 25 percent increase in muscle. $1000 a session, four sessions recommended. Call 310-275-6600 for more information.
I'm Stressed.
John Amaral (a.k.a. Energy Healer to Hollywood's Elite)
For the past two decades, this famed energy healer has been on speed dial for A-listers near and far in the film and music industries—especially during awards season when things can get tense. Amaral's holistic mind-body, energy-based approach uses the power of biomechanics, principles of neuroscience, and the client's own human energy field to channel light, positivity, and a genuine sense of uplifted enlightening. Plan on at least two hours for a session that'll shift your energy, and make you feel energized. Price available upon request. Contact: www.johnamaral.com
Sound Bath Healing at the Five Sense Collective
Of course, like every in-demand Hollywood holistic treatment, house calls are available here, but this is truly a gorgeous reason to make the trek to Malibu. Not only is the sound bath ceremony otherworldly, the environment in which it takes place is nothing short of absolute splendor. If it can transport you mentally and physically out of the Hollywood hustle and bustle for a few hours, it's invaluable. Sound baths have long provided healing for the body and mind. Sound therapy uses a combination of two frequencies, harmonious and dissonant, to trigger a brain and body connection. One frequency creates a soothing response for the body, while others create some discord, or tension, within the body. The latter is meant to help with healing trauma and processing tough memories in an ultra-safe environment. Call (424) 291-2043 to book.
Danielle Brooks, Psychotherapist
Because everyone needs someone to talk to—and sometimes, a professional is best. Therapy is essential and our minds and bodies have been inundated with outside stimulation and excess information. Brooks has been a renowned therapist in the field of psychotherapy on the West Coast for decades, helping to service the mental and emotional needs of her clients both in person and on Zoom.
Floatation Therapy at Pause, West Hollywood
A revered treatment to clear your head, reduce stress, and create inner harmony. The sensory deprivation tank treatment will have you floating in warm, salted water in the most relaxed atmosphere. Float therapy is a super healing treatment that gets your body and mind in a profound state of relaxation that was once only available to lifelong meditators. This treatment reduces stress and headaches, improves sleep, releases endorphins, and provides a lasting state of balance. Floating enables you to tap into heightened levels of focus and creative problem-solving. And during your float, you can even explore a state of "super learning," in which your fully relaxed and undistracted mind can make deep, new neural connections. To book an appointment, call (323) 565-9381.
I Need to Strengthen My Immune System.
Dr. Dao, Tao of Wellness—Acupuncture
Because no one wants to get sick before a great party or two. Dao implements the most revered and sensible acupuncture techniques to make sure your immune system at its most robust for Oscar season. His practice delivers stress relief, balances hormones, and helps relieve your headaches as well. His almost forty years of expertise in the field of ancient Chinese medicine and herbs will help clear your toxicity levels and rid the body of excess stress so you can be in your healthiest state. For booking, call (310) 917-2200 or visit www.taoofwellness.com.