Hayley Williams Wants to Help You Find Your Perfect Hair Color
The Paramore frontwoman and hairstylist Brian O'Connor share their favorite (and least favorite) out-there hues, tour bus essentials, and the pros and cons of Botox.
---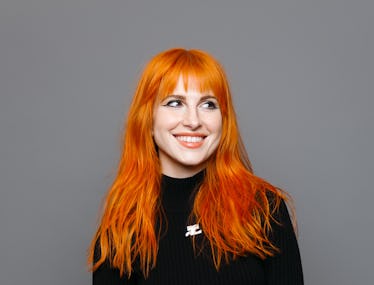 Photo by Julia Cox
We may receive a portion of sales if you purchase a product through a link in this article.
In addition to her powerhouse vocals and stellar songwriting skills, Paramore front woman Hayley Williams is known for her neon orange hair. The trademark hue is the result of years of experimentation: Williams started with drugstore box dyes and eventually graduated to a close partnership (and friendship) with Nashville-based hairstylist Brian O'Connor, who now handles all of Williams' beauty needs.
The pair met in 2006, shortly after a Paramore tour through Japan inspired Williams to take her hair color to the next level. "Japan was my heaven," Williams tells W, citing influences like Harajuku culture and FRUiTs magazine. "I had already been box dyeing my hair for a while, but I really, really wanted to try things that were either bolder or just more fun." Back in the States, she walked into a salon where O'Connor was working, and the rest was history.
After seeing pictures of herself as a child and realizing she had been born a redhead, Williams wanted to go back to an orange hue, but as "the anime version" of herself. In addition to dyeing her hair with three different shades of bright orange, yellow and red, O'Connor gave her an edgy, angular cut and Williams' signature style was born.
"It became something that I was known for after that," Williams says. "The hair was always a part of the interviews or the reviews. That was the beginning of our creative collaboration, which ultimately led to us starting a company together."
That company is Good Dye Young, which is now available in all Ulta Beauty locations nationwide. The fully vegan line of hair care products focuses on helping customers achieve similarly bold looks, and includes a Lightening Kit, Semi-Perm in a range of shades and DYEPosit hues. ("Riot" is the shade that most closely resembles Williams' classic orange).
In October 2022, the pair also opened the queer-friendly Fruits Hair Lab in Nashville. "It's really our safe place," O'Connor says of the salon. "It's about great hair, yes, but, we live in the South and Tennessee has gone through some extremely crazy political things as of late—drag bans, very homophobic, racist bullshit that I could go on about for hours. The salon is a safe haven for everybody. Fruits is come as you are, who you are, the way that you are, no apologies required."
With Paramore releasing their first album in six years this February, This Is Why, Williams will be hitting the road for the record's accompanying tour with O'Connor in tow to keep her hair and makeup in tip top shape. Read on for W's chat with Williams and O'Connor on skin care, over-bonding hair, self-care on tour and all things Good Dye Young:
What's the story behind when you first started dyeing your hair?
Hayley Williams: I saw a picture of myself as a baby, and I had bright orange hair. I didn't realize that, for a short period of time, I was a little redheaded baby. I started going to any pharmacy and finding a box that was copper or some kind of red, or berry sometimes—if you've ever bought boxed dye, you know that you actually don't know what you're going to get, ever. So I was on my own for a while, until I went on tour in Japan and my standards were raised a little bit. It put me on this path that led me to meeting Brian, and he still does my hair now. I think the universe knew that someone like me needs someone like Brian in my life to fix me.
Which products do you use to take care of your hair?
HW: I legitimately do use our products pretty much exclusively. I also love any Kevin Murphy product. They smell incredible and they actually work. To me, they're a benchmark for Good Dye Young. My favorite of our products are the DYEposit and the Pre Wash, which I use once a week. I'm pretty agnostic when it comes to hair oils. Brian will use this Living Proof oil on my hair sometimes that I really enjoy.
Brian O'Connor: Besides the oil, they have a really great triple bond complex. We use that on tour especially, because of all the heat styling for shows. But you have to be careful. A lot of people don't realize that you can over-bond your hair, because you can put so much protein back into your hair that it weakens it. So it's something that I use every now and then, just to help counterbalance all the heat styling and the changing of the look every night for shows.
What else do you do to take care of yourself on tour?
HW: We spent four years off the road. For the first time in our adult lives, we were like, "Let's go home and just be normal." I had to get used to being more stable and in the same bathroom to get ready every day, sleeping in the same bed every night. Then I got really used to that. Jumping back on the road has jarred me a little bit. But now I know what creature comforts I need, starting with very basic shit. What I generally need in my life to feel like a decent human is a fuzzy blanket. I am every basic bitch that saw the UnHide ads on Instagram, and I got three of them. If I can have my dog Alf, he comes with me. If I have those two things and I feel cozy, then I'm good. It's less about all the beauty products.
Brian, do you always go on tour with Hayley?
BO: Oh, yeah. She never leaves home without me. I'm like one of those faux fur blankets, honey.
What's your current skincare routine?
HW: After COVID, I finally splurged on the Biologique Recherche products, because I was like, "Oh, the Olsen twins know everything obviously, so I'm going to do what they do." This was coming off about six years or longer of having acne and that really being my main concern. Now it's about what feels nourishing. It's very trendy now, but I started using the EltaMD SPF 45 at age 16, and I use it to this day. I'm working in a retinol that I like. But to me, there's nothing better than a hyaluronic acid or CE Ferulic like the SkinCeutical ones that cost a million dollars. It's because it's really good, and it actually works. My favorite oil is the Living Libations Sandalwood Oil. Remember that taking care of yourself should make you feel good. Not just look a certain way, but make you really feel like you're appreciating yourself. That's the priority for me now.
Do you like to get facials and go to the spa?
HW: I don't get them as much as I used to, because I think they became a crutch for a while. Joanna Vargas has worked on me when I've been in LA and in New York, and she's probably my favorite experience in a spa that I've ever had. She's so comforting and so real to hang out with. It was a really big step for me, to give that treat to myself. Actually just feeling taken care of is a beauty need. My question is, when does the Botox start? I tried it one time, and I couldn't look angry anymore.
That's the trade-off. Expression or the lines.
HW: Yeah, I might stick with this line.
BO: That's fine. Just leave me dead in the face. Frozen in time.
Do you have a beauty icon?
HW: When I was really little, I lived in this little town in Mississippi, and even at eight years old was clamoring to get the hell out. I knew I wasn't supposed to watch MTV, but of course, I always did after school. I spotted Missy Elliot, Aaliyah, Gwen Stefani, and No Doubt for the first time after school on TRL. Those were the people in the very late nineties whom I was just enamored by, because I felt like I got a window to a different planet, to a different world. And I was like, "Beam up bitches." I also feel like they mixed masculinity and femininity very well. A lot of R&B singers in the mid to late nineties were like, "Well, I'm going to look like a G, but I'm also going to make sure my lip liner is on, and that my lip gloss is popping and my eyebrows look great." It was almost like the opposite of androgyny. It was the full embracing of both extremes. And I really love that. I'm very Gemini.
Are there any beauty trends you participated in that you regret?
HW: Regrets all get you to where you are. So there's really no use for them.
BO: I have a regret. If the internet could just make it just go far, far away… We did dark purple on her one time, and I just fucking hate it.
HW: Basically it looked black on me. I don't know if you've seen me, but I'm translucent and it didn't work [laughs]. Like Billie [Eilish] looks great with black hair, great with blonde hair. Not me.
BC: We're on the same page.
HW: When we dyed my hair [pink and red] for "Still Into You," I loved it, because it was something that I felt like I saw in a dream and I asked Brian to do, and it turned out exactly right. And then people would copy it. And oh my God, did I ever love bleaching my hair out for After Laughter. I needed that fresh start so badly, and I needed to not see Paramore in the mirror. Today, I feel a shift happening again where my identity has been strained between having lived so privately in the last four years and being very public. It'll be interesting to see how that manifests, but I know something's coming.