The PureLift Pro Plus Is the Only Face Sculpting Tool I'll Use—and It's Worth Every Penny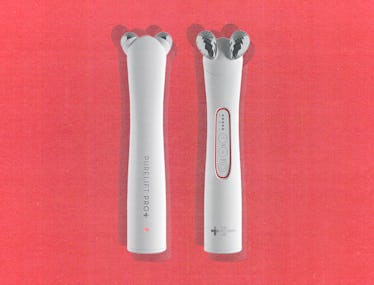 Treatment by Ashley Peña
We may receive a portion of sales if you purchase a product through a link in this article.
Products boasting promises like "Botox in a bottle" and "non-surgical face lift" may seem exciting, but for us beauty writers, these platitudes are about as honest as George Santos's résumé. Let's be clear: a face lift is the most effective procedure to turn back the clock, followed by Botox (which is temporary and can often be hit or miss depending on which medical professional administers it). Retin-A is the fountain of youth as far as topicals are concerned, and powerful lasers, peels, and thread lifts exist in a whole other category. But lately, sculpting facials and advanced sculpting tools have entered the conversation with much promise—and they are venerable options for delivering fresh and exciting results to your face. With one treatment, your skin appears plumper and firmer; face tools can help relieve muscle atrophy and encourage muscle stimulation, defining areas like the cheekbones, jawline, and eye area.
I recently became a devotee of the PureLift Pro Plus, a triple wave technology facial device I've seen a slew of prominent aestheticians use. When I found out it was available to purchase for at-home use, I immediately snapped it up. Now, I've seen the results on my own face, and I'm never giving this tool up.
The innovation behind this device and how it works is in a class all its own—and it's worth noting that I prefer the PureLift Pro Plus far more than any microcurrent modality. For starters, I am impatient. Even when I have no place to be, I'm still in a hurry. With the Pro Plus, I see faster results in less time. I'll use it for a total of ten minutes—five minutes on each side of the face—when I turn on a new episode of George and Tammy, and by the end of the first season, I look so much more well-rested. It's as if all my features were lifted by some invisible string.
I found out that, at times, overusing a microcurrent tool can cause "adaptation," meaning that your skin gets too used to the treatment. This does not happen with the PureLift Pro Plus, which penetrates the skin more deeply. My new favorite tool works on the dermis like microcurrenting, but goes further, making the muscles contract and strengthening the framework for your skin. Plus, the gentle Pro Plus won't cause irritation to your skin.
Lastly, this tool I have become obsessed with is safe to use every day. You can apply the conducting gel that's included with it, or try mixing dye-free aloe vera and water in a spray bottle, as I've started doing. Now that my facial muscles are in check, I'm hoping PureLift will make an extra-large version for bikini season.