Tati Gabrielle's Approach to Beauty Is Inspired by the Extraterrestrial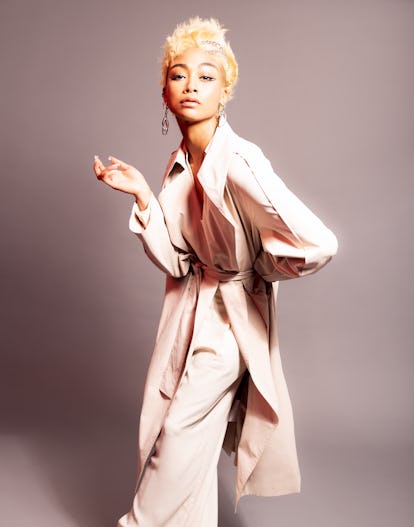 Photograph by Tiziano Lugli
Until she was about 12 years old, the actress Tati Gabrielle thought she was an alien. Growing up in Northern California's Bay Area, the now 26-year-old says she experienced a distinct misunderstanding of people's motivations and actions. "The negative aspects of human nature especially didn't make sense to me," she says on a recent afternoon in New York City. "I couldn't see why people got angry and irrational, or why someone would inflict pain or hurt or hatred on another person." From her vantage point in a stroller, or sitting in the basket of a grocery store shopping cart, she'd stare blankly at people passing by, trying to figure it all out.
But her first time participating in a school play at nine changed all that. Acting became "my teacher, my way of understanding how people ticked," she says. "Reading tons and tons of scripts helped me learn to communicate and understand social cues. Characters were never two-dimensional. It was never just what's on the page—there's always something underneath, a hidden message." It is with this sensitivity to nuance that Gabrielle has approached her acting career—and it has taken her into a range of roles that run the gamut from fantastical to hyper-real. Among her latest projects: season four, part two of the Netflix smash hit You, in which Gabrielle plays Marienne. Although her character makes a whisper of an appearance in part one, she becomes the subject of Joe's (Penn Badgley) obsession in the show's second half, where her presence is much more felt. She's also starred in the choose-your-own-adventure heist series Kaleidoscope and The Chilling Adventures of Sabrina.
Below, Gabrielle discusses filming season four with Badgley, using acting as a window into the world (and the world's window into her, too), and how her beauty choices reflect her inner self. "My mom calls me her Bohemian child, because I was a hippie, spacey kid," she says. "Still am, I guess."
In season four part two of You, your character is stalked by Joe. How did that narrative arc affect the way you approached playing Marienne?
When I first came on in season three, I had this conversation with [showrunner Sera Gamble] about how Marienne is a Black woman, and in certain situations, a Black woman may react differently or be more on edge or more keen to suspicious activity. I was like, are you going to write her accurately, culturally speaking? She was like, absolutely, and if there's ever a time where something's happening and it doesn't feel right, please let me know. I really appreciated that from her.
Approaching season four, I wanted to make sure there was balance. I knew there was a certain level of drama that I had to bring—it's a TV show, so she's gotta be a little scared—but I told Sera and John Scott, our producing director: can we find a middle ground? Because how Marienne has been raised, where she comes from—she grew up a fighter. She's not gonna lay down easily. If anything, she's going to try to defend herself.
What's one thing about Penn Badgley's acting style that fans might be surprised to find out?
Love Penn—great ally. Between every take on set, Penn and I would be in the green room, discussing life and philosophy. He's a theater kid like me, completely unselfish, and always checking in. That's really refreshing, because working in film and TV after coming from theater, I haven't always had that experience. I find some actors in our industry can be kind of selfish. Penn is completely not that. With the sex scenes we had to do last season, I told him: "Penn, I'm not going to lie to you, I'm so nervous." He was like, "Dude, it's so okay. At any point if you feel anything's not right, say something. I'm here for you." We did have an intimacy coordinator, but in season three, it got to a point where we didn't really need them because Penn and I had such good communication. I call him the Penny Badger after those honey badger videos. That's what his name is in my phone.
You told me you thought you were an alien when you were younger. Does that outlook influence your approach to beauty at all? Because your look today is gorgeous, and it's giving alien.
I think so. I actually don't wear makeup on a day-to-day basis, I just do these little white dots around my eyes. Even in the way that I dress, I have an unconventional style. My mom's always like, you could literally wear anything—and you do. I used to wear tutus over my jeans in high school. But the fashion world has noticed me in the last few years. And I'm having to catch up on learning that world, because growing up, I never knew brands. I wasn't that kid who would go on YouTube for beauty tutorials. I adorned myself from a standpoint of art. My first love was visual arts—I wanted to be an animator.
What do the dots represent? Do they have a meaning?
They speak to my whole alien narrative, and their presence grew over time. First, I started with just the black dot under my eye. Then I found a white eyeliner and I put one dot here. A few months later, I put another dot there. I like the way it brings out my eyes—it just gives a little sparkle.
Is there a particular product you like to use for your dots?
I'm very particular about them, because they're the one thing I put on every single day. I'll change the color of the dots depending on what I'm wearing. I have every color of NYX Epic Wear Liquid Eyeliner. And when I see a new one, I buy it immediately. I recommend it to anybody who wants to use a graphic liner that won't smudge or bleed.
Onto the Beauty Notes questions. What is your favorite form of self-care?
My favorite form of self-care is taking a walk every day. My best friend, who lives with me, will come with me in the morning. And he's the best at pointing out the simple beauties of life: the trees, how their bark has changed color overnight. Taking that walk allows me to reflect those simple beauties back at myself every day. I always leave my phone at home too, because I never want to be walking on my phone.
What is the first thing that you do when you wake up in the morning, beauty-wise?
In my bedroom at home, I've got this kaleidoscopic, film-like sticker on the window above my head. It basically makes the light in my room turn into a rainbow. So I just take a moment to look outside, look at the rays of light coming through. Then I get up and splash cold water on my face.
Is there a beauty trend that you participated in when you were younger that you look back on now and you're like, oh my god, what was I thinking?
My mom actually didn't let me wear makeup for the longest time, which I appreciated because it made me not feel so precious about makeup now. I guess this isn't necessarily a beauty trend, it's more of a fashion trend. But I always used to wear shoelaces as belts and headbands. I would go to Vans or Zumiez and buy the fat, thick laces in different patterns.
Do you have a favorite spa?
I went to this really wonderful spa in South Korea when my mom and I visited for my first time in 2021, right after we wrapped the third season of You and before I started filming Kaleidoscope. [Gabrielle is of Korean and Black descent.] We went to the Sulwhasoo Spa in Gangnam District and it was so amazing. That's where I was introduced to ginseng as a facial treatment—it did such wonders for my face because my skin was struggling at the time.
What is the final thing you do beauty-wise before bed?
My nighttime beauty routine only has three or four steps—I have very sensitive skin. I always wash my face with Dr. Bronner's Castile Soap. I like either the tea tree or the peppermint one flavors. I use CosRX's Refresh ABC Daily Toner, coupled with their Poreless Power Liquid; I put that on the same pad and run it over my face. Sometimes I'll use Thayers witch hazel toners. I recently started using Versed's retinol serum and moisturizer. If I've got a pimple, I'll use the CosRX pimple patches, or Starface's pimple patches—because they go with the dots.