Thirteen Lune's Nyakio Grieco Shares Her Favorite Black-Owned Beauty Products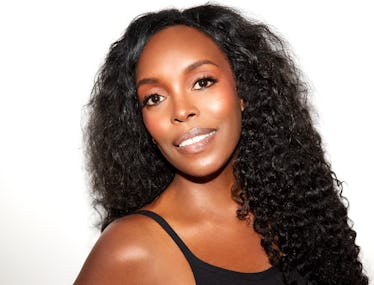 Courtesy of Nyakio Grieco
We may receive a portion of sales if you purchase a product through a link in this article.
For beauty entrepreneur Nyakio Grieco, the road to success was paved with the obstacles many new business owners face: closed doors, long nights, and the hope that the venture will thrive (or, at the very least, break even). But Grieco's perseverance has paid off. She's now the cofounder of e-commerce beauty site Thirteen Lune, which features Black- and brown-founded brands and inclusive beauty; as well as the creator of award-winning luxury skincare line Relevant, which specializes in melanin-rich skin. "Being in the beauty trenches as a woman of color has been profoundly challenging, but ultimately life-affirming," she told me recently. "Elements crucial to success such as access to capital was always my greatest challenge. Even when I was able to get into partnerships, Nyakio Beauty—my first beauty brand before Relevant and Thirteen Lune took off—was such a niche brand within other companies' portfolios that often, marketing dollars would be put elsewhere. Before I was able to get into national retailers, sometimes I'd have to say no because I knew I couldn't afford to be there."
But the Oklahoma native—who is the first-generation daughter of Kenyan parents who worked in academia—saw launching her businesses with intention as her "quest." "I wanted to create a community to help Black and brown beauty founders who create products for all people realize success more quickly, with amplified support and on a much bigger stage," she adds. Keeping that ultimate goal in mind led her to launch Thirteen Lune with Patrick Herning, who also heads up the size-inclusive e-commerce platform 11 Honoré.
"We're here to debunk the myth that Black and brown people only create products for themselves. We create products for all," she says. "At Thirteen Lune, we practice the 90/10 rule: 90 percent of all the brands we carry are created by people of color from around the globe who create products for everyone; 10 percent are dedicated to fostering allyship" like Goop, Vintner's Daughter, and Hourglass. Grieco sees the strategy as a way to create "generational wealth through the lens of beauty."
To honor some stellar beauty products created by Black and brown founders, Grieco has shared a handful of her favorite products below—outstanding brands sure to deliver hydration, self-care, and joy to your skin, hair, and body.
"The most luxe mascara that gives you oodles of length and definition. This is a must-have for your eye look, and it layers beautifully. But you can also give it one swipe on your lashes and be good to go."
"This is an all-natural, creamy, and ultra-emollient, that smells totally divine. It's great post-bath or before bed, when you'll experience optimal absorption into the skin."
"A shimmering, perfect, copper-bronze that works perfectly with so many eye looks from day into evening. The superslim pen is perfect for travel, and this shade can be layered with other colors all over the lid—or just the crease."
"I love this oil because it provides lots of shine and softness. It feels absolutely gorgeous on my hair."
"This is a heavenly rose, bergamot, and olive wood soy-blend wax candle that fills any room with a beautiful aroma."
"My own nourishing, hydrating, vitamin C serum is packed with beneficial actives, leaving your skin glowing and soft."
"This is a nutrient-rich, hydrating hair serum that feels so good on my scalp and truly delivers beautiful, healthy hair."
"Glosshood's gloss-slash-balm gives me the shiniest, softest lips. It's such a pleasure to apply by itself, or over lipstick."