It's Complicated: 10 Unconventional New Books About Love For Valentine's Day
Because love is complicated.
---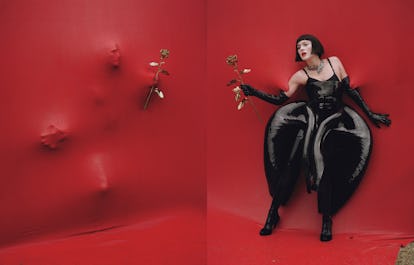 Love is many, many things, but one is clear: It means different things to different people. For Valentine's Day, here are 10 new and upcoming releases that explore love, in all its unconventional forms.
On Love edited by Tavi Gevinson (Jan 2)
The latest print anthology from Rookie collects 45 essays on what love can be, far beyond its traditional definitions. "Love is all around," editor Tavi Gevinson jokes in the book's introduction, riffing on Hugh Grant's opening monologue in Love, Actually. "But its holding place is not always another person." To her point: Author Emma Straub writes a love letter to books. Songwriter Mitski waxes poetic on the music that shaped her life. TV writer Danielle Henderson (Difficult People) shares her affecting definition of self-love. No matter the state of your love life, or lack thereof, Rookie On Love will open you up.
How would you live (the rest of) your life if you knew the date you were going to die? For the four adolescent Gold siblings, their respective answers from a psychic propel each of them to make very drastic choices over the course of the following 50 years. Two of them eventually flee their lower Manhattan home for a reckless and soul-affirming adventure on the West Coast, while the other two stay sensible and remain at home to take care of their widowed mother, pursuing practical lines of work. Even though each of their lives diverge in extreme ways, the familial love they share is what ultimately binds them together.
Marriage is the subject of Tayari Jones's new novel, and for the characters Celestial and Roy, it's a complicated one. When the book begins, the couple is a portrait of 21st-century black love, happily stationed in Atlanta, both excelling in their respective careers. But when Roy is sentenced to 12 years in prison for a crime he didn't commit, the terms of their marriage are thrown into question. To make things more confusing, Celestial begins spending her time with an old friend—aka Roy's Best Man, Andre. Soon, Celestial is forced to answer an uncomfortable question: Should she remain loyal to life she had originally planned for herself, or chart a new one amid unforeseen circumstances? Through this unlikely love triangle, Jones takes the reader on an exploration of the bond of marriage itself through a lens of race, class, and injustice in the American South.
The Friend by Sigrid Nunez (Feb 6)
Dog people will resonate with this one. In Sigrid Nunez's simply-titled novel, a woman's friend and mentor commits suicide, leaving behind his dog, Apollo, that no one wants or can look after. The woman (nameless in the book) ends up adopting him—even jeopardizing her no-pets-allowed living situation—and begins a heart-wrenching journey of grief alongside Apollo, who also deals with the trauma of losing his owner. As the woman increasingly becomes obsessed with Apollo, the two begin to share a strange and beautiful therapy human/therapy dog codependent relationship.
While the title of this book of essays sounds rather literal, author Tim Kreider's exploration of love is nuanced. In what seems like ideal "post-relationship goals," Kreider, who's also a cartoonist, thoughtfully looks back at many of his past failed romances, and writes about the ways his relationships with his former lovers actually deepened in the aftermath of breaking up. He writes about women he admires, women who have unknowingly taught him valuable life lessons, and women he's forged lifelong friendships with. And while Kreider is unmarried, there is a longstanding female figure in his life: his cat, who's technically been his longest relationship so far (you can read about that one in the New York Times).
Karley Sciortino is a self-proclaimed and proud slut, and based on the book's title alone, those who pick up her new memoir should know they're in for a wild ride. Sciortino, who goes by the moniker Slutever (also the name of her new TV show on Viceland), isn't shy about sharing her sexual adventures and deviant-leaning fantasies. Though there are smatterings of dark and sometimes disturbing anecdotes, there are also plenty of climactic tales that may inspire sexual curiosities of your own.
Sometimes friendship can rival romantic love for its emotional highs and lows; indeed, they have the most history of all. Diane Barth, a psychiatrist, drew from interviews with women all over the world to create this nonfiction study, which examines the way female friendships affect the lives of the women who nurture them, both positively and negatively. From advice on how to make new friendships to the dynamics of cliques to heart-wrenching realities of friendship endings and loss, there's something here that will ring true with women of every age.
Four years ago, Katie Heaney, then 25, released her first memoir, Never Have I Ever: My Life (So Far) Without a Date. Since then, some things have changed. For one, Heaney has realized she's gay; and two, she's now spent some time in the dating pool. In Would You Rather?, Heaney offers an update to her previous collection of essays in the form of an honest, endearing, and laugh-out-loud account of coming to terms with one's sexual identity, all as a later-than-most bloomer.
Few relationships are as complicated as that between mentor and mentee. In her latest novel, Meg Wolitzer explores this unique bond through characters Greer Kadetsky, a college student and blossoming feminist, and Faith Frank, a Gloria Steinem-esque leader of the women's movement. As Greer and Faith's lives intersect, their relationship begins to outweigh the others in Greer's life, from the romantic to the familial. Wolitzer shows us the heights of Faith and Greer's combined intellect and the sometimes-disorientating nature of their generational gap, which is a discussion currently being played out on the internet right now.
What sets Meaghan O'Connell's book on pregnancy apart from other stories of the same ilk is that she's never sure of what she's getting herself into, though the stakes are obviously high. The story begins with an accidental pregnancy that leads O'Connell and her then-boyfriend to make a decision to keep the child; suddenly, O'Connell surrenders her entire self and body for the sole purpose of baby-making. In the sharpest of observations, O'Connell recalls every physical pain and emotional discomfort she experiences before, during, and after the pregnancy—and it's definitely far from a picture-perfect scene (there's one particularly detailed chapter on being in labor that had us both terrified and in awe of women who give birth). Still, one fact remains true: there's truly no greater love than that of a mother to her child, whether in utero or in the flesh.