I Art U: 10 of the Best Valentine's Day Gifts for the Art Lover in Your Life, from Mapplethorpe Nudes to a Tracey Emin Candle
A Valentine's day gift guide courtesy of Barbara Kruger, Ed Ruscha, Louise Bourgeois, and more.
---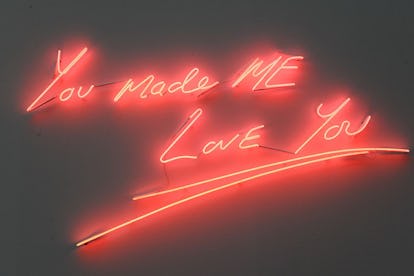 Jean-Marc Zaorski/Gamma-Rapho/Getty Images
Valentine's Day is fast approaching, and while treating yourself should be your no. 1 priority, there's nothing wrong with also gifting a special someone—especially if it gets you breakfast in bed courtesy of Maurizio Cattelan. Here's what to give those whose love carries over to the art world, from slogan-adorned Barbara Kruger sunglasses to the lusty fumes of a Tracey Emin candle.
This limited-edition Ed Ruscha towel is large enough to accommodate an array of two-person activities, from a trip to the beach to a picnic in the Swiss Alps.
If the male gaze is unavoidable, it might as well come from your dear partner—and especially one who spoils you with sunglasses based off a 1981 Barbara Kruger work from the Whitney Museum.
Raf Simons collaborated with the Robert Mapplethorpe Foundation for the spring 2017 collection of his namesake label, using the photographer's trademark graphic nudes as inspiration. This more wearable tee in an innocent pastel leaves something more to the imagination.
For those fond of taking a trip back through time like Cindy Sherman, there's this 21-piece tea set, which may only feature one of the artist's many likenesses but has settings for six.
Maurizio Cattelan's provocations can sometimes get a little too graphic, but this lipstick motif from his magazine Toilet Paper provides the perfect balance, and most definitely lends itself to future breakfasts in bed.
If you can't get away for a trip to the desert—and didn't make it down to Art Basel Miami—Ugo Rondinone's Day-Glo pink and red painted stones are a perfect memento from his much loved Seven Magic Mountains installation in the sand outside of Las Vegas, and even supports its maintenance through 2018.
Since it's probably a bit late to book the Airbnb decorated by Yayoi Kusama, there's always these linen dish towels perfect for those with culinary ambitions as big as Kusama's artistic ones.
Robert Mapplethorpe's flower still lifes are suggestive in their own right, but this firmly muscled wrestler from one of his 1989 photographs makes no butts about it. (Ugh, sorry.) Plus, it's the perfect size for desserts.
As if the great love story of 2016 that was Tracey Emin's romance with a mossy stone isn't enough to fill you with lust, there's always this Turkish rose- and ginger-scented candle, topped off with one of the artist's signature neons.
Lend the partner who can't keep their eyes off you some respite with this Louise Bourgeois-approved sleep mask.
When It Comes to On-Screen Kisses, Naomie Harris Prefers Not Too Much Tongue: