Why Adam McEwen Pre-Memorializes Our Most Beloved Celebs
The artist explains why writing premature obituaries for beloved figures such as Dolly Parton and Grace Jones is a means to inspire hope.
---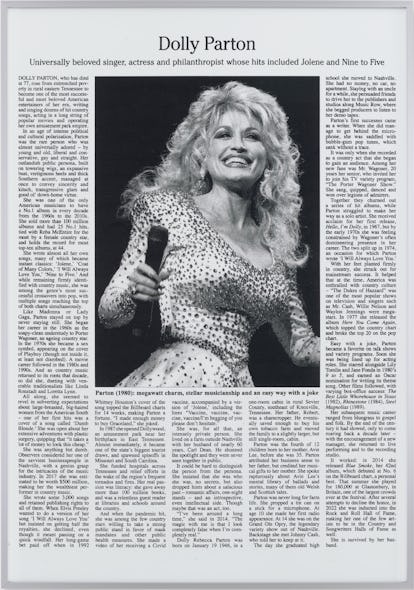 "Untitled (Dolly)," by Adam McEwen, 2023. Photograph by Prudence Cuming Associates Ltd. Courtesy of Gagosian
Dolly Parton, who has died at 77, rose from entrenched poverty in rural eastern Tennessee to become one of the most successful and beloved American entertainers of her era, writing and singing dozens of hit country songs, acting in a long string of popular movies, and operating her own amusement park empire.
Those words are not fake news, but art. They come courtesy of Adam McEwen, who has resurrected his series of chromogenic print obituaries of living celebrities for the first time in more than a decade, in a solo exhibition at Gagosian's London outpost. Such works are "not a wish fulfillment fantasy, of course," he quickly assures me when I stop by the cavernous warehouse that serves as his studio in Long Island City, Queens. To be prematurely memorialized by McEwen, you must be someone he appreciates, admires, and genuinely loves; someone who, to him, is living proof that even under the crushing weight of capitalism, there is hope.
"These people are saying that we have more freedom than we realize, more power than we realize," McEwen says. "They're guides—and even revolutionaries, because they show you that the rules that seem to be oppressing you are an illusion. It's a trick. Dolly Parton grew up in a two-room shack in Tennessee"—with 11 siblings, we might add—"and is now buying schoolbooks for kids across America because the government won't. She says it looks impossible and hopeless, but it's not."
"Untitled (Greta)," by Adam McEwen, 2023. Photo: Prudence Cuming Associates Ltd. Courtesy of Gagosian
"Untitled (Grace)," by Adam McEwen, 2023. Photograph by Prudence Cuming Associates Ltd. Courtesy of Gagosian
Parton headlines a list including Grace Jones, David Hammons, Greta Thunberg, and Lewis Hamilton, who follow in the footsteps of past McEwen subjects such as Kate Moss and Macaulay Culkin. Their shared iconoclasm might be why some of these subjects—Jeff Koons, Richard Prince, and Malcolm McClaren among them—seem to appreciate this unique form of portraiture. "I told Malcolm about it the first time I met him and he was like, 'What?!,' then smiled and laughed," McEwen recalls of his inaugural euphemistic "kill."
When the punk pioneer actually did meet his maker in 2010, the obituaries that appeared in newspapers were essentially rewrites of the one that McEwen had already penned. His prints not only look like the real deal (he licenses the photos from Getty Images), but read like them: The artist spent years writing obits for The Daily Telegraph in London as a way to make ends meet post-graduation from California Institute of the Arts (aka CalArts) in 1991. Even then, McEwen's epitaphs had personality, but he always sticks to the facts. The only fiction is, in some ways, the date: "All I know for sure about these people is that they're going to die," he says.
McEwen's goal is to, for just a moment, make you think that these public figures have already passed. His practice centers around "that moment of suspension, of instability, of everything being up for grabs, of getting someone to a different place where suddenly art is—'Wait, what?'"
In the 11 years before he returned to the obituary series, the work he made rendered the ultramundane extreme, or vice versa: paintings of crashed Teslas on supersized kitchen sponges; sculptures of water coolers that turn out to be made of graphite, the kind you can draw with; illustrations of Nokia text messages that feel too real to be fiction ("I heard you are in Gstaad? True? I am here."); or even the riffs on the all-too-familiar BIC pen that are at the center of his other current Gagosian exhibition in Rome.
McEwen's return to the obit series of works, inspired by a post-pandemic surge of optimism, came just before the fake celeb death trend on TikTok. (For the record, McEwen considers pranks such as making Angela Bassett think her costar Michael B. Jordan died purely cruel.) He's always been one step ahead: When I suggest that he pen his own obit—which he's always felt would be rather obvious—on his deathbed, McEwen responds like the journalist he once was. "Well, exactly," he says. "Beat them to the post."