Mia Goth Looks Chic While Walking Alexander Skarsgård on a Leash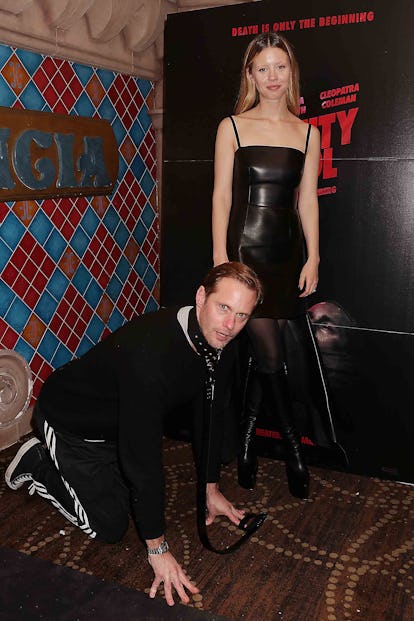 Dave Allocca/StarPix/Shutterstock
If you've ever had fantasies of the 6'4" blond Alexander Skarsgård as your own personal "golden retriever boyfriend," this promotional stunt is for you. (And if you've ever had other fantasies about Skarsgård, this stunt is also probably for you—but that's between you and Sigmund Freud.) Whatever the case may be, Skarsgård has spent a portion of his time this past week being walked around on a leash—sometimes by Mia Goth, other times by director Brandon Cronenberg.
Cronenberg led Skarsgård on stage for a question-and-answer session in a leash at the film's premiere at Sundance January 22, while Goth, clad in a black leather mini-dress, posed for pictures with the Swede on all fours during the film's New York City premiere on Monday.
It makes sense if you've seen the trailer for Infinity Pool, the unnerving horror flick the trio is in Utah to promote (a wide release is already set for this weekend). In short, imagine if The White Lotus was directed by notorious body horror master David Cronenberg's son, Brandon. Skarsgård plays a novelist with writer's block on vacation at a mysterious luxury resort with his rich wife (played by Cleopatra Coleman) when he commits a crime and is subjected to unnatural horrors. Goth plays a mischievously evil interloper, who, in true Goth fashion, is seen in the trailer laughing maniacally while holding a gun. The flick also promises, among other things: orgies, human cloning, adult-breastfeeding, and perhaps the most talked-about scene involving a certain human bodily function since Timothée Chalamet did that thing to that peach.
The trailer also features a shirtless Skarsgård being walked like a dog on a leash, hence his commitment to being harnessed during some promotional duties on the film.
The maximalist horror flick has been met with mostly positive reviews so far. "The Canadian helmer has created the cinematic equivalent of an M.C. Escher drawing, which bends and breaks and folds back on itself in impossible ways," writes Variety. "Brain-shattering as it all is, we can hardly tear our eyes away." So it seems Skarsgård is not being walked around on a leash for naught.
Watch the trailer below: