Angelina Jolie and Paul Mescal Got Caffeinated Together in London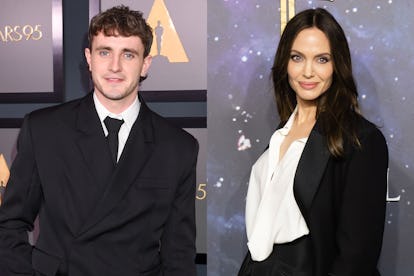 Gilbert Flores/Variety via Getty Images/Samir Hussein/WireImage
The tabloids have been focusing heavily on who Brad Pitt and Leonardo DiCaprio are dating these days, but we can't help but wonder what Angelina Jolie has been up to. While we don't exactly have an answer at the moment, we do know where she's getting her coffee fix, and that's in London alongside Paul Mescal. The 47-year-old actress was recently spotted spending some time with Mescal, 26, at the Almeida Café & Bar, which, of course has sparked some rumors surrounding the two. But was this the sign of some sort of burgeoning relationship, or was the internet and tabloid press merely looking for something to keep them occupied over the holiday break?
Jolie met up with Mescal after seeing him in a performance of A Streetcar Named Desire at the Almeida Theatre. She brought her daughter, Shiloh, along for the show, as well as the coffee date that followed. Someone caught the trio enjoying some time together and posted the picture on Instagram.
Considering Shiloh was there, it seems fairly unlikely this was a date, but hey, you never know. Mescal was previously linked to singer Phoebe Bridgers, and the two were even rumored to be engaged. Lately, though, Bridgers has been spotted spending a lot of time with comedian Bo Burnham leading many believe Mescal and Bridgers have called it quits. Those rumors were bolstered by a photo The 1975's Matt Healy shared back in December kissing Bridgers while Burnham held the two by their shoulders. As of now, neither Bridgers nor Mescal have publicly commented on the state of their relationship.
So, Jolie and Mescal's get together could be a date. Or, perhaps Mescal was seeking advice about how to get over a public breakup. Jolie has a lot of knowledge in that field, as her most recent split from Brad Pitt in 2016 still makes headlines almost every week.
There's also another distinct possibility. Remember Jolie is not just an actress, but also a director and burgeoning media mogul after signing a major production deal with Fremantle last year. Her next film as a director, Without Blood, has reportedly already finished shooting, but she could have been chatting up Mescal about some other future opportunity. Networking is important.