Angelina Jolie's Son Is Not Entering The Art World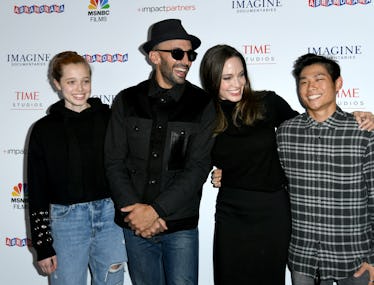 Shiloh Jolie-Pitt, the artist JR, Angelina Jolie and Pax Jolie-Pitt. JC Olivera/Getty Images Entertainment/Getty Images
She's one of the world's most iconic women. She has six kids. And now one of them is reportedly forging a career in the art world under a pseudonym.
Two years ago we could have used that lead paragraph to describe Madonna's son Rocco Richie, who has found a calling in painting under the nom de brosse Maison Rhed. Now we can apparently apply the same to Angelina Jolie's 19-year-old son Pax Jolie-Pitt. That's per Page Six anyways, which claims Pax is currently preparing for his gallery debut under the name "Embtto."
Update: A spokesperson for Angelia Jolie has now claimed the report is false and that Pax is not working as an artist under a pseudonym. The original post continues below:
Pax graduated from high school in 2021 and his post-grad plans weren't immediately clear. Though, Jolie had mentioned that she has hired Pax and his elder brother Maddox to work in the assistant directing department for her upcoming film Without Blood.
News of Pax's entrance into the art world comes in the midst of the internet's rabid interest in the concept of nepo babies (children of celebrities who enter show business themselves), but it's unclear how much a celebrity parent can help a career in visual arts (aside, of course, from providing economic comfort). At the end of the day, art speaks for itself.
In fact, the nepo babies of the art world are more often found on the business and dealing side. More than a few famous artists have given birth to children who in turn become art dealers. Though, the biggest example may be that actual royal family member Princess Eugenie is a director at a major art gallery.