Anya Taylor-Joy and Malcolm McCrae Channel Indie Chic During Romantic Week in Venice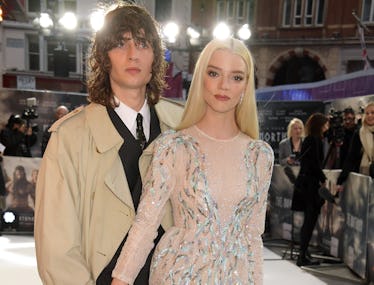 Photo by David M. Benett/Dave Benett/WireImage
If the long-promised "vibe shift" is actually underway, and indie sleaze is making a comeback, then Anya Taylor-Joy and her maybe boyfriend, maybe fiancé, maybe husband, Malcolm McRae, are our answer to the grungy celebrity couple tabloid culture used to worship back in the early to mid aughts. This week, the pair has been traveling around Venice, Italy, enjoying the sites, and simply emitting a very cool vibe.
The actress and musician have been spotted all around the city, stealing kisses in between puffs of their cigarettes, and enjoying boat rides through the canals. When it comes to their site-seeing wardrobe, McRae tends to stick to his leather jacket, but Taylor-Joy has been mixing up her looks throughout the trip, wearing a white trench with a tan scarf one day and an orange strappy sundress the next. On Wednesday, the duo matched in black, with McCrae in his usual and Taylor-Joy in a double-breasted pea coat, straight leg pants and black boots. Taylor-Joy took photos of some of the sites with a camera she carried in her distressed brown messenger bag. If you squint, the pair almost look like someone doing an impressions of Kate Moss and Pete Doherty circa 2006.
Some believe the duo is in Venice scoping out wedding venues. According to Just Jared, they visited Palazzo Pisani-Moretta, a 15th century palace that just so happens to be one of the most popular wedding venues in the city, as well as Scuola Grande San Giovanni Evangelista di Venezia, a church built in the 14th century filled with historic frescos and art.
Depending on who you believe, though, Taylor-Joy and McCrae are already married. Page Six reported last summer that the pair tied the knot before the actress headed to Australia for the summer to film the Mad Max: Fury Road sequel, Furiosa. If that's true, they could be looking to have a more traditional ceremony in Venice now that things have calmed down a bit. That being said, the couple never even confirmed their engagement, much less their marriage. Rumors of the engagement began when Taylor-Joy was spotted wearing a ring, but you never know for sure. Taylor-Joy and McCrae have been fairly private when it comes to their relationship so don't be surprised if we never get a firm grasp on their true status.