Aubrey Plaza Loves an Antihero
From playing a credit card fraudster in Emily the Criminal to a lover possessed in The White Lotus, the actress has a way with complicated women.
Interview by Lynn Hirschberg
Photographs by Jamie Hawkesworth
---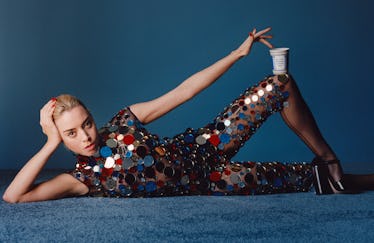 Aubrey Plaza wears an Alaïa bodysuit and tights; Commando briefs; stylist's own shoes.
You may have spent the latter part of 2022 watching Aubrey Plaza as Harper battle it out with her husband, Ethan (Will Sharpe), in Sicily on The White Lotus. But this year, the Delaware native also participated in a quiet indie crime-thriller that showcases her range. Emily the Criminal follows a college graduate living in Los Angeles who's saddled with student debt and cannot find work. She's brought into a credit card scam, acting as a dummy shopper who makes increasingly risky purchases with stolen cards. Below, Plaza discusses learning how to commit credit card fraud for the role and why casting a woman as an antihero is a novel (and refreshing) idea.
What was the filming process like for Emily the Criminal?
We shot the movie in 21 days—in fact, 20 days in Los Angeles, one day in Mexico. It was a run and gun, down and dirty, kinda gritty shoot, and the spirit of the production really mirrored the spirit of the script and the story.
In this film, your character commits credit card fraud. Did you learn how to do it?
I did. There are YouTube tutorials that show you how to make fake credit cards, fake IDs, all kinds of fake things. The machines are easy to get—you can buy them on eBay!
Emily is a complicated character. She's not easy to like.
Emily is an antihero. And those characters are usually reserved for men. Think of Taxi Driver. That's because audiences are so conditioned to like female characters. Why aren't the women likable enough? Approachable enough? All these kinds of things are asked only of women. It's old stuff.
Do you think you would make a good criminal?
Yes! I have a lot of that in my blood. I'm not going to go into anymore detail, but I'm very street-smart. And savvy. I'd watch out for me.
Do you have any tattoos?
I don't. My body is a temple. I also have commitment issues. I can't really commit to something for that long.
Hair for portfolio by Anthony Turner at Streeters; makeup for portfolio by Lucia Pica for Byredo at Art Partner. Senior style editor Allia Alliata di Montereale; senior fashion market editor Jenna Wojciechowski. Manicure for portfolio by Michelle Saunders. Set Design by Gille Mills at 11th House.
Produced by Connect the Dots; executive producer: Wes Olson; producer: Zack Higginbottom; production manager: Nicole Morra; photo assistants: Cecilia Byrne, Jack Buster, David Gurzhiev; retouching: Simon Thistle; fashion assistants: Julia McClatchy, Tori López, Jacqueline Chen, India Reed, Nycole Sariol, Derek Ezra Brown, Karla Garcia, Rosa Schorr; production assistants: Khari Cousins, Tchad Cousins, Kelsey Swope Romero, Mateo Calvo, Juan Calvo, Rayon Pollard, Gina York, Peter Ditzler, Nico Robledo; hair assistants: John Allan, Dylan Michael, Ramdasha Bikceem, Malika Palmer; makeup assistants: Kate O'Reilly, Lilly Pollan, Bailee Wolfson; manicure assistants: Pilar Lafargue and Victoria Valenzuela, Jolene Brodeur; set assistants: Cory Bailey, Dirk Knibbe, Joel Garcia, Matt Day; tailors: Irina Tshartaryan, Ripsime Vartanyan at Susie's Custom Designs, Inc.