Everything to Know About The White Lotus Season Three
There will be at least one familiar face at everyone's favorite fictional luxury resort.
---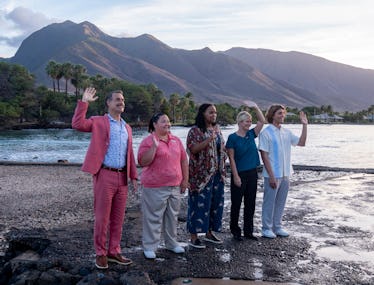 Courtesy of HBO Max
Yoy may never recover from the finale of season two, but it's already time to start planning the next trip—because HBO is taking us on another potentially tragic vacation to one of the White Lotus resorts across the world. The third season of The White Lotus was announced just halfway through the second season, and after a truly wild Sicilian adventure, it's time to start thinking about the third installment.
Of course, The White Lotus is an anthology series, meaning there's not much connection between the seasons aside from the faux luxury hotel chain and one or two of their most loyal customers. Because of that, it's hard to say what we can expect when The White Lotus comes back for another round, but here's everything we know so far about season three of the show.
What will The White Lotus season three be about?
Much like seasons one and two, season three will likely center a group of guests at a White Lotus resort somewhere in the world. The show's creator, Mike White, is consistent in his love for separate storylines that become increasingly jumbled up as the season plays out. The first installment focused on class and money, while season two focused on sex and gender. During the post-show interview following the season two finale, White revealed that he wants to explore themes of "death and Eastern religion and spirituality" next time around. "It feels like it could be a rich tapestry to do another round at White Lotus," he said.
Where will The White Lotus season three be set?
In order to explore themes of Eastern religion and spirituality, White would, of course, have to set the show in the Eastern part of the world, something the creator has already discussed. "I think it'd be fun to maybe go to a whole different continent," he told Deadline during the premiere of season two. You know, we did Europe, and maybe Asia, something crazy like that, that would be fun."
On March 28th, Variety reported that sources close to production said the season will be shot in Thailand. Given that the first two seasons were shot at Four Seasons resorts in Hawaii and Italy, respectively, it's very possible that season three will be set at one (or more?) of the hotel's four properties in Thailand which includes outposts in Bangkok, Chiang Mai, Koh Samui and the Golden Triangle. These locations include the city, country, jungle and beach, giving White lots of territory to explore.
Who will star in The White Lotus season three?
It's been confirmed that White will continue the pattern of keeping one familiar face between seasons (as he did with Jennifer Coolidge's Tanya McQuoid and her husband Greg, played by Jon Gries). On April 19th, Variety reported that Natasha Rothwell would reprise her role as Belinda Lindsey, who got a raw deal in season one when Tanya walked out on a deal to start a new wellness center together. Fans were disappointed in Belinda's treatment, so it'll be interesting to see what White does with the character's arc.
On Twitter, both fans and Rothwell celebrated the news. "Belinda is back baby!!!" she wrote on Twitter.
Sources also revealed that Evan Peters, Emmy-winning star of Netflix's Dahmer and frequent cast member of Ryan Murphy's many franchises, almost played Ethan in season two. Ethan was played instead by Will Sharpe, but perhaps Peters will clock in at the White Lotus for season three.
When will The White Lotus season three premiere?
It's still a bit too soon to say when season three will hit HBO. The second season came out about 14 months following the first season's finale, so if that schedule continues, we can expect season three in early 2024.
This article was originally published on