Everything to Know About Margot Robbie's Barbie Movie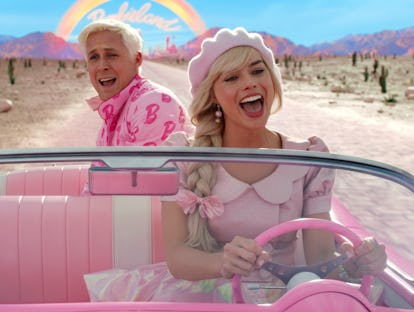 Courtesy of Warner Brothers
Since director power couple Greta Gerwig and Noah Baumbach first signed on to Barbie back in 2019, fans have been dissecting every inch of information we've been granted about this highly-anticipated project. While the plot remains somewhat under wraps, we do know that it's about a Barbie doll (Margot Robbie) living in Barbieland, who sets off on an adventure in the real world after being expelled for not being perfect enough.
In addition, we also have trailers, a music video, a release date, and our first look at the cast of Barbie below:
Who will play Ken in Barbie?
While Robbie makes a picture-perfect Barbie, the casting for Ken was no less spot on: Notebook heartthrob Ryan Gosling takes on the role with surprising depth. At Cinemacon on April 25th, Gosling said, "I have to be honest: I only knew Ken from afar, I didn't know him from within. I didn't know my Ken-ergy. Unfortunately, Ken has no sense of humor, and he's deadly serious."
That sensibility is on display in a music video released on July 10th, starring Gosling as a desperately forlorn Ken. In a rock ballad accompanied with guitar by Slash, Ken laments his status as permanent second fiddle to Barbie, stuck as just another one of her accessories or as he puts it, "just Ken."
The track is one of many produced by Mark Ronson, who also put together the star-studded soundtrack, which features a who's who of pop's current biggest stars, including the original Barb herself, Nicki Minaj. Of "Just Ken," Ronson said, "I'm so psyched. We worked on it for about a year after [Gosling] did the vocals. After I sent him the final version, with Slash on it, he was psyched and satisfied, which is what you want to do when you're making a sound for someone."
When Gosling's casting was first announced, there was minor backlash on TikTok due to his age (surely detractors are too young to remember The Notebook). The 42-year-old Gosling took it in stride, telling GQ, "It is funny, this kind of clutching-your-pearls idea of, like, #notmyken. Like you ever thought about Ken before this?…suddenly, it's like, 'No, we've cared about Ken this whole time.' No, you didn't. You never did. You never cared. Barbie never fucked with Ken. That's the point. If you ever really cared about Ken, you would know that nobody cared about Ken. So your hypocrisy is exposed. This is why his story must be told."
Watch "I'm Just Ken" below:
Is there a trailer for Barbie?
On April 4, 2023, the first official Barbie trailer dropped, giving us more of a glimpse into Gerwig and Baumbach's imagining of Barbie's hyper-plastic world. In the clip, Robbie-as-Barbie lives in the picturesque world of Barbieland. She waves hello to fellow Barbies (played by Issa Rae and Emma Mackey) on the beach, where she's meeting her boyfriend, Ken, who is of course played by Ryan Gosling. Simu Liu also plays a rival Ken, who seems to be feuding with Gosling.
The overall tone is silly and surreal, with Gosling's Ken telling Robbie's Barbie that the two should spend the night together as "boyfriend-girlfriend," before realizing that neither have any idea what that means. At some point, Barbie and Ken drive off into the "real world," where their car is turned upside down and they enter a new reality. Luckily, Ken brought his trusty rollerblades along for the ride. Watch the first full trailer for Barbie, below:
Who rounds out the cast of Barbie?
The better question is, who isn't in Barbie? On April 4th, Warner Bros released movie posters featuring several of the film's Barbies and Kens, with a tagline about what dream profession each Barbie has (that quickly spawned a host of memes):
In addition to Robbie as The Barbie herself, Dua Lipa, who's making music for the soundtrack, is Mermaid Barbie with bright blue hair. Issa Rae is President Barbie, Ritu Arya is Barbie with a Pulitzer, and Emma Mackey is Nobel Prize Barbie. Hari Nef is Doctor Barbie and Sharon Rooney is Lawyer Barbie, while Ana Cruz Kayne and Nicola Coughlan are Supreme Court Justice Barbie and Diplomat Barbie, respectively. Alexandra Shipp is Celebrated Author Barbie, and Kate McKinnon is Barbie whose been played with by little kids one too many times, "always in the splits" with cut up hair and crayon on her face.
The Kens don't have their own special professions; Ken, after all, exists to support Barbie in her many endeavors. The Kens we know of so far aside from Gosling and Liu are Kingsley Ben-Adir, Scott Evans and Ncuti Gatwa. Emerald Fennell is simply "Midge," while Michael Cera is "Allan."
Then there are the humans: America Ferrera, Ariana Greenblatt, and Helen Mirren as the narrator. Will Ferrell ("Please call me mother"), Connor Swindells ("He's like an intern or something") and Jamie Demetriou ("He's a suit") also have their own posters.
In a post on Twitter, Hari Nef shared the heartfelt letter she wrote to Gerwig when a possible scheduling conflict almost ruined her chance at being in the film. In the note, Nef reflected on Barbie's symbolism to the transgender community and society at large as the ultimate Doll:
When is Barbie's release date?
Barbie will get the quintessential summer blockbuster release when it comes out in theaters on July 21, 2023. This is the same day Christopher Nolan's Oppenheimer hits theaters, so there will be a bit of competition for audiences.
This article was originally published on