Greta Gerwig's Barbie Movie Is Already a Meme Machine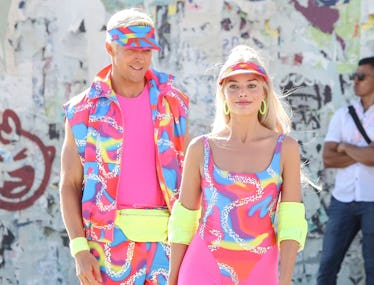 MEGA/GC Images/Getty Images
We have a hunch the pairing of the ultimate toy aisle icon Barbie and arthouse cinema darling director Greta Gerwig will make for an enjoyable film—but we're already thoroughly entertained by the memes Twitter has churned up. Gerwig's previous films like Lady Bird and Little Women are already film Twitter favorites, but ever since it was announced she'd be directing Barbie, the minds of certain circles of very online people have been aflame, wondering what could possibly be in store. That curiosity erupted today with the release of the first full-length trailer for the Margot Robbie and Ryan Gosling-starring film.
The official characters' posters, released just a few hours before the trailer, have proven to be a fertile template for meme makers. The images introduce each character the star-studded cast will play. Most (but not all) are various Barbies and Kens, and while the Barbies have specific interests (Issa Rae's is President, while Hari Nef's Barbie is a doctor), all of the Kens are just, well, Kens.
Seemingly anyone with a spare five minutes and access to Photoshop decided to imagine their own character this morning, somehow looping in everyone from beloved character actress Margo Martindale (Marbie?) to Cate Blanchett's fearsome character Lydia Tár (Tárbie?) into Gerwig's fictional pink universe. Here, the original—and our favorite Barbie memes to date.