Bella Hadid Defends Her Love of Pizza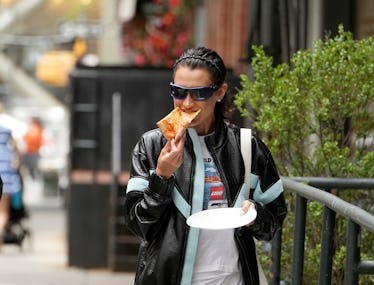 Jared Siskin/GC Images/Getty Images
While the fashion industry cannot get enough of Bella Hadid, some corners of TikTok seem to be a bit more skeptical. Sometimes rather rudely. They may be inspired by her style, but Gen Z also likes to pick on Bella, mostly for her eating habits. One specific video interview with i_D last year has created a lot of fodder for the app, and the ridicule has gotten to the point where Hadid has felt the need to respond and defend her love for pizza, of all things.
Likely, if you've spent time on TikTok, specifically the side littered with videos of fashion shows and models, you've heard the sound featuring Hadid simply saying, "So my name, my name is Bella Hadid." The audio has been used over 160,000 times on the app, usually on videos of TikTokers showing off a Hadid-inspired makeup look, a Depop-acquired outfit, or giving their best runway walk. Some, though, have adopted it into in a more toxic trend, using the sound after they've eaten their "first salad in months" like Sarah Hyland, or showing off their tall and thin Christmas tree.
Lately, there has been a conversation brewing around the return of the idolization of the ultra thin in fashion. After years of the industry attempting to push size inclusivity forward, there's a feeling the efforts are fading. Much attention has been paid to the seemingly slimmer silhouettes of the Kardashians, and just this week, the New York Times' Vanessa Friedman tweeted about the "extreme skinniness" of the models at Jason Wu's recent show. Hadid, who won model of the year awards from both the British Fashion Council and Models.com in 2022, is affectively the face of the industry at the moment. And while she may not be described as "extremely skinny" she's inarguably quite slim.
That brings us to another moment from that i_D interview that has gained popularity in recent weeks, when Bella speaks about her favorite foods. "My favorite go to snack, probably pizza at least once a day," she says, awkwardly choosing her words and clearly waffling between whether eating pizza is a weekly or daily occurrence. It's because of the lack of confidence in her answer, the narrative around model's bodies, and some certain eating advice doled out by her mother (that Yolanda has claimed was taken out of context) that TikTok decided to not believe Bella's claim. "Bella Hadid looking to her marketing manager to give her most relatable answer," one person wrote on a TikTok using the sound. The video now has 1.4 million likes, with comments like "help, is she reading off a script?" and "LMAO I know she has no idea what pizza tastes like."
Clearly, though, Hadid is protective of her pizza. Because on Monday, about two weeks after the sound went viral, the model decided to respond. She posted two photos on her Instagram story, featuring all the pics of pizza on her phone.
So yes, she has a lot of photos of pizza, though I will say, as someone who likes the food a normal amount, if I search for "pizza" in my camera role (which is ostensibly what Hadid did for these screenshots), a good amount of photos show up. This doesn't prove that she eats a lot of pizza, but that she's around it a lot and likes to take pictures of it. Though, this is far from the first time Hadid has mentioned her love for the food. In 2015, she told Seventeen about her pizza habbit and other "really unhealthy food." In a 2018 interview with Access Hollywood, she mentioned the food again, as well as her tendency to grab a quick slice during busy fashion weeks. That same year, she showed off the two pies she brought with her on a private jet. A scan through her Instagram will show the model enjoying a slice with Miley Cyrus and on a fire escape in New York. I could go on, but you get the point. The model does love pizza. More recently, Hadid was spotted munching on the food while walking around New York City with her boyfriend, Marc Kalman, and for her birthday this year, her friends surprised her by renting out Lucali, a highly-acclaimed pizza place in Brooklyn.
The point is, the model likes pizza. She isn't just saying it to be relatable. Likely, she has learned throughout her years in the spotlight that feigning relatability is rarely worth it. She probably doesn't eat it daily (it's called an exaggeration), and I'm sure weeks go by when she doesn't have a slice. While the public should not have jumped down Hadid's throat after that interview, I do agree her response is awkward, but it seems like a case of taking the frustrations surrounding a bigger issue out on the one person who just so happens to be in front of you. I too am unhappy with what seems to be the increasingly lack of size diversity on runways, but it's not Bella's fault. Just let her eat her pizza in peace.