The 25 Most Anticipated Books of Fall 2023
From psychological thrillers to major biographies.
---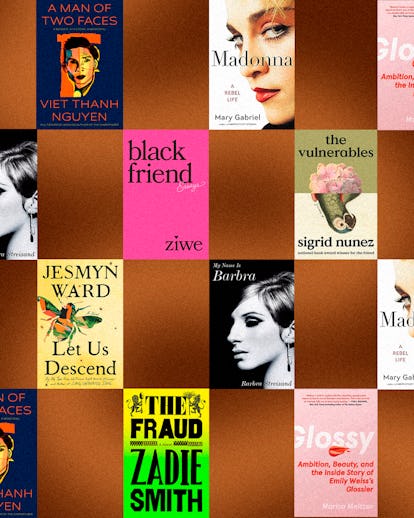 Collage by Ashley Peña
We may receive a portion of sales if you purchase a product through a link in this article.
It's always a good time to crack open a brand new book (or download one to your device), but there's something especially nice about queuing up a new reading list for the fall. Maybe it's the back-to-school vibes, or the crisp weather, or the publishing industry's tendency to push some of its most exciting releases to the second half of the year—either way, the next few months have no shortage of new titles to dig into. From a whopping 800-page Madonna biography to Pulitzer Prize winner Jhumpa Lahiri's first short story collection, here are 23 of the most anticipated books of the season.
Fiction
The Fraud by Zadie Smith
The sixth novel from the acclaimed author is based on the 19th-century 'Tichborne Trial' that captivated (and divided) Victorian England society at the time. Smith's first work of historical fiction may be rooted in the London of the past, but it is firmly connected to the present, with clear parallels to Donald Trump and the populist debates of our current era. (Sept. 5)
New Millenium Boyz by Alex Kazemi
Y2K nostalgia has brought both a yearning for and a reckoning of the girlhood experience of the late '90s and early 2000s, unearthing the impact that cultural figures like Paris Hilton and Britney Spears had on the young women of the time. With New Millenium Boyz, writer Alex Kazemi delves into the equally problematic boyhood experience during the most recent turn of the century. In the book, Kazemi (who has been compared to Bret Easton Ellis) examines the impact that major cultural events like Columbine had on young males—with some scenes so dark the book comes with a literal warning. (Sept. 12)
Bright Young Women by Jessica Knoll
After making her mark on the thriller genre with her bestselling novel Luckiest Girl Alive—and adapting it for the Netflix adaptation starring Mila Kunis—Jessica Knoll is back with another tale of psychological suspense. Her latest novel tells the story of two women connected by the violent crimes of the same man, in a story loosely based on Ted Bundy's infamous, deadly attack on a sorority house in 1978. In Bright Young Women, a surviving key witness of the sorority massacre teams up with a woman across the country who believes her own friend has been targeted by the Bundy-esque perpetrator (referred to as the "All-American Sex Killer"). (Sept 12.)
Land of Milk and Honey by C. Pam Zhang
After releasing the highly critically-acclaimed Much of These Hills Is Gold, C. Pam Zhang faced the dilemma many breakout authors do—whether to stick with the formula that earned them their initial fame, or swerve into new territory entirely. With her new novel, Land of Milk and Honey, Zhang has leaned toward the latter, writing an inventive and original exploration of the "ethics of seeking pleasure in a dying world." The novel's protagonist is a disillusioned chef who finds herself part of a lush operation making beautiful dishes for the global elite. A sensual love letter to food itself, Land of Milk and Honey basks in earthly delights as much as it skewers them. (Sept. 26)
Death Valley: A Novel by Melissa Broder
Melissa Broder established herself as a voice of her generation with her formerly anonymous Twitter account, @sosadtoday where she lamented the state of modern life with acerbic wit and relatably dark quips. With her new novel, Death Valley, Broder takes her absurdist humor to new heights as she spins a surrealist tale of emptiness, exploration and existential crisis in the California desert (Oct. 3)
Roman Stories by Jhumpa Lahiri
In Pulitzer Prize-winning author Jhumpa Lahiri's first short story collection, the city of Rome is the protagonist, not just the setting. Each of the nine stories centers on a different cast of characters—like a family vacationing in the Roman countryside, or a couple of empty nesters at a friend's annual birthday gathering—and capture the changing landscape of the Italian capital in a different light. Written in Lahiri's adopted language of Italian and translated by author and Knopf editor Todd Portnowitz, the searching stories guide readers to ponder the meaning of home. (Oct. 10)
Family Meal by Bryan Washington
The bestselling, award-winning author of Memorial and Lot is back with an intimate novel about two young men, once best friends, whose lives collide again after a loss. After the love of his life dies, Cam leaves Los Angeles for his hometown of Houston and falls back into the orbit of his former best friend, TJ and TJ's family bakery. The two must decide if their bond is worth reigniting—and how much it has changed. In a tale of food, sex, love and connection, Family Meal is a delicious dissection of the moments that make us the most human. (Oct. 10)
Let Us Descend by Jesmyn Ward
This harrowing, haunting story about an enslaved girl in the years before the Civil War is inspired in part by Dante's Inferno and the descent into the underworld. As protagonist Annis ventures on her own hero's journey through the darkness of the American South after being sold by the white enslaver who fathered her, she turns inward to memories of her mother and stories of her ancestors for comfort and strength. Ward, the youngest winner of the Library of Congress Prize for Fiction, among many other distinctions, turns her brilliant gaze to the grief and joy of the Black American experience. (Oct. 24)
The Future by Naomi Alderman
From author of the bestselling dystopian 2016 novel The Power comes The Future, a twisty thriller set in a not too distant future where a few friends plot a daring heist to save the world from a handful of tech giants whose greed threatens to destroy everything. The Future ponders questions about what happens when power corrupts the few who have it and what it takes to stand up to them—topics relevant to us all. (Nov. 7)
The Vulnerables by Sigrid Nunez
Sigrid Nunez's ninth novel finds the dark humor in the complexities of modern life. A meditation on what it means to be alive in this moment, as much as it is an inquiry into the purpose of writing itself, The Vulnerables employs Nunez's technique from past novels—that is, incorporating an animal character, to help the humans in the story contemplate meaning. In this case, it's a miniature macaw, Eureka, who is left in the care of the unnamed protagonist, an academic and writer living in New York City, during the pandemic. (Nov. 7)
The New Naturals by Gabriel Bump
From the award-winning author of Everywhere You Don't Belong comes The New Naturals, a novel about what happens when an experimental utopia fulfills the longing of its inhabitants for connection and safety, and what can fill that void instead. In this case, the utopia is created underground an abandoned restaurant, on a hill off the highway in Western Massachusetts, by Rio, a young Black woman mourning the loss of her newborn child. After she starts what she hopes will be a safe haven, which is filled with others dealing with their own form of grief and alienation from around the country, they all must deal with the reality that existential dread doesn't disappear beneath the surface of life. (Nov. 14)
Alice Sadie Celine by Sarah Blakley-Cartwright
An affair between a woman and her daughter's best friend is the central point of this story about power, agency, and feminism from the author of Red Riding Hood. The title refers to the three women involved in this California-set love triangle: Alice and Sadie, now out of college and living on opposite sides of the state, have been best friends since high school, though their relationship is changing under the pressures of adulthood. Celine is Sadie's mother, a celebrated professor and noted feminist, who begins an affair with Alice that ultimately leads all three characters to question their loyalty to each other. Fans of the book include Busy Phillips and Chloë Sevigny, who are both "obsessed" with the witty portrait of the protagonists' fascinating inner lives. (Nov. 28)
Non-fiction:
Glossy by Marisa Meltzer
Marisa Meltzer goes deep into the heart of one of the most successful companies of the Girlboss Era, Glossier, to tell the story of how founder and former CEO Emily Weiss turned a start-up into a billion-dollar, industry-disrupting mega-success. Combining in-depth interviews with former Glossier employees, investors and Weiss herself, Meltzer's exposé is for anyone with a thirst for Devil Wears Prada style peeks into the inner machinations of glamorous industries like beauty. (Sept. 12)
Extremely Online: The Untold Story of Fame, Influence and Power on the Internet by Taylor Lorenz
Extremely Online brings the style of meaty internet journalism Washington Post reporter Taylor Lorenz is best known for into book form, chronicling the rise of the earliest influencers and how the creator economy has drastically shifted over the past few decades into a multibillion dollar business. Having reported on internet culture for the past decade—and become the story herself several times—Lorenz is uniquely positioned to synthesize how the business of online influence has changed both the economy and the way we perceive ourselves and our communities. (Oct. 3)
Memoir and Biography:
Unreliable Narrator by Aparna Nancherla
From comedian Aparna Nancherla comes an insightful collection of hilarious, relatable essays exploring imposter syndrome. Nancherla, a highly successful standup who has appeared on Netflix and Comedy Central, headlined comedy shows and music festivals, frequented late night television, and has written for major national publications still feels like the biggest fraud of them all. Bringing her talent for humor to the page, Nancherla questions modern culture's obsession with chasing perfection, our abysmal social media habits and the drudgery of depression. (Sept. 19)
Lou Reed: The King of New York by Will Hermes
There have been many biographies of the late Lou Reed, but Will Hermes' may be the most definitive yet. In The King of New York, Hermes dramatizes Reed's life and legacy, from his stature as a rock god to his contentious dialogue with fans, critics and fellow artists. His partnerships with fellow icons like David Bowie, Andy Warhol and Laurie Anderson all get their due, as does the story of downtown New York itself where Reed rose to artistic greatness. Hermes's book is the first to draw on the New York Public Library's Reed archive, offering an unprecedented look into his life. (Oct. 3)
How to Say Babylon by Safiya Sinclair
Safiya Sinclair's memoir, How to Say Babylon, is a story of breaking free from the very culture that initially nourished her. The book delves into her strict Rastafarian upbringing, and living in a household ruled by her father's rigid patriarchal views and repressive control. In a world where women's obedience was of utmost important, Sinclair latched onto the poetry her mother introduced her as a way to break free. How to Say Babylon is Sinclair's rich, lyrical reckoning with her past, tradition, and the legacy of colonialism in Jamaica. (Oct. 3)
Down the Drain by Julia Fox
Since her breakout role in 2019's Uncut Gems, Julia Fox has been a mainstay on the celebrity and red carpet circuit, culminating in worldwide fame with her whirlwind affair with Kanye West. But the artist, writer, model and muse has been living a life worth writing about long before social media or the press took notice. Down the Drain is Fox's vivid reckoning with her captivating past, as she traces her path from a childhood disrupted by her parents' volatile relationship, to abusive relationships and stints in jail and a psychiatric hospital, to her time working as a dominatrix, overcoming heroin addiction, her life as a single mother and so, so much more. (Oct. 10)
Madonna: A Rebel Life by Mary Gabriel
In this massive tome, award-winning author Mary Gabriel chronicles the life and legacy of the original female pop icon, Madonna. Beginning with her arrival on the music scene in the early 1980s and tracing her influence and cultural supremacy throughout the following decades, Madonna is an immersive, exhaustive dive into the dramatic life and achievements of one of the greatest artists of our time. (Oct. 10)
Everything I Learned, I Learned in a Chinese Restaurant by Curtis Chin
Writer Curtis Chin captures with vivid specificity and heartfelt universality the chaotic, volatile times of 1980s Detroit where, as a young gay man, he found solace amid the mayhem, at his family's restaurant, Chung's Cantonese Cuisine. A story that relishes in food, family and community as much as it traces the coming of age of both a city and a young man, Everything I Learned, I Learned in a Chinese Restaurant is an ode to the comfort found in loving tradition. (Oct. 17)
Black Friend by Ziwe
With Black Friend, Ziwe brings her signature wit to a book of essays as incisive and funny as the Instagram Lives and talk show that made her famous. An expert at saying the quiet part out loud, Ziwe applies her hilarious perspective to pop culture commentary, mixed with the personal anecdotes that underline her razor sharp eye for storytelling and detail. (Oct. 17)
The Woman in Me by Britney Spears
The world has been watching Britney Spears since she first broke out as one of the biggest pop stars of the century, but the tenor of the public opinion towards her has been markedly different since June 2021, when she spoke in open court about the 13 years she spent living under her family's rigid conservatorship. The Woman in Me is Spears's highly anticipated story about her experiences with fame, motherhood, and surviving the harsh forces that have at times threatened to overcome her (Oct. 24)
Black Love Letters by Cole Brown and Natalie Johnson
Just in time for gifting season comes this moving anthology of letters from celebrated Black writers, creators and thinkers about love. A foreward by John Legend sets the tone for the collection, which includes contributions from Brontez Purnell, Morgan Jerkins, Tarana Burke, and Jenna Wortham as they meditate on the people, places and moments that have meant the most to them. In times of seemingly ceaseless darkness, Black Love Letters is a celebration of the love that binds us. (Oct. 24)
My Name Is Barbra by Barbra Streisand
The long-awaited memoir from living legend Barbra Streisand covers her extraordinary life, from growing up in Brooklyn to her breakout performance in Funny Girl, to becoming one of a handful of EGOT winners and everything in between. From the stage to the screen, Streisand's impact is massive and enduring, and in this funny, opinionated memoir Streisand finally tells her story herself. (Nov. 7)
The Risk It Takes to Bloom: On Life and Liberation by Raquel Willis
Raquel Willis's powerful memoir is a story of resilience, celebration and discovery. In it, the trailblazing Black transgender activist traces her journey from Augusta, Georgia to speaking at the Women's March in 2017—from a child just beginning to understand their place in the world to a passionate and influential figure in the LGBTQ+ community. It also tells Willis' unique story against the backdrop of a changing America, from the liberal Obama years to the hard swing to the Trump Republicans, the growing Movement for Black Lives, and unprecedented trans visibility. Working as a journalist and activist through all of this, Willis has had a front row seat to the complexity of the cultural climate we're in. (Nov. 14)