What to Watch Now That You've Binged Emily in Paris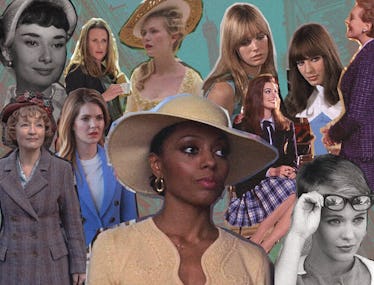 Images courtesy of IMDb; collage by Ashley Peña.
There's plenty to love about the Netflix series Emily in Paris: creator Darren Star's quippy scripts, filled with endlessly quotable one-liners; Emily's (Lily Collins) eccentric wardrobe; Mindy's (Ashley Park) even more eccentric wardrobe; enviable shots of the Parisian skyline; The Hot Chef himself (Lucas Bravo), along all the other precious, fallible characters in what has become one of the streamer's most-watched shows to date. Season three was released on December 22nd to much fanfare—and most viewers binged all 10 episodes within a matter of days (or, if you're a superfan, in 24 hours. We see you).
The season finale ended on a serious cliffhanger, leaving many hoping to find more fashionable, Parisian, aesthetically pleasing content elsewhere. That's why we've put together a list of the nine films and television series we suggest you pop on while awaiting Emily in Paris's fourth season (which was greenlit back in October 2022). There's still no word on when filming for the next installment will begin, or whether Emily will end up with the undisputed love of her life, Gabriel. But in the meantime, tide yourself over with any of the below titles—which tap into all the most appealing aspects of Emily in Paris: fashion, French-chic, and tons of escapist fun.
Breathless
Breathless—the tale of a young criminal who falls in love with an aspiring journalist—is a classic (and considered one of the chicest films, full stop) for good reason. This Jean-Luc Godard movie from 1960 was one of the first to establish the French New Wave genre; and Jean Seberg is absolutely fabulous in it. Truthfully, Breathless couldn't be further from Emily in Paris in terms of tone and subject matter. But the long shots of Parisian avenues, Seberg's iconic Mod sense of style, and the heartfelt romance of this film will whisk you to a different time and place—just like Emily can.
Mahogany
Ignore the 30 percent rating Mahogany currently has on Rotten Tomatoes—we find that to be blasphemous. This Berry Gordy-directed, Motown Productions classic stars none other than Diana Ross as struggling fashion student Tracy Chambers, who becomes a noted designer in Rome. Although the 1975 film does not take place in France, the American-in-Europe, fish-out-of-water story still shines here. Plus, the fashion is incredible, and the soundtrack is even more impressive (its lead single, "Theme From Mahogany (Do You Know Where You're Going To)" peaked at number-one on the Billboard Hot 100 chart in 1976.
The Princess Diaries
Emily in Genovia has a nice ring to it. And if Em herself became princess of the fictional European country in Anne Hathaway's feature film debut, The Princess Diaries, we imagine she'd encounter the same spills and thrills that Mia did.
Call My Agent!
From the moment Genera+ion star Justice Smith identified Call My Agent! as one of his favorite quarantine binges, we were hooked on the French Netflix series. Starring Camille Cottin and with appearances by the likes of Isabelle Huppert and Juliette Binoche, Call My Agent! centers a network of Paris-based talent agencies. If you love the social media marketing drama of Emily in Paris, this one's for you—albeit a teensy bit more elevated.
Roman Holiday
We know, we know—the ultimate Parisian Audrey Hepburn film is Funny Face. But the tender love story in Roman Holiday contains many of the themes that can also be found in Emily in Paris: an outsider living a charmed life (Hepburn as Princess Ann) who longs for freedom...sound familiar?
Mrs. Harris Goes to Paris
Even if you don't like Emily in Paris, you must see this film. It'll tug at your heartstrings and make you laugh, all at once. One W writer described Mrs. Harris Goes to Paris as "essentially the nicecore spiritual sequel to modern masterpiece Phantom Thread, but...more Paddington than Paul Thomas Anderson." Based on a 1958 bestseller, Lesley Manville plays Ada Harris, a cleaning lady in 1950s London who travels to Paris to secure a Dior gown after coming to terms with her late husband's passing. Lucas Bravo (aka Hot Chef aka Emily's Gabriel), is in Mrs. Harris Goes to Paris as well, playing the chiseled intellectual André, who falls in love with a Dior model (Rose Williams).
The Bold Type
Darren Star fans—this one's for you. Perhaps we're a bit biased over here, since The Bold Type is a TV series about a fashion and lifestyle magazine, but this show (in which The White Lotus's Meghann Fahy made her debut) is such a fun one.
Marie Antoinette
It's not hard to envision Emily saying that unforgettable, out-of-touch line: "Let them eat cake!"
Blow Up
You might be thinking to yourself, what does a mystery-drama-thriller from 1966 have to do with Emily in Paris? Two words: fashion, baby. The costumes that Vanessa Redgrave, Veruschka, and David Hemmings wear in Blow Up, directed by Michelangelo Antonioni, are unforgettable (second only, of course, to the hair and makeup looks). So is the plot—fashion photographer Thomas (Hemmings) unintentionally captures a death on film after following two lovers and taking pictures of them in a park. The film, which takes place in Swinging London, went on to inspire a handful of other projects, including Francis Ford Coppola's 1974 thriller The Conversation.