The Next Step in Beyoncé's World Domination Plan? The Grammys.
The singer racked up nine nominations for the upcoming Grammy Awards. Plus, Rag & Bone tries out virtual reality and Tom Ford can't stop thinking about death.
---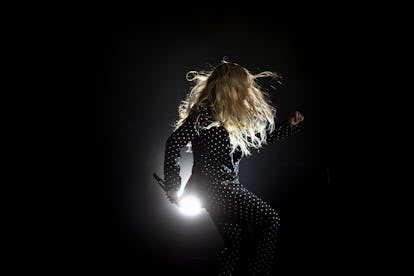 AFP/Getty Images
Awards, Fashion Formerly the British Fashion Awards, the Fashion Awards delivered on their grand new promise of being the fashion Oscars-slash-Met Gala of London. A bold promise, to be sure, but not one without Naomi Campbell in Alexander McQueen and Kate Moss dripping in furs.
Bacon, Amanda Chantal The Moon Juice founder would like to be 10 Gwyneth Paltrows in one, please.
Bone, Rag & The latest luxury brand to team up with Google — is virtual reality really the future?
Ford, Tom Thinks about death literally all the time, wouldn't be caught dead in sweatpants but sometimes his kid gets to wear light-up sneakers.
Grammys The 2016 nominees are in, and Beyoncé looks poised to clean up.
Renzi, Matteo Proposed a constitutional reform that would eliminate roughly two-thirds of Italy's 945-member parliament. He promised to step down if the referendum failed to pass — which it did, Sunday. Renzi was among a rarefied group of Italian leaders who have appreciated the fashion industry's contributions to the country; here's what his departure could mean for Italian fashion.
Restoin Roitfeld, Julia The daughter of legendary fashion editor Carine Roitfeld may be a New Yorker now, but she's still a quintessential Parisian girl at heart.
Smith, Jaden Clearly also a big fan of Westworld, just like the rest of us.
See W's most popular videos: