Cathy Yan's Birds of Prey Is Not Your Typical Comic Book Movie
The director is bringing "Lynchian razzmatazz" to her remix of the superhero genre.
---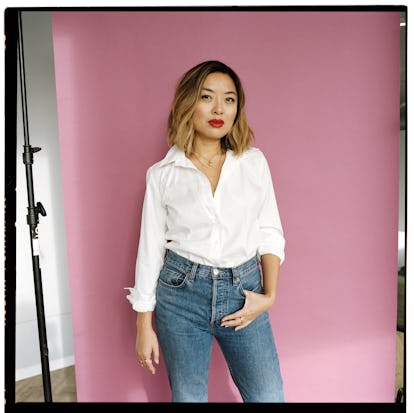 Valerie Chiang for W Magazine
With Birds of Prey (and the Fantabulous Emancipation of One Harley Quinn), a spin-off of the 2016 comic book villain film Suicide Squad, the trend of major studios employing indie filmmakers continues. But this movie, in particular, marks a watershed moment for Cathy Yan, who is now the first Asian-American woman to direct the adaptation of a comic book franchise.
Yan first gained recognition with her feature debut, a Chinese-language indie called Dead Pigs, which premiered at Sundance in 2018. Shortly afterwards, she set up some meetings with Warner Bros. to explore the idea of doing a DC Comics antihero spin-off based on Harley Quinn, as played by Margot Robbie in Suicide Squad. "Honestly I had no idea what I was doing. I had never pitched for anything before," Yan explained one afternoon before Birds of Prey's February premiere. "I come from New York and the indie film world, so I was like, I have no chance of getting this, I'm just going to give it a go. But I really loved the script. I really loved what the movie is about. It's so spunky and spirited and different."
Yan is right to say that Birds of Prey is different. Critics were tough on the star-studded Suicide Squad when it was released in 2016, but many praised Robbie's performance as Harley Quinn, the psychology PhD (otherwise known as Dr. Harleen Quinzel) who throws herself into a vat of chemicals all for the love of an Arkham Asylum patient known as the Joker.
Robbie brings the feverish, frenzied performance she lent to Harley Quinn in Suicide Squad to Birds of Prey and turns it up a notch, while still managing to be a coherent iteration of the classic character. "I have to give so much credit to Margot," Yan said. "There is so much depth there."
When the Joker dumps Harley Quinn, she goes on a bender that involves terrorizing the citizens of Gotham in an attempt to mend her broken heart, tossing back cocktails and scarfing down the errant bacon egg and cheese sandwich when she can. This is where the film begins—as a gritty, self-aware break-up comedy focused on a baddie who is hell bent on getting revenge on her ex.
"A lot of my work—or the work that I'm the most excited about—is centered around complicated female characters," Yan said. "I had one in Dead Pigs for sure, and with Harley, she's been just the girlfriend, she's been a complete villain, and she is now an antihero in our movie."
The meat of the film involves a plot to return a missing diamond to a crime lord known as Black Mask (Ewan McGregor) and his henchman (Chris Messina).
Renee Montoya (Rosie Perez), a jilted police officer; Huntress (Mary Elizabeth Winstead), a masked archer with a taste for revenge; Canary (Jurnee Bell), a club performer with a voice so powerful she could shatter glass; and Harley Quinn all try to get their hands on the missing diamond, which lies with a teenage pickpocket named Cassandra Cain (Ella Jay Basco).
But they don't team up until they realize they all have something else in common, besides their treasure hunt—they've been abused by some of the same men.
Later in the film, a sequence shows the crew linking up and fighting their way through a carnival fun house. It not only feels justified and welcome—it turns out filming the scene was also an impressive technical feat. Yan wanted to be sure the fight sequences were precisely choreographed. "I used to be a dancer as well, so I was really excited about this idea of movement and coordination. I spoke about it like that, as if the action was a dance," she said. "Pretty much everything you see, the women did themselves. They trained for months at a time. Margot was literally in skates, on a moving carousel, beating men away with a mallet. The cast just wanted to kill me that day," she laughed.
Currently, the state of the superhero film is up for debate. Anyone with a pulse has heard that prestige filmmakers like Martin Scorsese don't really consider that type of movie to be "cinema." Yan said she takes that criticism for what it is, but she considers the "consistency of character and world and the reinterpretation of them in an episodic way" as her definition of a superhero film or comic book movie.
One of Yan's references for making Birds of Prey was James Mangold's Logan, an X-Men movie focused on Wolverine. "He made a road trip movie slash western. I think that is interesting to me, saying 'Why can't this be a certain genre of movie but also happen to have a recognizable character?" she said. "I think with the intersection of superhero movies and 'cinema' if you want to call it that, there's more of an intersection now because there has to be. Because you can't keep giving them the same amusement park ride over and over again."
Birds of Prey could fall under several genres—it's a superhero movie, a heist film, a rom-com about a girl with a broken heart who finds solidarity in sisterhood. One element of the film that supports Yan's definition of cinema is an interlude in which Harley Quinn feverishly hallucinates herself as the star of a remix of the iconic "Diamonds Are a Girl's Best Friend" performance by Marilyn Monroe in Gentlemen Prefer Blondes (and, subsequently, Madonna's "Material Girl" as well).
"This sequence was always in the script and that was one of the main reasons I desperately wanted the job," Yan revealed. After working with composer Andrew Orkin to come up with "that slightly electronic, almost hip-hop sound," she tapped Ryan Heffington, who famously choreographed Sia's "Chandelier" video, to build a dance number that would "Harley-fy" that Hollywood moment. "When we started off, I was like, can we make it Lynchian razzmatazz?" she laughed. The additional significance of having Ewan McGregor star in this scene, two decades after his starring role in Moulin Rouge!, in which Nicole Kidman sings her rendition of "Diamonds Are A Girl's Best Friend" was not lost on Yan either: "He was like, this song is following me everywhere!"
Yan has always had a love of cinema (she said one of her earliest cinematic memories is watching Farewell My Concubine with her dad), but her path to filmmaking was forged along a zig-zag pattern rather than a straight line. She was born in China, then moved to the U.S. when she was four, before moving back to Hong Kong for about five years, and coming back to the states to attend Princeton University. She worked as a journalist at The Wall Street Journal, and it wasn't until she had been interviewing filmmakers and covering the world of film that she realized she wanted to be "on the other side."
Even when she went to New York University for a dual degree program, she applied for a producing degree because she felt she "wasn't quite ready to acknowledge" that she wanted to be a director. "It was difficult because, frankly, there just wasn't anyone that looked like me doing it," she said. She praises other Asian filmmakers like Lulu Wang and Chloe Zhao for making work that will be reference points for young filmmakers in the future.
After graduating, Yan noticed that while half of her film school classmates were women, only 12% of feature film directors are women. "We have to think about who is investing in first features, how are these people getting the money for their first features, and looking at film festivals and producers, and also just believing in the women. #MeToo is all about believing women, but we also have to believe in women," Yan said.
Her next film will be an adaptation of Jenny Zhang's memoir, Sour Hearts. "Jenny and I share a very similar background, growing up between China and the U.S. And I think that's a really important story to tell," the director said.
"When you're directing you are innately pulling from the sum of your experiences and your taste. I think it has to be personal," Yan said. "If that's the case, and we can bring diversity to that role, it's automatically going to influence how the characters are portrayed. All of that is a step in the right direction. Do I think we can wash our hands and say we're done? No. There is still a lot to be done."
Related: Birds of Prey Trailer: Diamonds Are Harley Quinn's Best Friend