Cannes Film Festival 2017: Alex Sharp on Playing Off Nicole Kidman and Elle Fanning
From running scenes with Nicole Kidman to making out with Elle Fanning, the Tony Award-winning actor had a hell of a first Cannes Film Festival with How To Talk To Girls At Parties.
---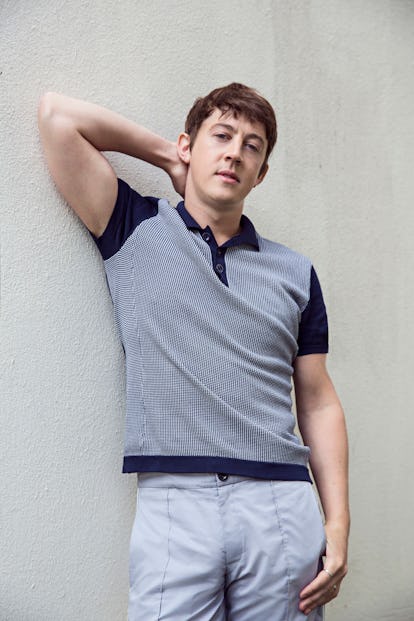 It's a sunny, cloudless day in Cannes, and Alex Sharp is recovering from last night's amfAR gala. "I've been to the Met Ball and the Tony's, but Cannes is particularly huge. Every time at these big events it's just—whoa. Because at the end of the day I'm a guy from Devonshire who grew up on a farm who loves his dog. So, sometimes I'm like what the hell am I doing here?"
Alex Sharp, 28, was reflecting on attending his first Cannes Film Festival for his film How To Talk To Girls At Parties, which premiered this week in competition. Set in London in the 1970s, the John Cameron Mitchell-directed film follows Henry (Sharp), an ordinary teenage boy, who along with two friends, are in search of a night to remember. When they sneak into a party, Henry immediately falls in love with Zan (Elle Fanning), a beautiful teenage girl who is part of a punk alien colony ruled by Queen Boadicea (Nicole Kidman). Henry and Zan fall for each other and embark on a wild night they'll never forget. Sharp, who rose to fame for his Tony award-winning starring role in The Curious Incident of the Dog, had never been on a movie set prior to signing on to the film. "John [Cameron Mitchell] is an incredibly special person with an unusual amount of heart, and that's what this film needed, because at the core of it, it's a love story, and that man has a lot of heart."
First impression of Cannes? Give me the run-through.
It's so glamorous! I landed and literally went straight to the Vanity Fair party, and felt I was in a Great Gatsby movie scene. I was so exhausted the day of the premiere, I couldn't sleep. You're on the carpet and they're screaming your name, it's extraordinary. Not many people get to experience that, so I was just really grateful. The funniest moment, which I completely understand, is when I was on the carpet, and there were hordes of fans and I was standing in the way of Nicole Kidman having her picture taken and the paparazzi were like, 'Get out of the way!' But I couldn't tell what they were saying. I thought they were trying to reposition me because they often scream at you to get you to move into a different angle. So I kept trying to do different positions, but they kept getting more and more annoyed. It was hilarious.
Such a circus to jump into. Did you get any advice before?
Elle Fanning is my official stylist. If I'm buying a pair of sneakers or a suit, I just do what she tells me to do. She's my red carpet expert.
Did she pick out your outfit for Cannes?
No, I wanted to surprise her this time with the Alexander McQueen suit I wore.
Did she approve?
She loved it!
What was the biggest difference you found between performing on film and on stage?
twWell, I just didn't know how it worked. So the first time I was on set I didn't know the technical elements of performing, so I was taking mental notes, watching Nicole Kidman. It was an adjustment of energy, because on stage, specifically in The Curious Incident of the Dog, it was o and a half hours, and I never came off the stage. It was like doing one long take, which you had to do perfectly every time. Whereas in film you do the same moment all day long, so you have to readjust how you disperse your energy and the focus that you have. Other than that, after you get the technical elements down, I think, acting is acting if it's truthful.
Did anyone help you make that transition?
Before I came on to set, I had lunch with Laura Linney [now herself starring on Broadway in The Little Foxes], and she gave me a bunch of film acting advice, which was incredibly helpful, about eye line and technical things. She knew I hadn't transferred from stage to film. She went to Juilliard; I know her from the New York City theatre scene. When I signed onto the film I had just finished playing Christopher in The Curious Incident of the Dog, so I was very much in that world. And that character is a really extraordinary, particular character. Christopher was an extraordinary boy, and this boy was a very ordinary boy, so that was an interesting transition.
How did you nab the role?
John Cameron Mitchell and I were at the Tony's the same year; he was at one of the brunch events they have. Someone introduced us, we started chatting, and it sort of went from there. I did a chemistry read with the guy who plays my best mate.
Did you ever have to do a chemistry read with Elle?
No, but I met Elle early on. We did a rehearsal in Los Angeles with John. We immediately had chemistry.
What was it like working with her?
We got on so incredibly well so quickly, it came naturally. We became close immediately, and have remained so. She was so fun and amazing to work with. She's 19, but such a pro, she's been acting for so long. She's an instinctual actor, she just gets it. We were in hysterics most of the time.
Over what? Just off-set antics or in general?
Well, John cleverly broke the ice with us very quickly, because we had to do stuff with each other. Like her licking my face, or throwing up on me. Often he would whisper a direction in her ear, like start nibbling on his ear. He knew he had to break the ice with us. So on the first day of shooting, we were doing green-screen wearing skin tight blue Lycra suits. And John was like, 'Ok, make out.' I was like, 'Whoa.' That was the first scene we ever shot. It was definitely an ice breaker. He just wanted to get that over with so we didn't have to think about it anymore, and it worked. After that we were like, it can't really get much worse than wearing weird skin tight outfits making out. It was really hilarious.
How was it working with Nicole Kidman, surreal? Is there any particularly memory that stands out?
Doing scenes with Nicole was amazing. she really is the loveliest woman, and takes care of everyone on set. She has this very inclusive energy. My character was scared of her. She came on set, and dropped into her character and stayed there. One of my favorite moments was when me, Elle, and John went to see her in her West End play, and afterwards we went into the dressing room and rehearsed there, it was so much fun.
Was there a scene that was particularly difficult for you?
I just remember thinking, 'Wow, this is my transition from stage to film. There was a scene where I had to look through a crack in the door, and it was the first time I ever saw Elle's character, and I fell completely in love with her. And I'm there supposed to be falling head over heels in love, but on the other side is a tiny piece of wood that I'm just staring at. I was like, 'Yeah, this is very different from theatre.'
You must have really had to stretch that imagination…
Yes, you just use your imagination a lot more in film, because you're often staring into blank spaces looking at your dead brother, or the woman you love is a log.
I have to ask. Did you have problems talking to girls at parties growing up?
[Laughs] I'm sure I did. I always went to bars and just thought, this feels kind of sad to me. So I got there and wasn't able to do it. I'm not good at picking people up, I'd rather just get to know someone. I'm not an opening line kind of guy, it's not really my scene. But at school I was good at talking to girls, I wasn't good at making moves, though.
What was the best advice John Cameron Mitchell gave you?
It sounds overly simple, but he told me to pretend the camera wasn't there. Because I think the first couple of days I was too aware of it. That advice helped a lot, even though it sounds so simple. He was saying something bigger, but in a simple way.