Cate Blanchett, Ava DuVernay, and Kristen Stewart Lead a Demonstration for Gender Parity at the Cannes Film Festival
The five women members of the Cannes Film Festival jury joined Agnes Varda, Jane Fonda, Marion Cotillard, and more on the steps of the Palais des Festivals.
---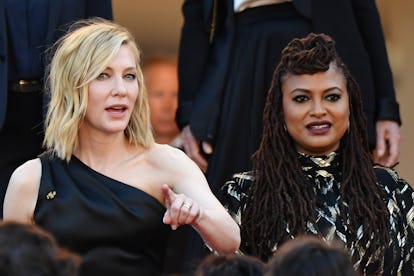 ALBERTO PIZZOLI/Getty Images
Among the 18 films in competition at this year's Cannes Film Festival, just three—amounting to a sixth of the program—are led by female directors. Two of the women have competed in the past; only one—French director Eva Husson—is making her Cannes debut. But rather than being an outlier, this statistic is, in fact, emblematic of the festival's history: Over its 71-year period, Cannes has programmed an estimated 82 films directed by women in its competition program, compared with the estimated 1,645 films directed by men that have competed for the Palme d'Or, one of the festival circuit's highest honors, which has gone to just two women directors (Agnes Varda and Jane Campion).
For that reason, on Saturday, just ahead of the premiere of Husson's film Girls of the Sun, 82 women from the film industry (the number is no accident) staged a protest on the wide stretch of red carpet leading up to the Palais des Festivals. Reported participants include Jane Fonda, Varda, Salma Hayek, Marion Cotillard, Stacy Martin, Clémence Poésy, and Patty Jenkins, as well as all five female members of this year's Cannes jury: Cate Blanchett, Ava DuVernay, Kristen Stewart, Léa Seydoux, and Khadja Nin. 5050 x 2020, a French campaign focused on gender equality in cinema (its name is a reference to its goal of achieving 50/50 gender parity by 2020), organized the demonstration.
Together, Blanchett and Varda read a statement outlining the 5050 x 2020 goals. The first, according to the organization's website, reads: "We will expect our institutions to actively provide parity and transparency in their executive bodies and safe environments in which to work." The second: "We will expect our governments to make sure that the laws of equal pay for equal work are upheld." The third: "We will demand that our workplaces are diverse and equitable so that they can best reflect the world in which we actually live. A world that allows all of us behind and in front of the camera to thrive shoulder to shoulder with our male colleagues." And lastly: "We acknowledge all of the women and men who are standing for change."
Last year, Jessica Chastain, then a member of the Cannes jury, concluded the festival with a grim reflection on its representation of women: "This is the first time I've watched 20 films in 10 days, and I love movies, and the one thing I really took away from this experience is how the world views women," she said at a press conference. "It was quite disturbing to me, to be honest. There are some exceptions, I will say. For the most part, I was surprised by the representation of female characters onscreen in these films." An obvious resolution, of course, is including more narratives written, directed, and produced by women. DuVernay was among those who voiced their support for Chastain's statement on social media at the time—now, she and some of the most major women in filmmaking around the world are helping push that vision forward.
Related: The Cannes Film Festival Has Banned the "Ridiculous and Grotesque" Act of Taking a Selfie on the Red Carpet
Exploring the Intimacy of Sex, Through the Literal Lens of a Vagina
Danielle Lessnau, untitled, 2017, from the series of gelatin prints titled extimité, a word coined by Jacques Lacan addressing the space of confusion that exists between the inside and the outside.

Danielle Lessnau
Danielle Lessnau, untitled, 2017, from the series of gelatin prints titled extimité, a word coined by Jacques Lacan addressing the space of confusion that exists between the inside and the outside.

Danielle Lessnau
Danielle Lessnau, untitled, 2017, from the series of gelatin prints titled extimité, a word coined by Jacques Lacan addressing the space of confusion that exists between the inside and the outside.

Danielle Lessnau
Danielle Lessnau, untitled, 2017, from the series of gelatin prints titled extimité, a word coined by Jacques Lacan addressing the space of confusion that exists between the inside and the outside.

Danielle Lessnau
Danielle Lessnau, untitled, 2017, from the series of gelatin prints titled extimité, a word coined by Jacques Lacan addressing the space of confusion that exists between the inside and the outside.

Danielle Lessnau
Danielle Lessnau, untitled, 2017, from the series of gelatin prints titled extimité, a word coined by Jacques Lacan addressing the space of confusion that exists between the inside and the outside.

Danielle Lessnau
Danielle Lessnau, untitled, 2017, from the series of gelatin prints titled extimité, a word coined by Jacques Lacan addressing the space of confusion that exists between the inside and the outside.

Danielle Lessnau
Danielle Lessnau, untitled, 2017, from the series of gelatin prints titled extimité, a word coined by Jacques Lacan addressing the space of confusion that exists between the inside and the outside.

Danielle Lessnau
Danielle Lessnau, untitled, 2017, from the series of gelatin prints titled extimité, a word coined by Jacques Lacan addressing the space of confusion that exists between the inside and the outside.

Danielle Lessnau
Danielle Lessnau, untitled, 2017, from the series of gelatin prints titled extimité, a word coined by Jacques Lacan addressing the space of confusion that exists between the inside and the outside.

Danielle Lessnau
Danielle Lessnau, untitled, 2017, from the series of gelatin prints titled extimité, a word coined by Jacques Lacan addressing the space of confusion that exists between the inside and the outside.

Danielle Lessnau
Danielle Lessnau, untitled, 2017, from the series of gelatin prints titled extimité, a word coined by Jacques Lacan addressing the space of confusion that exists between the inside and the outside.Danielle Lessnau

Danielle Lessnau