Paul Mescal & Melissa Barrera Star in Feverish Carmen Trailer
The 1875 French opera has been reimagined for the screen once again.
---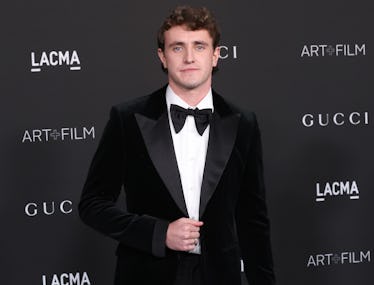 Photo by Taylor Hill/WireImage
While director Benjamin Millepied's latest take on Carmen certainly ins't the first reimagining of Georges Bizet's 1875 opera (who can forget the Beyoncé-starring 2001 MTV film Carmen: A Hip Hopera?), his does have a very sweaty Paul Mescal in it. Mescal and Melissa Barrerat star in the new trailer for the film ahead of its entrance into theaters this spring.
According to an official synopsis, Carmen follows a young and fiercely independent woman who is forced to flee her home in the Mexican desert following the brutal murder of her mother, another strong and mysterious woman. Carmen (Barrera) survives a terrifying and dangerous illegal border crossing into the US, only to be confronted by a lawless volunteer border guard who cold-bloodedly murders two other immigrants in her group. When the border guard and his patrol partner, Aidan (Mescal) — a Marine with PTSD — become embroiled in a deadly standoff, Carmen and Aidan are forced to escape together. They make their way north toward Los Angeles in search of Carmen's mother's best friend, the mercurial Masilda (Rossy De Palma) and owner of La Sombra nightclub, a sanctuary of music and dance. Carmen and Aidan find both solace and their unwavering love for each other in the safety of Masilda's magical refuge, but time is running out as the police hunt closes in.
In the dreamy, dark clip, Mescal (who is heading straight for true leading man territory with his recent casting in Gladiator 2) and Barrera (In The Heights) both fight their own battles before joining together in their run from the police, and both do a lot of dancing. Given that Millepied famously choreographed Black Swan (durng which he met his wife, Natalie Portman), the dance sequences in Carmen are sure to be stunning. The music is by celebrated composer Nicholas Britell (Succession, Moonlight, Andor).
Carmen will premiere in select US theaters on April 21 and nationwide in May 2023. Watch the first teaser below: