Cate Blanchett Dances Wildly in Sparks's New Music Video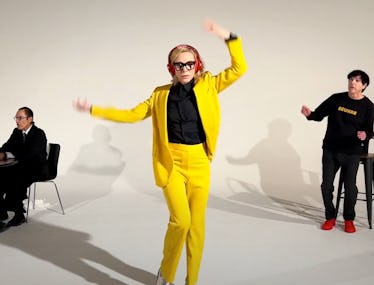 Screenshot via Island Records
Stop whatever little TikTok dance you're trying to learn, because Cate Blanchett is here to show you some new steps. Somehow in between promoting and collecting awards for Tár and shooting numerous other upcoming projects, Blanchett found time to dust off her dancing shoes to star in the new video from cult art rock band Sparks. She takes center stage in the clip for the title track off the band's upcoming 25th studio album, The Girl Is Crying in Her Latte.
Blanchett, clad in a sunshine yellow suit and a pair of cherry red headphones, stands still during the song's verses, but comes along with reckless abandon during the choruses. Whenever she's on camera, you know she's going to commit. Band members Ron Mael and Russell Mael serve as her humble backdrop. The suit, like most things Blanchett has worn recently, is another reware from her own closet. It's a Stella McCartney number she originally donned during the Ocean's 8 press tour.
So how did this come about? A chance meeting, apparently.
"We met Cate Blanchett in Paris at the César Awards last year, little knowing that a year later, one of the great actors of our time (and a splendid person!) would graciously consent to lending her booty-shaking skills to the first video from our new album, The Girl Is Crying in Her Latte. Dreams really do come true," the band told Variety.
In fact, the band didn't even ask her to dance. They would have been fine with her simply standing still in their video, but the actress decided to add her own steps. "I mean, we would like to take credit for having directed her, but we had nothing to do with that," they added. "It's a little bit presumptuous to be directing Cate Blanchett. We were extras in our own video, in a certain way."
Although they hail from Los Angeles, the band has never quite made it to the mainstream in America. The band's biggest hit here was "Cool Places," which peaked at 49 on the Billboard charts back in 1983. But the group has enjoyed both popularity in Europe and a rabid underground devotion that has helped sustain a long career.
Apparently, they can count quite a few cinephiles among their fanbase. In 2021, they were involved in two films that hit the festival circuit. Baby Driver's Edgar Wright directed the documentary The Sparks Brothers. Meanwhile, they served as co-writers and composers for French director Leos Carax's off-the-wall musical Annette. That's the one where Adam Driver sings to a puppet baby.
That also explains why the brothers were at the César Awards, the French equivalent of the Oscars, in the first place. The duo took home the award for Best Original Music.
Blanchett, meanwhile, is known to be a bit of a record snob. She recently revealed that her favorite band is the German noise rock outfit Einstürzende Neubauten. And this isn't even her first music video: she also starred in a clip for British trip hop legends Massive Attack back in 2016.