Cate Blanchett Claps Back at the Suggestion That Tár Is Sexist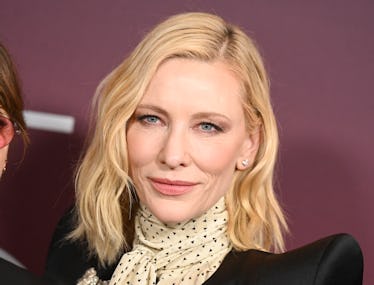 Gilbert Flores/Variety/Getty Images
While Cate Blanchett's performance in Tár has been met with near-universal acclaim, the film itself has been subjected to a seemingly never-ending debate about its true intentions. Some seem to fear that the film is hiding something, gasp, problematic at its core. Director Todd Field's film touches on hot button issues like the #MeToo moment, power imbalances, youthful activism, and feminism to inform its structure—but didn't wrap it all up in a tidy little bow for audiences. While Field and Blanchett have now given numerous interviews, both separately and apart, about the film, they've refused to sand down its message to something easily digestible. They've created a film that asks the audience to think, and they've clearly remained quite protective of that goal. They won't be offering up the CliffsNotes version for free.
Yet, there's one criticism Blanchett was quick to beat back in a recent discussion with Entertainment Weekly's Joshua Rothkopf: the suggestion that, by presenting her character Lydia Tár—a boundary-breaking female orchestral conductor—as a flawed villain, the film is inherently sexist. It's a point critics have mulled over, and even one lodged by Marin Alsop, one of the real world's top female conductors. Blanchett clapped back at such assertions, in a clip that's now going viral.
"There is a lineage in the field of conducting of male composers behaving like Lydia Tár," Rothkopf says. "This is a female character. What were your concerns in placing her in this continuity and creating her as a female character?"
Although Rothkopf may have been asking the question in a devil's-advocate sort of way, you can practically see Blanchett's eyes roll to the back of her head before she answers.
"Behind that question, are you saying that perhaps people don't want to see a woman behave in a way that's human?" she replies.
"In characters I play, always, I think about them as human beings and I think about their gender only when it's referenced by another character or the circumstances bringing that person's gender into presence," she continues later. "What I loved about the script and what I loved about the film is, I think, it is deeply respectful of the fact that women are not a monolith."
You can watch the full discussion here:
In the film, Lydia Tár has reached the zenith of the insular classical music world in a way that no woman in the real world has actually done. Yet once she's there, she exhibits so many of the abusive behaviors of the men that came before her. Indeed, you could imagine a version of the film with minimal script changes in which the lead character is male that still works, but perhaps not quite as powerfully.
One could argue that casting the character as female only helps to highlight her toxic relationship to masculinity. Lydia meticulously patterns herself after her male heroes, from the way she dresses to the manner in which she wields power. In one of the film's most memorable scenes, she refers to herself as her daughter's "father." While the film suggests that gender parity and inclusivity were once vitally important to Lydia, now that she's been fully accepted into the old boy's club she pulls the latter back up from behind her. You know how in Black Swan Natalie Portman's character turns into an actual swan by the end? You could imagine an even more surreal version of Tár in which the character fully transforms into a toxic old white man in the third act. (Maybe that would make it a little bit more clear for those confused by all the nuance.) Perhaps the film is less about the particular character's biological gender, and more a searing exploration of the corrosive properties of the power structures built around masculinity.
In any event, the suggestion that Blanchett only uses her acting talents to present tidily empowering female characters seems a bit tiring for the actor. Clearly she doesn't want her own gender to keep her from exploring the messier sides of humanity through her art.
But we think Blanchett and Field would rather you watch the film and come to your own conclusions. Just don't get hung up on calling its mere existence misogynistic.