Gaspar Noé's Climax Trailer: The Cannes Film That's a Demonic Step Up Movie
Gaspar Noé's latest film is already one of the most controversial at Cannes.
---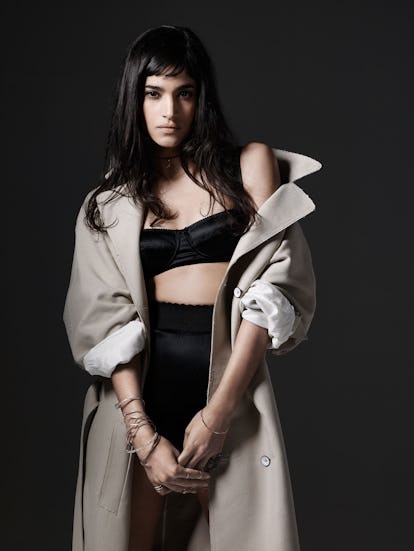 That the first trailer for Gaspar Noé's Cannes Film Festival hit Climax is set to the chugging French Disco beats of Cerrone's spooky classic "Supernature" is sort of a no brainer. The dance floor classic's cryptically spooky lyrics like, "there's no place that you can run, the monsters made, we must pray" creep you out even as the chunky baseline commands you to dance. Climax, after all, is at once both a dance movie, a drug movie, and a good old horror film, and it's absolutely rattling the Cannes Film Festival.
The Argentinian director took his inspiration from an urban legend about a New York City dance troupe whose afterparty punch bowl had been spiked with LSD and they all devolved into a troupe-wide freakout. In Climax, Noé transports the setting from New York City to a facility on the edge of a forest; the afterparty is replaced with a planned three day rehearsal; and the punch bowl, chicly, has been upgraded to sangria. The ensuing troupe-wide freakout, however, remains.
The film stars Sofia Boutella, the former Rihanna and Madonna backup dancer whose planned mainstream star turn alongside Tom Cruise in last year's The Mummy was something of a bust, but is quickly making a name for herself as a star of stylish indie fare (she also appeared alongside Charlize Theron in last year's arthouse-informed spy thriller Atomic Blonde). She plays the group's leader, but according to the first reviews plot and character aren't of as much importance as the interplay between actual dance numbers and psychotic freak outs.
In the trailer alone, we already see freak outs, bloody hands, a knife fight, a first fight, a fire fight, someone climbing through snow a lot, and other upsetting sites. On the other hand, we also see DJ Daddy, who, at least, seems like he's having a good time with his wig.
To give you a more exact idea, multiple American critics compared the film to a mix of the feel good Step Up series that brought us Channing Tatum and Jenna Dewan and their unsettlingly creepy arthouse film of choice.
Another compared it to The Shining and vogue documentary Paris is Burning.
Noé is no stranger to stylish provocations at Cannes. Love, his last film to premiere at the festival, featured actual sex scenes shot in 3D. That film may have been critically drubbed, but Climax is already getting praise.
"It might be his best movie," says IndieWire. "It's certainly the best snapshot of a talented filmmaker committed to f—ing with your head."
"Noé is giving us a cinema of sensual outrageousness and excess that makes other films look middleaged and tame," writes The Guardian.
Variety, meanwhile, assures that amidst all the drugs and debauchers the dancing will certainly hold up even for dance snobs: "It may be one of the most enthralling dance sequences you've ever seen. I don't quite know how to describe what it is these dancers do, but they're like krumpers or wackers or voguers doing flex dancing at astonishingly fluid speeds, so that their arms seem to be stretching out of their joints and rolling over their torsos. No one pose is held for more than a split second; they're like living Cubist paintings."
The Telegraph assured lovers of startling shock value that they won't be go away empty handed either: "Graphic self-mutilation and orgiastic sex ensue, all captured in the director's trademark undulating camera moves, punctuated by title cards which offer mottos such as 'death is a unique opportunity', and set to a throbbing backing track of vintage techno, house and electronic music."
Of course, every good dance movie needs good dance music, and that appears to be true here. Afterall, Daft Punk member Thomas Bangalter has even contributed a new song to the film. It's called "Sangria," which, again, is a much more elegant name than "Punk Bowl."
There's a Rolling Stones track as well, but the rest of the soundtrack is filled with a solid list of underground dance club greatest hits that includes contributions from everyone from Aphex Twin (another master of melding dance music with a general vibe of creepiness) to Lil Louis.
A24 has already picked up rights to distribute the film in America.
Related: All of the Beaches, Bathtubs, and Boats Inhabited by the Stars at the 2018 Cannes Film Festival
Cannes Film Festival 2018: See the Best Red-Carpet Looks From the World's Most Glamorous Premieres And Parties
Jury president Cate Blanchett arrives at the jury photo-call during the 71st annual Cannes Film Festival on May 8, 2018 in Cannes, France.

Pierre Suu
Jury member Kristen Stewart arrives at the jury photo-call during the 71st annual Cannes Film Festival on May 8, 2018 in Cannes, France.

Pierre Suu
Jury member Lea Seydoux arrives at the jury photo-call during the 71st annual Cannes Film Festival on May 8, 2018 in Cannes, France.

Pierre Suu
Julianne Moore attends the screening of Everybody Knows (Todos Lo Saben) and the opening gala during the 71st annual Cannes Film Festival at Palais des Festivals on May 8, 2018 in Cannes, France.

Vittorio Zunino Celotto
Kristen Stewart is seen at Grand Hyatt Martinez Hotel during the 71st annual Cannes Film Festival at on May 7, 2018 in Cannes, France.

Marc Piasecki
Chantel Jeffries attends the screening of Everybody Knows (Todos Lo Saben) and the opening gala during the 71st annual Cannes Film Festival at Palais des Festivals on May 8, 2018 in Cannes, France.

Dominique Charriau
Ava DuVernay walks onstage at the opening ceremony during the 71st annual Cannes Film Festival at Palais des Festivals on May 8, 2018 in Cannes, France.

Pascal Le Segretain
Chloe Sevigny attends the screening of Everybody Knows (Todos Lo Saben) and the opening gala during the 71st annual Cannes Film Festival at Palais des Festivals on May 8, 2018 in Cannes, France.

Stephane Cardinale – Corbis
Georgia May Jagger attends the screening of Everybody Knows (Todos Lo Saben) and the opening gala during the 71st annual Cannes Film Festival at Palais des Festivals on May 8, 2018 in Cannes, France.

Mike Marsland
Lea Seydoux attends the screening of Everybody Knows (Todos Lo Saben) and the opening gala during the 71st annual Cannes Film Festival at Palais des Festivals on May 8, 2018 in Cannes, France.

Gisela Schober
Penélope Cruz and Javier Bardem attend the screening of Everybody Knows (Todos Lo Saben) and the opening gala during the 71st annual Cannes Film Festival at Palais des Festivals on May 8, 2018 in Cannes, France.

Venturelli
Kristen Stewart and Chang Chen attend the screening of Everybody Knows (Todos Lo Saben) and the opening gala during the 71st annual Cannes Film Festival at Palais des Festivals on May 8, 2018 in Cannes, France.

Venturelli
Penélope Cruz arrives at the gala dinner during the 71st annual Cannes Film Festival at Palais des Festivals on May 8, 2018 in Cannes, France.

Venturelli
Fan Bingbing arrives at the gala dinner during the 71st annual Cannes Film Festival at Palais des Festivals on May 8, 2018 in Cannes, France.

Pascal Le Segretain
Penélope Cruz attends the photo-call for Everybody Knows (Todos Lo Saben) during the 71st annual Cannes Film Festival at Palais des Festivals on May 9, 2018 in Cannes, France.

John Phillips
Lea Seydoux arrives at the gala dinner during the 71st annual Cannes Film Festival at Palais des Festivals on May 8, 2018 in Cannes, France.

Pascal Le Segretain
Cate Blanchett arrives at the gala dinner during the 71st annual Cannes Film Festival at Palais des Festivals on May 8, 2018 in Cannes, France.

Stephane Cardinale – Corbis
Camila Coelho attends the screening of Everybody Knows (Todos Lo Saben) and the opening gala during the 71st annual Cannes Film Festival at Palais des Festivals on May 8, 2018 in Cannes, France.

Tony Barson
Romee Strijd attends the screening of Everybody Knows (Todos Lo Saben) and the opening gala during the 71st annual Cannes Film Festival at Palais des Festivals on May 8, 2018 in Cannes, France.

Tony Barson
Irina Shayk attends the screening of Yomeddine during the 71st annual Cannes Film Festival at Palais des Festivals on May 9, 2018 in Cannes, France.

Venturelli
Leomie Anderson attends the screening of Yomeddine during the 71st annual Cannes Film Festival at Palais des Festivals on May 9, 2018 in Cannes, France.

Venturelli
Julianne Moore attends the screening of Yomeddine during the 71st annual Cannes Film Festival at Palais des Festivals on May 9, 2018 in Cannes, France.

Pascal Le Segretain
Fan Bingbing attends the screening of Everybody Knows (Todos Lo Saben) and the opening gala during the 71st annual Cannes Film Festival at Palais des Festivals on May 8, 2018 in Cannes, France.

Tony Barson
Nieves Alvarez attends the screening of Yomeddine during the 71st annual Cannes Film Festival at Palais des Festivals on May 9, 2018 in Cannes, France.

Pascal Le Segretain
Chantel Jeffries attends the screening of Yomeddine during the 71st annual Cannes Film Festival at Palais des Festivals on May 9, 2018 in Cannes, France.

Gisela Schober
CANNES, FRANCE – MAY 10: Jury President Cate Blanchett attends the screening of "Cold War (Zimna Wojna)" during the 71st annual Cannes Film Festival at Palais des Festivals on May 10, 2018 in Cannes, France. (Photo by Andreas Rentz/Getty Images)

Andreas Rentz
CANNES, FRANCE – MAY 10: Amber Heard attends the screening of "Sorry Angel (Plaire, Aimer Et Courir Vite)" during the 71st annual Cannes Film Festival at Palais des Festivals on May 10, 2018 in Cannes, France. (Photo by Mike Marsland/Mike Marsland/WireImage)

Mike Marsland
CANNES, FRANCE – MAY 10: Lupita Nyong'o attends the screening of "Sorry Angel (Plaire, Aimer Et Courir Vite)" during the 71st annual Cannes Film Festival at Palais des Festivals on May 10, 2018 in Cannes, France. (Photo by Pascal Le Segretain/Getty Images)

Pascal Le Segretain
Model Irina Shayk attends the screening of "Sorry Angel (Plaire, Aimer Et Courir Vite)" during the 71st annual Cannes Film Festival at Palais des Festivals on May 10, 2018 in Cannes, France. Photo courtesy of Getty Images.

Gisela Schober
Bella Hadid attends the screening of "Ash Is The Purest White (Jiang Hu Er Nv)" during the 71st annual Cannes Film Festival at Palais des Festivals on May 11, 2018 in Cannes, France. Photo courtesy of Getty Images.

George Pimentel