Curator Brooke Wise Is Feeling Inspired by Panda Express
The LA-based art world insider (and mind behind The Fine Art Quarantine Coloring Book) shares her take on a nostalgic recipe.
---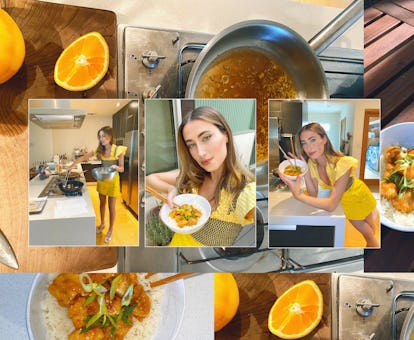 Photographs by Brooke Wise. Collage by W Magazine
For W's new series, "One Fun Thing," we're inviting creative people around the world to share an easy, relaxing activity that has brightened up their days spent at home, from Manolo Blahnik's daily sketches to Jewel's guided meditations to Simone Rocha's kitchen gardening habit. Consider it a grab bag of ideas for how to shake up your own quarantine routine.
Since March, the Los Angeles-based curator Brooke Wise has quarantined in Palm Springs with her boyfriend and their cat, Ranchero. It's been a nice break from the usual frantic pace of the art world, but the shift inspired her to do something to make time spent at home a little bit brighter and more creative. In between facilitating virtual art sales and planning future projects, she has been working on The Fine Art Quarantine Coloring Book, a downloadable set of coloring pages that includes work by the likes of Raymond Pettibon, Robin F. Williams, Katie Stout, Grant Levy-Lucero, Cristina Banban and many more (including Brooke's sister, the painter Chloe Wise). The book itself is free, but the website encourages visitors to donate a sum of their choice to Meals on Wheels.
When she's not at her desk, Canadian-born Wise has craved a dish that she associates with the American shopping malls she used to visit during vacations as a kid: Panda Express Orange Chicken. So, instead of pining for it from afar, she decided to roll up her sleeves and recreate it at home, adapting a recipe from a video she found on Youtube to suit her boyfriend's dietary restrictions. It was such a success that she's taken a stab at a few other restaurant dishes as well. Here, Wise gives us some insight into the current state of the art world and the story behind her love for the food court favorite.
How would you describe the overall mood in the art world right now?
It feels hopeful and inventive. I think a lot of galleries and artists are coming together and figuring out ways to move forward with business, even in this new norm we've found ourselves in. Galleries are putting on online shows, some galleries are putting on shows that can be viewed from the street without having to set foot inside, artists are putting on shows in their garages that people with masks can come visit—it's very interesting.
Do you think certain aspects of the art business will change permanently after things go back to normal?
Honestly, I'm pretty content with the idea of ridding the whole hand-shaking concept. I think there will be a lot more video-studio visits, a lot more work being made around the theme of isolation, contamination, and hygiene, and a lot more online shows that will be taken just as seriously as though they were face-to-face.
What inspired you to put together the artist coloring book project?
I wanted to put together something that would be easily accessible to all art lovers and all people that needed something to do. If I can contribute a small escape or an activity that brings people together, while raising some money for an important and relevant charitable cause, that makes my quarantine feel pretty great and productive.
When did you first start getting into cooking?
My mom was and is an incredibly talented cook. Everything she made us was homemade and filled with love and a lot of time and effort. There were always freshly baked cookies in the house—her famous ones consisted of chocolate chips, Rice Krispies, oatmeal, and coconut. When I was away at college, I would text and FaceTime my mom for all her recipes, and began trying to recreate her matzo ball soup, chicken, pesto—whatever it was in my apartment. Once I moved to Los Angeles from New York in 2017, I got more into health and wellness (of course—thanks, California) and have been incorporating healthier substitutes into my cooking.
What's your history with Panda Express?
I grew up in Montreal, where we didn't have Panda Express. I think the first Canadian location opened in 2013, and by then I was long gone and living in New York. We would vacation in Florida for all of our school breaks, and that's where I first had Panda Express. We'd go to food courts and my mom would have me go grab her a free sample, on repeat, since I could get away with it as a kid. It was so sugary and so good, this rare occurrence that I associated with American shopping malls. As I got older and lost my appetite for fast food, Chinese food was still something I craved, especially as a Jew.
How did you originally find this version of the restaurant recipe? What first spurred you to try it at home?
I watch a lot of food and cooking videos on YouTube, and because of my search history, one video popped up that was "The Original Orange Chicken by Panda Express" by Tasty. I watched it and decided to make it for my boyfriend and me, but a modified version that we could both eat. He has a gluten allergy, so I made it gluten free and organic. Honestly, it was incredible and a really fun way to satisfy our cravings for food from the outside world, pre-pandemic.
Any particular memories or feelings this recipe evokes for you?
My family and I used to get Chinese food from a restaurant called VIP in Chinatown in Montreal on Sundays. It reminds me of those days. Outside the restaurant, there was a tiny stand where an older man made hand-spun dragon's beard candy, which is long strands of sugar wrapped around crushed peanuts and sesame seeds—I've been craving that for years and would love to try and make it.
Any advice for people trying out this recipe for the first time?
I normally substitute basmati or white rice for brown, just to be slightly healthier, but honestly it's so much better with basmati. Be very careful when frying the chicken, and your kitchen WILL be a mess—just go with it. I was out of sesame seeds when I made this, but they're definitely worth having as a finishing touch. Sesame seeds are the most underrated food, in my opinion. If you prefer to have gluten, just switch the tapioca flour for regular AP flour, and swap the liquid aminos for regular soy sauce.
Are there any other restaurant dishes you miss and want to try to recreate?
I made a version of the Silver Lake restaurant Pine and Crane's Dan Dan noodles last night, they were pretty damn good. I'm gonna give Montreal-style bagels a shot next week—they're dipped in a kettle of honey water before going in the oven. Maybe even gluten-free! Stay tuned for that one.
Brooke Wise's Gluten-Free Take on Panda Express Orange Chicken
(Adapted from Tasty)
For the Chicken:
2 lbs boneless, skinless, organic chicken thighs
1 tablespoon salt
1 cup cornstarch
3 cups tapioca flour
1 egg
1 ½ cups water
2 tablespoons oil
6 cups oil, for frying
For the Sauce:
1 tablespoon oil
¼ teaspoon chili flake
1 tablespoon garlic, minced
½ teaspoon ginger, minced
¼ cup freshly squeezed orange juice
orange zest of 1 orange
¼ cup rice vinegar
2 tablespoons liquid aminos
2 tablespoons water
2 tablespoons cornstarch
On a cutting board, cut chicken into one-inch cubes and set aside. In a medium mixing bowl, combine salt, cornstarch, and tapioca flour and whisk together. Mix in the egg, water, and two tablespoons of oil until it reaches the consistency of pancake batter.
Heat the six cups of oil in a wok or heavy bottom pan to 350˚F. Gently add the chicken and cook for 5-6 minutes until light golden brown. Remove the chicken from the pan and transfer to a paper towel-lined plate.
For the sauce, set a heavy bottomed pot over medium-high heat and add the tablespoon of oil. Once the oil begins to shimmer, add the red pepper flakes, ginger, and garlic, and cook for 30 seconds, stirring constantly. Add in the orange juice and zest, stirring occasionally. Add in the vinegar and liquid aminos, and stir to combine. Add the cornstarch and water together and whisk to combine. Add to the pan and stir. Continue to cook the sauce until it has the consistency of maple syrup.
Add in the fried chicken and stir until completely coated in the sauce, then serve with rice and top with green onions and sesame seeds.
Related: Jewelry Designer Jean Prounis Is Baking and Listening to Virgil Abloh's Spotify Playlists