Daniel Craig Is Building a Mystery
Interview by Lynn Hirschberg
Photographs by Jamie Hawkesworth
---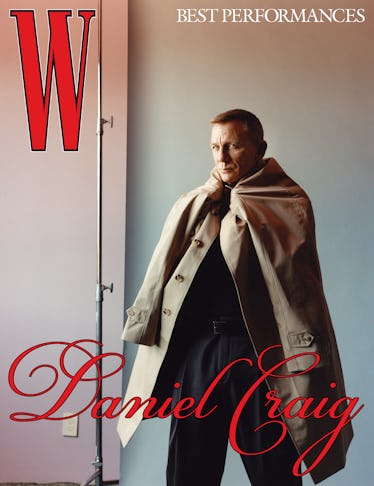 Daniel Craig wears a Burberry coat; Hermès pants; R. Turbow Leather belt; his own T-shirt.
Most cinephiles can count on one hand the number of sequels that actually live up to or are better than the original. For many, Glass Onion: A Knives Out Mystery is among that list. The follow-up to Rian Johnson's 2019 hit whodunit is somehow bigger and funnier than the first, thanks to a stellar performance from Daniel Craig, who, as the detective Benoit Blanc, once again finds himself at the center of a wild cast of maybe-murderers. While the star-studded ensemble, which includes Janelle Monáe, Kate Hudson, Kathryn Hahn, Leslie Odom Jr., and Edward Norton, play seamlessly off of each other, it's Craig's Southern dandy version of Hercule Poirot who holds the whole franchise together while serving up some of the film's most quotable lines—as well as a few surprises. For W's annual Best Performances Issue, the 54-year-old Golden Globe nominee discusses his process for stepping into Blanc's polished shoes. Warning: spoilers ahead.
How soon did you know that there would be a sequel to Knives Out and that your character, Benoit Blanc, would be returning?
Not until the film came out and was successful. You can fantasize about returning with this fantastic character, but one never knows what will happen, and that keeps you humble. Also, I avoid all reviews, so I didn't know for a while that Knives Out was well received.
Blanc is quite fashionable. He has a few daring ensembles, including a striped shorts suit. Were you going for a particular look?
Yes. I wanted him to be a combination of Cary Grant in To Catch a Thief and Jacques Tati in Monsieur Hulot's Holiday with a dash of my superbly dressed agent, Bryan Lourd. Most important, no matter how outlandish the outfit, I wanted to make the clothes feel organic. I recall that for Goldfinger, the director, Guy Hamilton, told Sean Connery that he should go home and sleep in the gray suit that he wears in the film. He wanted Connery, as James Bond, to have the kind of natural elegance that comes from living in the clothes.
So did you sleep in Benoit's neckerchiefs?
Yes. [Laughs]. But I also quite like those in my own life. The trick is to wear the clothes rather than having them wear you.
How did you arrive at Benoit's Southern accent?
I started with Tennessee Williams. He had a bit of a dandy's approach to speech. And then combined it with the historian Shelby Foote, who has an authoritative tone to his voice. Benoit has a certain use of words that mirrors both those men—fancy, but still down to earth.
Have you always been a fan of movie mysteries?
I always loved Mickey Spillane and Agatha Christie. As a kid I loved Peter Ustinov as Hercule Poirot and Albert Finney also. I loved the event factor of those movies and that the stars were suspects. Everyone seemed equally guilty and innocent.
In Glass Onion, (spoiler alert!) Benoit's husband is played by Hugh Grant.
Who else could it be? Benoit has excellent taste! But even though we've now seen a bit of his home life, I do hope that Benoit remains something of a mystery. I like that he arrives from some glamorous place and then disappears to another glamorous place, only to reappear again. He has a dream life.
Hair for portfolio by Anthony Turner at Streeters; makeup for portfolio by Lucia Pica for Byredo at Art Partner. Senior style editor Allia Alliata di Montereale; senior fashion market editor Jenna Wojciechowski. Manicure for portfolio by Michelle Saunders. Set Design by Gille Mills at 11th House.
Produced by Connect the Dots; executive producer: Wes Olson; producer: Zack Higginbottom; production manager: Nicole Morra; photo assistants: Cecilia Byrne, Jack Buster, David Gurzhiev; retouching: Simon Thistle; fashion assistants: Julia McClatchy, Tori López, Jacqueline Chen, India Reed, Nycole Sariol, Derek Ezra Brown, Karla Garcia, Rosa Schorr; production assistants: Khari Cousins, Tchad Cousins, Kelsey Swope Romero, Mateo Calvo, Juan Calvo, Rayon Pollard, Gina York, Peter Ditzler, Nico Robledo; hair assistants: John Allan, Dylan Michael, Ramdasha Bikceem, Malika Palmer; makeup assistants: Kate O'Reilly, Lilly Pollan, Bailee Wolfson; manicure assistants: Pilar Lafargue and Victoria Valenzuela, Jolene Brodeur; set assistants: Cory Bailey, Dirk Knibbe, Joel Garcia, Matt Day; tailors: Irina Tshartaryan, Ripsime Vartanyan at Susie's Custom Designs, Inc.