Everything To Know About The Knives Out Sequel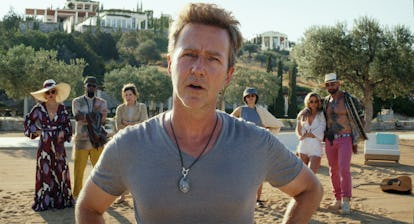 JOHN WILSON/NETFLIX © 2022
Rian Johnson's whodunnit comedy, Knives Out, made quite the splash following its premiere in 2019, introducing the world to Daniel Craig's southern take on Hercule Poirot, gaining one Oscar and four Golden Globe nominations, and arguably launching Ana de Armas into the spotlight. So, it's no surprise that after the film's release, Netflix made a deal with Johnson to acquire two sequels for about $450 million. Now, a second film, titled Glass Onion, is officially on its way, and we have a cast, a title, and even a rough release date. So, if you're eager to see what mystery Craig's Benoit Blanc will uncover next, keep checking back here for everything you need to know about the Glass Onion: A Knives Out Mystery.
Is there a trailer for Glass Onion yet?
It's party time in the new trailer for Glass Onion: A Knives Out Mystery as the ensemble cast gathers on the private island of tech billionaire Miles Bron (Edward Norton). Kathryn Hahn, Kate Hudson, Leslie Odom Jr., and more make up a group of old college friends known as "The Disrupters," reuniting, with one interloper in the mix, detective Benoit Blanc.
Immediately, Bron reveals that this is no simple vacation, but an elaborate murder mystery game to be played out throughout the weekend. Unsurprisingly, things seem to take a dark turn almost immediately. "Ladies and gentleman, there's been a murder and the killer is in plain sight," says Blanc. "For at least one person, this is not a game." From there, Blanc must navigate this island filled with an eclectic friend group with a shady past in order to peel back the layers of this onion and solve the mystery. Check out the full trailer below:
When is Glass Onion coming out?
Glass Onion: A Knives Out Mystery will be released on Netflix on December 23rd, just in time to enjoy with your family over the holidays. If you don't want to wait that long, however, you're in luck. The film will have a limited, one-week theatrical release starting on November 23rd for those who want to catch it early.
Why is it called Glass Onion?
No, the Knives Out sequel technically isn't called Knives Out 2. Johnson recently revealed the second installment of his murder mystery movies will be titled, Glass Onion: A Knives Out Mystery. The term was taken from the Beatles song of the same name. "I'm always fishing for something fun that Blanc can grab onto as an overwrought metaphor that he can beat to death," Johnson said. "This is all in plain sight from the very start." The movie's creator explained that he knew he wanted the title to involve the word glass, so he went searching in his music library. "There's got to be some good glass songs," he said. "I was like, 'Oh, is it a glass fortress? Is it a glass castle? Is it a glass man?; The first thing that came up, because I'm a huge Beatles fan, is 'Glass Onion.'"
What will Glass Onion be about?
Johnson has shared the heavy inspiration Agatha Christie has on his Knives Out films, so because of that, each movie will tell a new story, completely disconnected from the others aside for the through line of Blanc. For Glass Onion, we are following Blanc to a private island in Greece, where tech billionaire Miles Bron, played by Edward Norton, has invited some friends for a little getaway. When someone turns up dead, however, it's up to Blanc to suss out the murderer. "First of all, it's structured around a group of friends, or frenemies, who all have a power dynamic with one of their successful friends," Johnson explained. "It begins with him sending an invitation for them to come and play this murder mystery game at this exotic locale."
And while Ana de Armas' Marta was the main protagonist in the first film, this time, the focus will be more on Blanc. "You definitely get to know him a little bit better," Johnson said. "Blanc gets an invitation to come to this murder mystery on this island. We're very much meeting these people and getting into this world through his eyes."
Who is starring in Glass Onion?
Like Knives Out, Glass Onion will also have quite the impressive ensemble cast. As of now, it seems like Craig is the only returnee from the first movie, but he will be joined by many new A-list names. The new movie is set to star Kate Hudson, Leslie Odom Jr., Kathryn Hahn, Janelle Monáe, Dave Bautista, Edward Norton, Samara Weaving, and Ethan Hawke, as well as The Matrix Resurrections star Jessica Henwick and Outer Banks' Madelyn Cline. Who knows, though, a familiar face from last time could always pop up unexpectedly.
This article was originally published on