Elizabeth Olsen Plays a Real Life Axe-Murdering Housewife in New Trailer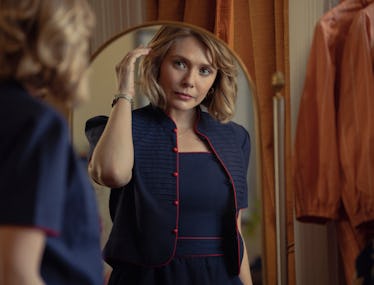 HBO
After starring as the Scarlet Witch in Doctor Strange in the Multiverse of Madness, Elizabeth Olsen has taken on another complex, intense role—this time as Candy Montgomery, the real life 1980s housewife accused and later acquitted of murdering her best friend.
In a new trailer for the HBO Max Miniseries Love & Death (brought to you by Big Little Lies creator David E. Kelley), Olsen inhabits the 30-year-old Montgomery, who fatally struck her friend Betty Gore (Lily Rabe) 41 times with an axe after Gore confronted her about having an affair with her husband. Jesse Plemons, who plays the husband in question, told Vanity Fair the series has "a slight Coen brothers" vibe to it—"a weird, Middle America sort of tone."
The story of the murder, which shocked the small Texas town it occurred in, as well as the rest of the country when it made national headlines, has been told before, and Love& Death draws on those accounts, including original court documents, Texas Monthly's 1984 two-part account of the incident, and a book from the same writers.
"We tried to understand the type of pressure and perfectionism that could lead her to [the killing]," Olsen told VF. "Candy was always trying to create something more for herself."
The story of the murder was also recently explored in Hulu's 2022 miniseries Candy, which starred Jessica Biel in the titular role and Melanie Lynskey as Betty. Olsen says she didn't watch the series, saying, "I don't usually feel this protective of [characters]," she says, but "whatever I created in my imagination, in our show, felt really personal."
The seven-episode miniseries Love & Death premieres on HBO Max on April 27. Watch the first trailer below: