Melanie Lynskey Talks The Last of Us and Subverting Expectations
"I want women to see themselves in me."
---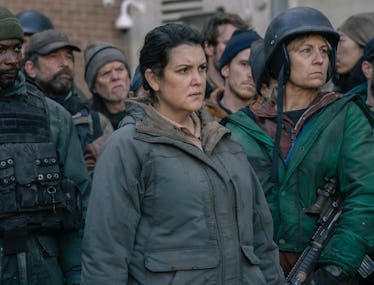 HBO
Warning: spoilers ahead for episodes four and five of The Last Of Us
In episode four of The Last Of Us, HBO's prestige adaptation of the massively popular video game by the same name, Melanie Lynskey plays Kathleen, the leader of the revolution that has effectively overthrown the military government of Kansas City in the show's dystopian landscape. In The Last Of Us, which stars Pedro Pascal and Bella Ramsey as an unlikely pair crossing post-apocalyptic America on foot, facing off hordes of "the infected"—humans turned into bloodthirsty zombies after contracting a deadly fungal virus—cities have been locked down in quarantine zones run by militarized factions of the government known as FEDRA.
Despite her status as the leader of counterforces, Lynskey's Kathleen is soft spoken and unassuming, a stand-in for the everywoman tasked with surviving in unimaginable circumstances. She took over the role when her brother, the beloved hero of the revolution, was murdered by FEDRA after being turned in by his best friend, Henry (Lamar Johnson). Now, Kathleen is out for blood, specifically Henry's and anyone else who might know where he is or have helped him. We quickly learn that Henry's heartbreaking motivation for the betrayal of his friend and the resistance—his younger brother, Sam (played brilliantly by 10-year-old deaf actor Keivonn Woodard), has terminal cancer, and the government will only exchange medical rations for resistance-defeating information. When Kathleen finally tracks Henry down, she is ultimately killed by one of the infected, a zombified young girl who she didn't see coming, thanks to her single-minded focus on revenge.
Even before Lynskey appeared on screens, her casting announcement drew both immense praise and criticism. Like other massively beloved franchises, The Last Of Us has plenty of fans willing to voice their displeasure over any perceived deviations from the game in casting, setting or plot direction. Ramsey and Lynskey have both spoken out about dealing with the vitriol. "Representation is so important," Lynskey told W over a phone call from Vancour, where the LA-based Australian actress had just finished filming season three of Yellowjackets. "It's very strange to me when people just want to see what they've always seen."
Having been busy with her fair share of dark roles the past few years, including as Shauna in Yellowjackets and Betty in the true crime miniseries Candy, Lynskey wasn't sure she had the bandwidth to take on the role of Kathleen. But The Last Of Us is her husband Jason Ritter's favorite video game, and he encouraged her to consider the offer from showrunner Craig Mazin, Lynskey's good friend. Read on for W's chat with Lynskey about her take on Kathleen, dealing with body-shaming comments and the logistics of her character's shocking death scene:
You've said before that you were drawn to the idea of Kathleen being an ordinary person discovering her own heartlessness.
I really like the idea of somebody being surprising and not being everything they appear to be on the surface. [Kathleen] had always been alongside her brother, who was this amazing leader of the resistance in Kansas City. Then when he was turned in by Henry and FEDRA was closing in on the resistance group and everything was desperate, Kathleen's the one with the plan. She actually liberated the city. Unfortunately, she also had a vendetta that drove her crazy. It made her very single-minded and unable to look outside the scope of her revenge. But I did like the idea of her not necessarily being a powerful leader in the way that you usually see those people, of her being someone who'd always been on the sidelines and got an opportunity to step up.
How did you feel about Kathleen by the end of her arc, when she is about to kill Henry and the two children he's with, but she herself is murdered by an infected child?
I felt like she was very misguided. She was somebody who became driven by grief and a single-minded focus, and a lot of her people died because of it. She could have kept them safe, she could have done a lot of great things, but she literally ignored the monster in the basement so that she could continue chasing down somebody who hurt her. And also, she wanted to kill children. That's hard to forgive.
There were also comments about you not necessarily matching the picture they had in their mind of a revolutionary leader, I guess, that you responded to. What did that conversation bring up for you?
We don't know what it would be like in a zombie apocalypse. A lot of people have been saying to me, "You wouldn't have survived." I'm like, Well, how do you know? Why do people think that only big, tough men would survive? What if smart people survived? What if people who were able to find a safe place and get a community around them survived?
Something that I will always push back against is when people have an issue with my body for a reason that doesn't make sense. In the first season of Yellowjackets, a lot of people were like, "That young guy would never be attracted to her." And I was like, "But it's not true." I'm doing scenes with an actor who I have chemistry with and the scenes are working and people like the show. You are seeing it happen. I think people's own internalized misogyny and belief systems don't allow them to expand their view. It's sad. I want women to see themselves in me. I want women to look at me existing on a screen and be like, "Oh there's a world for somebody who's not a size zero that also isn't the frumpy aunt or the goofy best friend or something." There's a world where women who look like me—which is a completely average sized person—can be a romantic lead or a hero, well, kind of a hero, even though she's the bad guy. The more we see these images, the more normalized they're going to be.
The final scene where Kathleen is about to close in on Henry before they're overtaken by a swarm of infected looked very complicated—what was filming that like?
The closest thing that I had experienced to that was some of the scenes we did in Heavenly Creatures when I was 15 years old. There was a whole world built around you, that you felt like you were truly living in. For this scene, they built this cul-de-sac and this amazing world; these stunt performers were in makeup that took hours and hours to do, tumbling and falling and running as fast as they can. I couldn't process it really at the time. I was like, "I cannot believe I'm part of something that is this huge and is working this well."
You just wrapped filming season three of Yellowjackets, how are you feeling and what's coming this season?
I feel really emotional about being done. The six of us, me and Tawny [Cypress], Juliette [Lewis], Christina [Ricci] and Simone [Kessell] and Lauren [Ambrose], have been working together for the past few days. Getting to be with women my age, who have been in the business for so long, is so incredible. It felt like something very spooky happened. When do you have this feeling of creating this kind of witchy magic with a group of other 40 something-year-old women?" This season, they all have moments that are mind-blowing, just crazy.
The Last Of Us season one is currently streaming on HBO Max. Yellowjackets season two premieres Friday, March 24 on Showtime.